December 16, 2015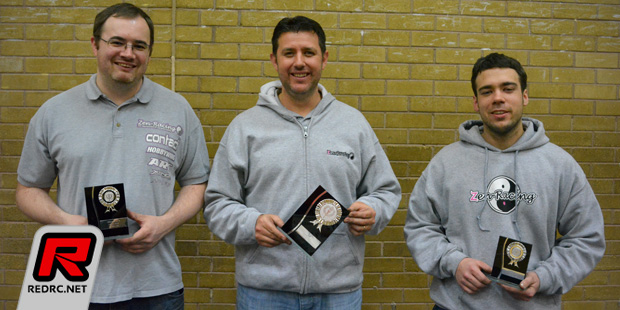 The 2015/16 1/12th National Series headed to Tamworth for the 3rd round of the series. Tamworth is one of the regular venues and is always one to get mentioned at the EGM for the amount of work that the Tamworth club put in to making it happen. In Saturday's 10.5 Stock qualifying David Spashett showed the same lightning pace seen at Crewe by dominating qualifying, 3 out of 4 times going a lap quicker than the entire field. Mark Stiles, Mick Farrell and Chris Kerswell all swapped positions through qualifying. Spashett will take pole from Kerswell and Stiles with just 0.15 seconds between 2nd and 3rd.

In the A-final and after a very clean start from the field, Spashett makes a clean break. Stiles starts to push Kerswell. Andy Murray had problems and dropped to 10th. 2nd, 3rd and 4th, were aöö together on track when Stiles attempted a move off the back straight but just doesn't had the gap close enough yet on Kerswell. Spashett had a very clear lead and pulled away from the pack. Behind him there was some very close racing between Stiles and Kerswell and ultimately Stiles made the move off the back straight and went into 2nd. Stiles then started to build a gap to Kerswell while Spashett cruised to the finish with a buzzer to buzzer victory with Stiles taking 2nd from Kerswell.
After Saturday's 13.5 Stock qualifying round 1 Mark Jewitt looked to be on for a repeat of Crewe with Matt Lax also looking strong one lap back from Jewitt. Peter Craig and Ollie Payne also seemed to be on the pace. After several changes throughout qualifying between Lax, Jewitt, David Gale and Craig, Lax would sit on pole from Jewitt and Gale. In the A-final another rough start had Lax loses out, dropping to 3rd. Jewitt then went 1st with Gale in 2nd. More incidents saw the top 2 swap as the race went on and the pack spreading out. Ollie Payne battled with Andy Sawyer while the top of the field coped well with the lapped traffic. At the end Gale took the win from Lax and Jewitt.
In Sunday's Open Modified qualifying Chris Kerswell, David Spashett, Mark Stiles and Adam Catchpole all had a look in to top of the list. After round 3, Catchpole looked to be the one to beat but out of nowhere Stiles got TQ for the first time in a number of years, making for one ecstatic Mark. In the A-final and straight from the line, Spashett gets on the back of Stiles putting very close pressure on him. Stiles gets into an incident in the first few laps and his race was over with a mechanical problem. Spashett took the lead from Catchpole until the latter had a problem, dropping back to 3rd, promoting Chris Kerswell up to 2nd. Scott Booth is the big climber from 7th to 3rd. Kerswell pushes Spashett but Kerswell discovers the scenery. He maintains 2nd thanks to his gap. Booth and Matt White had a very tight battle for several laps until Booth slides it off the end of the straight which allowed White to fit through the very small gap between Booth and the barrier. Spashett would take the win once again from Kerswell and Catchpole who was very close behind.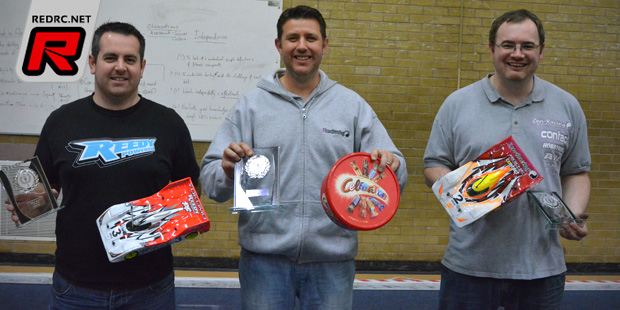 Tim Wood took the Sport Modified TQ after being top of the time sheet after every round. Jim Spencer was fighting but could not match Woods pace despite Spencer's best effort. Spencer took 2nd while Matt Lax looked to be a contender for the first three spots in qualifying but could only manage 4th, allowing Eugene Galley to take the 3rd spot. In the A-final Wood pulled away tailed by Spencer who was pushing hard. Matt Lax made it up to 3rd. Jim puts it in the wall hand gifts 2nd to Lax. Wood still out in front pushing hard with a strong lead and after a few more laps, Spencer make it back past Lax and started to break away before visiting the scenery again and going back to 3rd. Wood walked away with the win with a 2 second lead as they crossed the finish line. Lax in 3rd and Spencer come home in 3rd.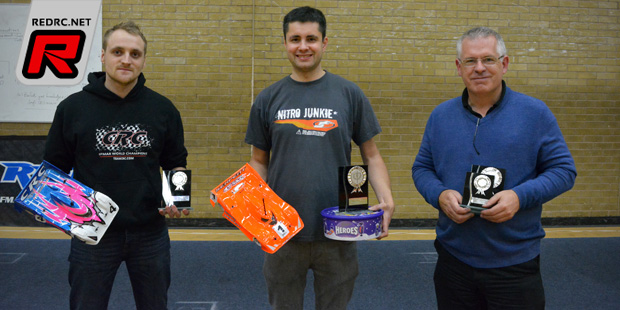 Source: BRCA [brca.org]
---