February 8, 2016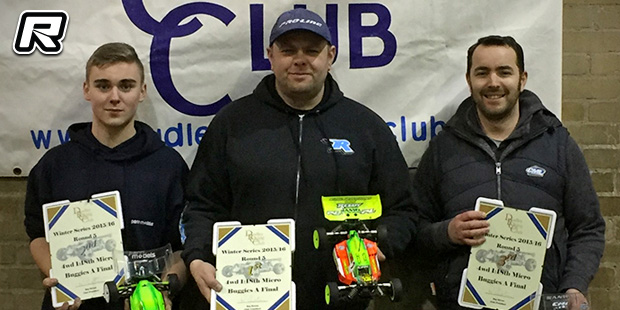 A fantastic turn out of drivers attended the last round of the 2015 Dudley RCC Winter Series that had a great turn out for 1/16th Micro, 2WD, 4WD, Vintage and Touring cars, in total 78 drivers making up 12 heats of qualifying. The club again put on a well laid out fast flowing track on full carpet with the usual table top, finger jumps and the wall ride which were removable for the touring cars. Again there was a strong turnout of support for the 1/16th Micro Class with 30 drivers battling for the top 10. After four rounds Jon Howells took the TQ from Ryan Lucas and Andy Mountford.
Qualifying top 10 result:
1. Jon Howells
2. Ryan Lucas
3. Andy Mountford
4. Ian Littley
5. Jon Griffiths
6. Ryan Bamford
7. Jason Potter
8. Lee Hazelwood
9. Lee Cronshaw
10.Mark Westwood
Jon Howells would go on to dominate both legs, leaving the rest of the field to fight for positions two through to ten. Ultimately Ryan Lucas would grab the runner-up spot from Jon Griffiths who made the top 3 result. Jason Potter came in fourth, Andy Mountford completed the top 5 result.
Overall top 10 result:
1. Jon Howells
2. Ryan Lucas
3. Jon Griffiths
4. Jason Potter
5. Andy Mountford
6. Lee Hazelwood
7. Ian Littley
8. Ryan Bamford
9. Mark Westwood
10.Lee Cronshaw
Source: CML Distribution [cmldistribution.co.uk]
---