February 8, 2016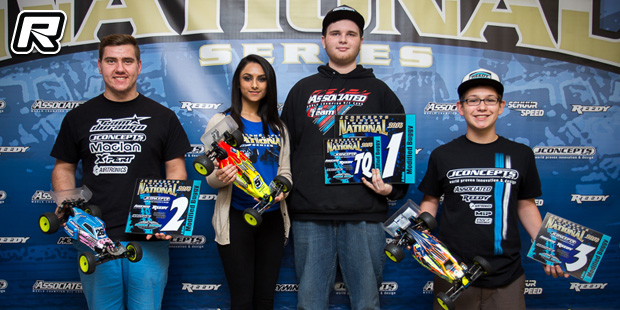 Following some intense qualifying rounds at the 2016 JConcepts Winter Indoor National Series on Saturday, Sunday's mains took that intensity and turned it up even further. From 9 am, the lower mains were ran to decide two bumps, giving racers a last chance effort to make the coveted A-mains. Taking the top 2 drivers in the lower mains, until the B-main which only took one single winner into the A making it a 10 + 1 grid. The JConcepts INS runs a slightly different format than the typical race. Triple A-mains are ran to decide the winner of the 2WD and 4WD Modified classes with the rest running one single 8 minute main that would test drivers' limits.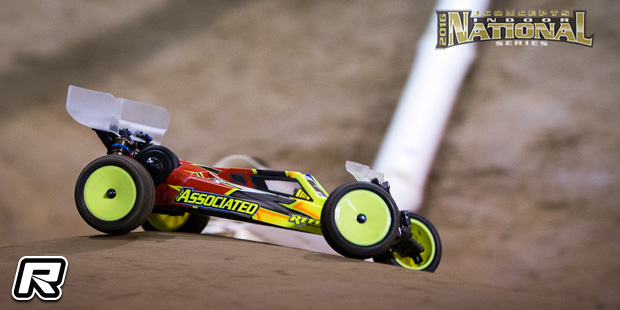 2WD modified saw TQ Alex Kosciuszek (Team Associated) put on a clinic. With flawless driving in A1, Kosciuszek was untouchable from the very start and he cruised his way to A1 victory. Team Durango's JP Richards would capitalize on a mistake made by 2nd place qualifier, Daimon Borkowicz to take over 2nd and finish 2nd in A1. Borkowicz would drop back in the field, but with determination and excellent driving, Borkowicz would charge back to finish 3rd. A2 of 2WD Modified was almost identical to A1 with Kosciuszek able to gap the field. Borkowicz would charge for the entire race and slowly start to reel Kosciuszek back in. With not enough time on the clock, Borkowicz would fall just short by mere 0.4 seconds and have to settle for 2nd. Not having a great run in A2, JP Richards would still manage to retain 3rd. With two wins, Kosciuszek would be crowned the 2WD Winter INS Champion. With Kosciuszek on the sidelines watching A3, Richards would make quick work of Borkowicz to win A3 and finish 2nd overall on the podium. Also getting past Borkowicz to finish 2nd was Max Flurer, who ended up 4th overall. With a 2nd and a 3rd place finish, Daimon Borkowicz (Team Associated) would round out the overall podium in 2WD.
4WD Modified TQ, Team Associated's Alex Kosciuszek looked like he was going to repeat his incredible win at the Reedy as he was able to build a comfortable gap between him and the 2nd place car of JP Richards. With a small mistake hitting a pipe, Kosciuszek's lead would diminish and suddenly it was a nose-to-tail battle between him and Richards for the win. With the pressure on, Richards would find a way around Kosciuszek late in the race and hang on to take A1. Kosciuszek would have to settle for 2nd and Max Flurer (TLR) in 3rd.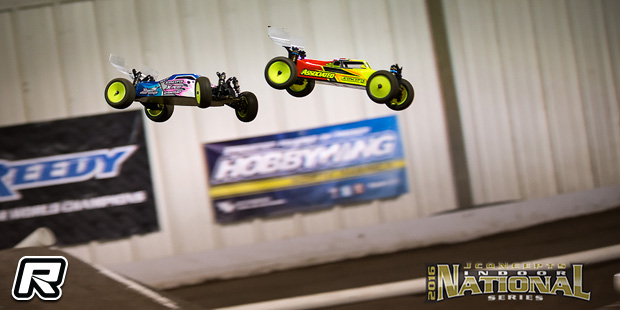 A2 was almost identical to A1 with Kosciuszek and Richards battling from the sound of the tone. Maintaining focus with someone directly on your bumper isn't easy as the two would dice back and forth multiple times, but this time, it was Kosciuszek finishing ahead of Richards forcing it to go to A3. Once again, Flurer would finish 3rd in A2.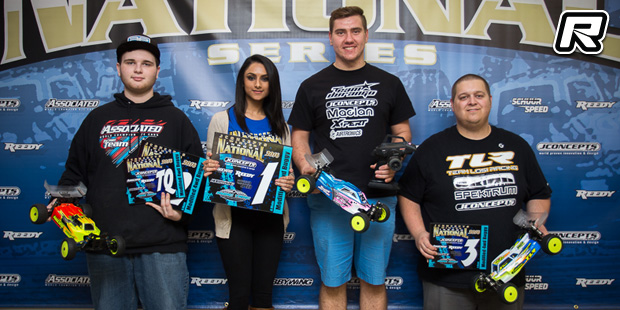 The highly anticipated A3 was just as exciting as the first two mains. Being pushed to the limit, Kosciuszek would make a mistake almost 2 minutes in giving Richards the lead. Once in the lead, Richards turned on the after-burners leaving Kosciuszek playing catch up the entire race. With a few minor bobbles, Kosciuszek would lose 2nd momentarily to Flurer but was able to take the position back and finish 2nd. Flurer would once again finish 3rd. With two wins, JP Richards (Team Durango) would win the overall in 4WD Modified with Kosciuszek 2nd and Flurer 3rd in the overall.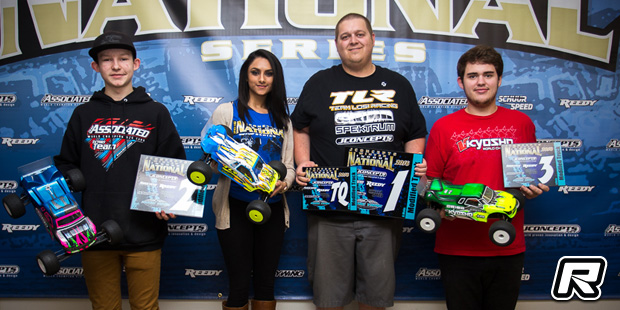 Modified Truck was an exciting battle between TLR's Max Flurer and Team Associated's young talent Tyler Jones. With Flurer making a 1st lap bobble, Jones was able to take the lead early on. However, the experienced Flurer was able to pressure Jones and eventually make the pass on the 7th lap and finish out strong to take the win. The Team Associated youngster would finish 2nd and Kyosho's Alex Mueller 3rd to round out the podium.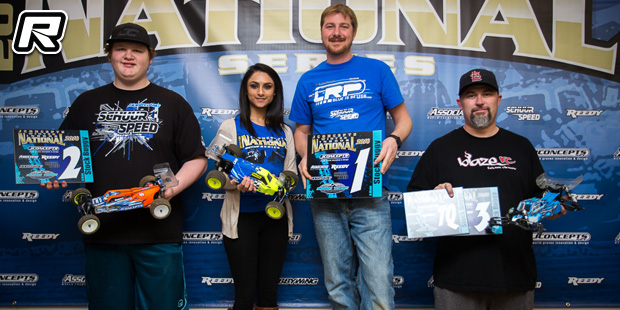 In the 17.5 Stock Buggy class, TQ Mike Marshall would lead the pack from the tone. After 4 laps, 2nd place car Cole Henriksen and Marshall would make contact after the triple allowing Lucas Duncan to slip by and from there the rest was history. After moving into the lead, Duncan would gap the field and cruise to an easy win. Henriksen would eventually get by Marshall to take 2nd and Marshall 3rd.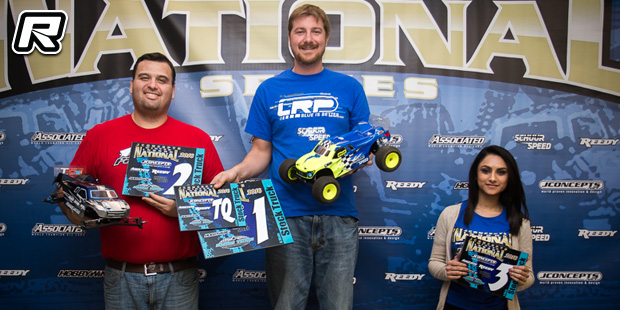 17.5 Stock Truck saw much of the same in its 8 minute run with TQ Lucas Duncan leading the field from tone to tone. Duncan was relentless and drove at a level that was untouchable. Finishing 2nd was Cesar Keller who wasn't able to chase down Duncan but held 2nd without contest. The final spot on the podium was Odus Christian.
Trying to complete the Stock class sweep, Duncan was at it again in 17.5T Stock Short Course. Unfortunately for Duncan, Cole Henriksen was a man on a mission. Spending almost 6 minutes chasing Duncan, Henriksen was able to make the pass with 1:45 left on the clock. With time running out, Henriksen would hold off Duncan to take the win with Duncan settling for 2nd and Frank Prestigiacomo 3rd.
Thanks to Thomas Tran for the report.
---