February 21, 2016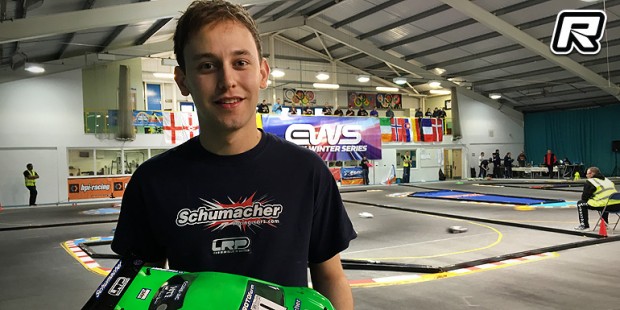 Yannic Prumper topped the final round of qualifying that was held at the 2016 International Carpet Challenge this morning. The run allowed him to secure second place on the grid, beating Kyle Branson on the tie-break. However, this was not enough to deny Elliott the overall TQ, the Schumacher driver saying that the surprisingly fast track conditions this morning "caught him out a bit", but now knows what he needs to adjust for the finals. Olly Jefferies will line up fourth for Xray, with Fast Finn Viljami Kutvonen fifth overall with his Awesomatix. Chris Grainger will start sixth, the multi-time UK Champion, well-known as not the biggest fan of carpet racing, joked that after securing sixth he would "need a lie down". Polish youngster Michal Orlowski was the top junior, seventh overall, in front of the Tamiya of Germany's Christopher Krapp, Leo Arnold (Xray) from France and Paul Pinkney (Schumacher), making it five different nationalities in the main final and seven different manufacturers.
Modified A-final grid
1. Elliott Harper – Schumacher – 0 points
2. Yannic Prumper – / – 2 points
3. Kyle Branson – Capricorn – 2 points
4. Olly Jefferies – Xray – 6 points
5. Viljami Kutvonen – Awesomatix – 7 points
6. Chris Grainger – Team Associated – 9 points
7. Michal Orlowski – Schumacher – 10 points
8. Christopher Krapp – Tamiya – 11 points
9. Leo Arnold – Xray – 14 points
10.Paul Pinkney – Schumacher – 18 points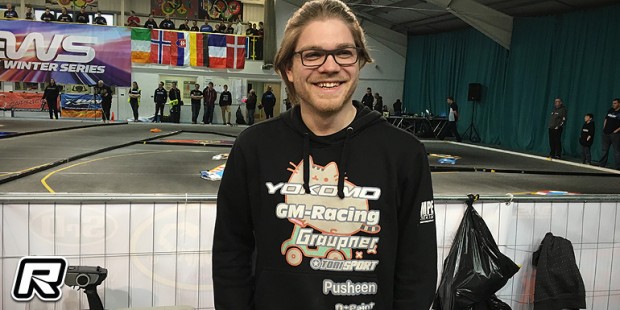 In the Super Stock class, despite having secured TQ last night, Jimmy Maddison still managed to take the win. The UK driver, who wrapped up the overall Essex Winter Series championship earlier in the season, now admitted he was getting "nervous" ahead of the finals, and that it was "great to race against such great competition and two of the fastest guys from Europe who I have much respect for". The two guys he was referring to, Germany's Martin Hofer and "Mad" Max Machler, will line up second and third respectively, with James Hart securing fourth on the grid.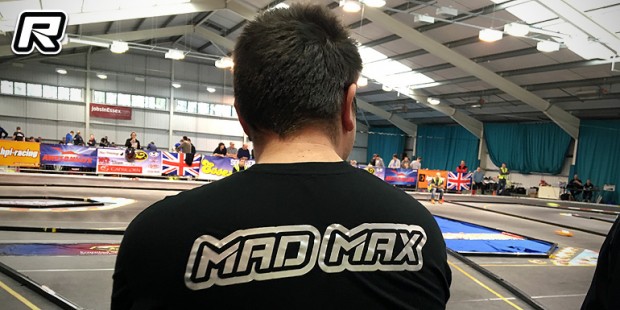 Behind them, Jamie Kickin will line up fifth, Gizmo driver Martin Christensen sixth and Awesomatix' Marvin Schneider seventh. A good last round from Tony Broad netted him eighth overall, with Graham Kenny and Matt Chandler rounding out the A-final.
Super Stock A-final grid
1. Jimmy Maddison – 0 points
2. Martin Hofer – 4 points
3. Max Machler – 4 points
4. James Hart – 6 points
5. Jamie Hickin – 9 points
6. Martin Christensen – 9 points
7. Marvin Schneider – 11 points
8. Tony Broad – 12 points
9. Graham Kenny – 14 points
10.Matt Chandler – 15 points
In Formula, Keith Dempsey relegated Martin Hofer to second by topping the final round and setting the best overall run. Mark Gilliland will line up third, with Andrew Walters and Damian Giddins rounding out the top five.
The ICC concludes with three leg finals today.
Thanks to Oli Meggitt for the report.
---