March 21, 2016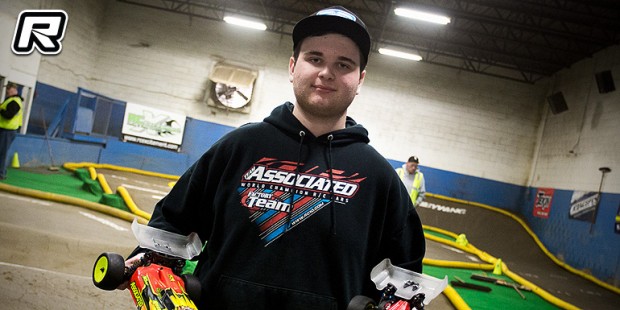 The Scotty Ernst Offroad Showdown has made its return in 2016 with a series of races held at some of the hottest tracks throughout the United States. With a unique style of presentation and atmosphere, the Offroad Showdown's mission is to bring the excitement and fun along with sharing the love we have for this wonderful hobby to all racers of all levels. This past weekend, round 1 of the Showdown was held at R/C Excitement in Fitchburg, Massachusetts. It is an RC paradise that rivals the world famous Yatabe Arena in many aspects and definitely a place to check out. The track layout was designed with the intent of being less technical while still maintaining a good deal of challenge, fun and flow. The crew at R/C Excitement did a wonderful job in creating a magnificent layout that suited all levels of driving.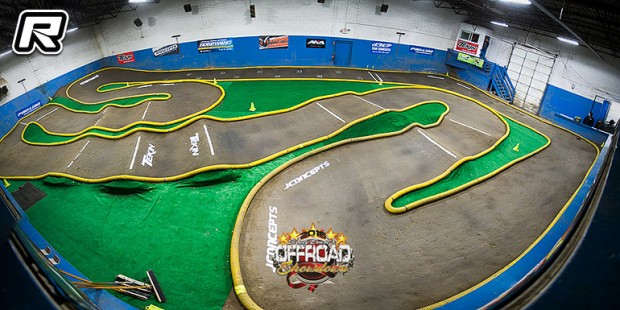 Team Associated's Alex Kosciuszek put in a near flawless performance in the Modified Buggy class to earn TQ and take the win putting an exclamation on the weekend. Leaving the battle for 2nd and 3rd to be decided by the rest of his competitors, TLR's Aaron Kothman would capitalize on TLR's Toddie Anderson's early mistake that shuffled him back in the pack. Kothman would mount a charge to catch Kosciuszek, but ran out of time and finish 2nd while Anderson would battle back to finish 3rd.

Alex Kosciuszek is definitely on the rise. With his Reedy 4WD Open win and his 2WD win in St. Louis at the JConcepts INS earlier in the year, Kosciuszek is definitely making a name for himself in the RC scene. Continuing his excellent performance and awesome drive, Kosciuszek was able to TQ and take the win in the 4WD Modified class. Local hero, TLR's Toddie Anderson would challenge the Reedy Open Champ in speed, but unable to equal Kosciuszek's consistency. Anderson would finish 2nd and TLR teammate, Aaron Kothman would finish 3rd to top out the podium.

The 4WD SC class saw the closest battle of the weekend between young 13 year old and class TQ, William Piper and Peter Battinelli. After 7 minutes of racing, Battinelli would put in a late charge and challenge Piper for the win on the final lap. Piper would cross the line and take the win by just 0.3 seconds over Battinelli. Patrick Brassill would finish out the top 3 with a solid run.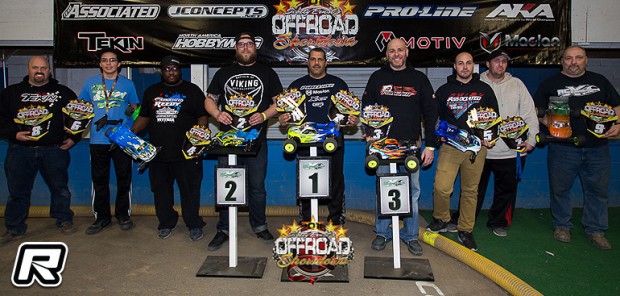 Paul Medina delivered when it counted. After TQ'ing the Modified Truck class, the main was a show of grit and determination. After multiple lead changes, Medina would finish 1st with Erik Voelkle 2nd and Josh Spiewak in 3rd.

TLR's Caleb Jennings would make it 3 for 3 in podium finishes with 2 wins and a 3rd place finish. With a win in the Modified SC class Jennings put in another convincing performance in Mod SC, edging out TLR's Aaron Kothman for the win with Kothman finishing 2nd and Erik Voelkle taking 3rd.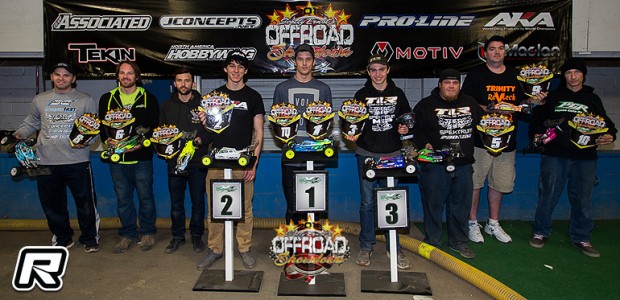 While in the Stock Buggy class, it was James Cranmer throwing down in qualifying taking all three rounds and earning the TQ in a competitive field of stock buggies. From there, Cranmer would continue his dominance after a rough start. Recapturing his lead, Cranmer never looked back and checked out from the field. Making a bit of a return from his 3 year hiatus, Michael Losi was in attendance and drove an excellent race to finish 2nd overall. SC master, TLR's Caleb Jennings would take the final spot on the podium finishing 3rd.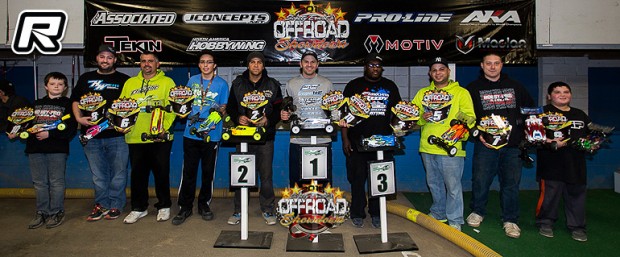 The 13.5 4WD class saw John Cravotta rise to the top of the leader board with consistency and speed. Taking all rounds of qualifying and winning the A-main in style, Cravotta was hard to beat. Finishing out the podium was Luis Moreno in 2nd and Steve Jean Charles in 3rd.

Stock SC was a close race among the top 5 drivers all weekend long. Taking TQ and the win was TLR's Caleb Jennings showing he was the top man to beat. Peter Bartlett would put in a strong performance to finish just 3 seconds back keeping Jennings on his toes. John Cravotta would finish where he qualified and finish in the top 3.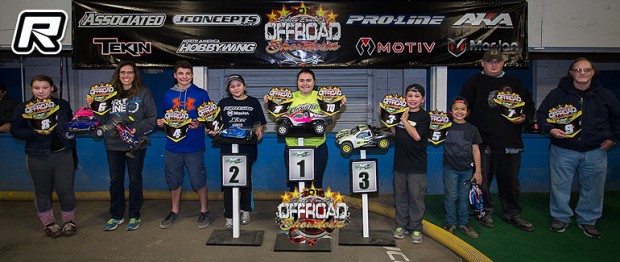 In the Novice class, it was Keisha Redford displaying a great amount of driving skill that earned her TQ through qualifying and also taking the win in the 7 minute single A-main. Radford's consistency was hard to beat, as Briana Medina would finish 2nd with a faster lap than Radford. Rounding out the podium was Andrew Kothman finishing 3rd taking the final podium spot.
Source: 2wdMod [2wdmod.com]
---