March 23, 2016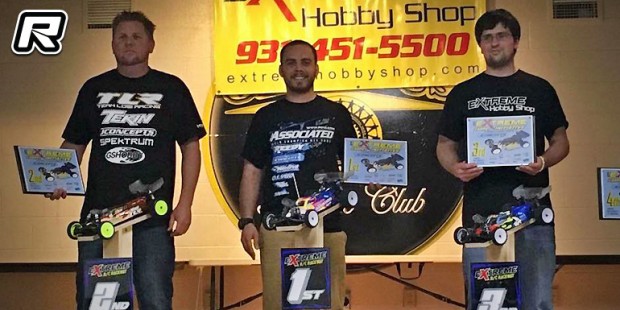 The Extreme Carpet Initiative was held at Extreme RC raceway in Spring Hill, Tennessee. The awesome carpet track is setup a couple of times each month for racers all over the area to have a place to race. Not changing up the layout and going with a previous layout configuration the racers saw a mix of singles, doubles, corner jumps and a wall ride as jumps/obstacles for this year's event. The track also featured different carpet areas as the main basketball court would be covered in a gray indoor/outdoor carpet with the jumps and the landing after the jumps in different type of carpet mainly to help from damaging the basketball court underneath the race track from hard landings.

2WD Modified round one saw Team Associated driver Blake Boggs take TQ overall. After a rough round one of qualifying, TLR driver JR Mitch rebounded in round two to lay down the fastest run of the weekend with his TLR 22 3.0. The main saw the top two drivers, JR and Blake, do battle from the sound of the tone not just between each other, but with lap traffic also. JR was able to get a comfortable lead after a small mistake by Blake, but then by lap four, JR got caught up with lap traffic giving the lead to Blake. JR tried to mount a comeback by turning some of the fastest laps of the weekend, but all is for not as JR got into it with anther lapper and he made a costly mistake, which allowed Blake to take the overall win for 2WD Modified.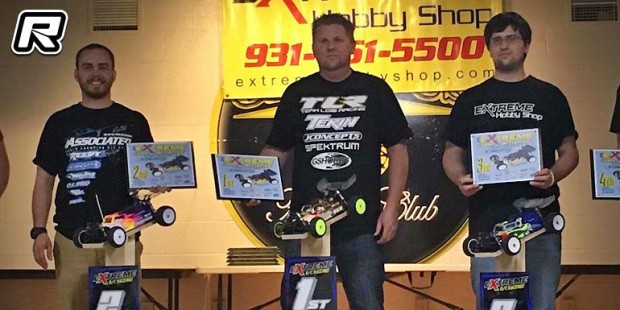 4WD Modified qualifying was dominated by Team Associated driver Blake Boggs taking TQ in rounds one and two, with TLR's JR Mitch in the second spot and Schumacher driver, Caleb Stevens in third. The main event saw Blake leading lap one, but dotting out on the S turn after the straightaway which gave the lead to JR. Some blistering laps by Blake after the crash, and kind of the same situation with JR in the 2WD main ended up with JR taking the win and Blake in second.
Source: JConcepts [jconcepts.net]
---