March 29, 2016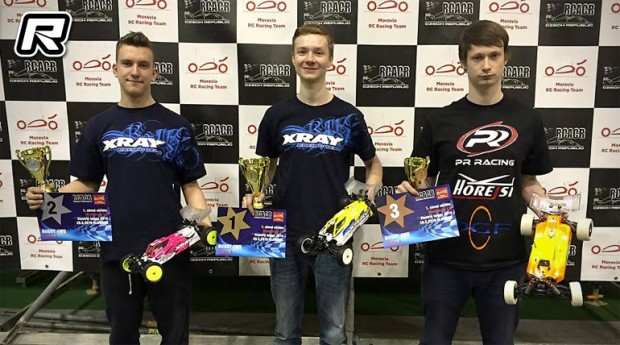 The first round of the 1/10 Czech nationals 2016 took place in Olomouc and Kaja Novotny wrote this report. 'This year the organisers have decided to make the series more interesting than in previous year with the first round on carpet, then 2 rounds on clay, followed by 3 rounds on astroturf. We arrived late on Friday for a short practice. In practice I struggled little bit to find the pace for clean 5 minutes run and somehow couldn't get a clean lap. When arrived to the hotel, we made few changes on the cars which appeared as a right move. On Saturday both my XB2 and XB4'16 worked great since the first lap. In 2wd qualifications I wasn't the fastest driver on one lap, but the most consistent and took TQ in all three qualifications. In 4wd qualifications my XB4'16 was amazing, however being hit twice in Q1 by one-lap slower drivers meant 2nd place. Nevertheless TQs in Q2 & Q3 meant overall TQ for my XB4'16.
In 2wd finals my Team Orion powered XB2 was on fire by setting the fastest lap of the race and winning all three legs by more than half a lap in front of second! Second overall finished Ales Bidovsky (Xray XB2) and third Marek Schiller (PR)!.
2wd Top 10:
1. Kaja Novotny (TQ) – Xray
2. Ales Bidovsky – Xray
3. Marek Schiller – PR
4. Zdenek Miksovsky – Xray
5. Ondrej Kulhanek – Xray
6. Max Gotzl – Xray
7. Roman Pudich – PR
8. Marcel Dostal – Xray
9. Vaclav Broz – Serpent
10. Martin Rytir – Xray
In 4wd finals my Orion powered XB4'16 easily won 1st and 2nd leg and secured the overall win. For the last final we tried few things, which didn 't work out as we had expected, but still managed to take the win also in the last round. Top 3 was the same as in 2wd – 2nd finished Ales Bidovsky (Xray XB4'16) and 3rd Marek Schiller (PR). Congratulations to young Xray's Max Gotzl, who was leading most of the last 4wd final and finished overall 4th, great driving.
4wd Top 10:
1. Kaja Novotny (TQ) – Xray
2. Ales Bidovsky – Xray
3. Marek Schiller – PR
4. Max Gotzl – Xray
5. Zdenek Miksovsky – Xray
6. Radim Hruska – Xray
7. Ondrej Kulhanek – Xray
8. Marcel Dostal – Xray
9. Jakub Mader – Xray
10. Martin Rytir – Xray
Source: Xray [teamxray.com]
---