March 24, 2016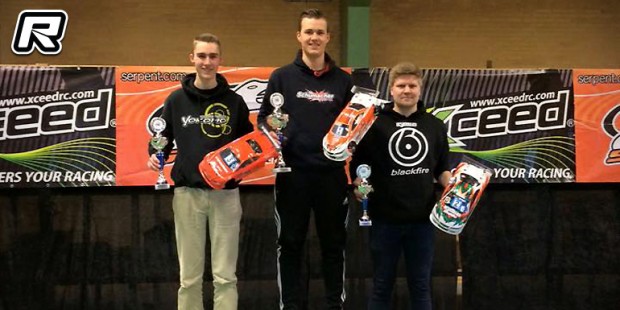 The final round of the Danish Touring Car Nationals was held in Tinglev near the German border. The race attracted a record breaking 80+ entries including reigning DHI Cup Champion Tim Benson from Germany. The overall championship was still up for grabs with both Nicolai Lindegaard and Steven M. Olsen could secure the title with a win. Controlled practice saw Nicolai and Steven settle for second and third as they were beaten by Frederik Mikkelsen by 0.1 tenth of a second and it looked to be a weekend of close racing.

As qualification kicked off Nicolai shifted into second gear, taking round TQs in Q1 and Q2, almost securing the overnight TQ but Tim Benson went all-in for Q3, holding off Nicolai to grab the overall TQ. The two remaining qualifiers were then taken by Nicolai in storm, leaving Tim and Frederik behind with a gap of at least 2 seconds. From the TQ spot Nicolai then cruised to the win in the opening A-mains to secure the day's win and with it the overall championship in style. Frederik Broløs Mikkelsen would end the day on the 2 spot from Tim Benson in third.
A-main result:
1. Nicolai Lindegaard
2. Frederik Broløs Mikkelsen
3. Tim Benson
4. Patrick Danielsen
5. Steven M. Olsen
6. Moritz Flügge
7. Niklas Engholm
8. Kevin Nielsen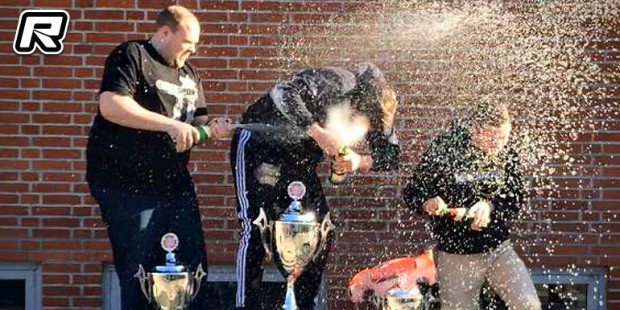 Championship results:
1. Nicolai Lindegaard
2. Steven M. Olsen
3. Frederik Broløs Mikkelsen
4. Stefan Finnich
5. Patrick Danielsen
6. Niklas Engholm
7. Kevin Nielsen
8. Mads Andreas Callesen
Thanks to Nicolai Lindegaard for the report.
---