March 30, 2016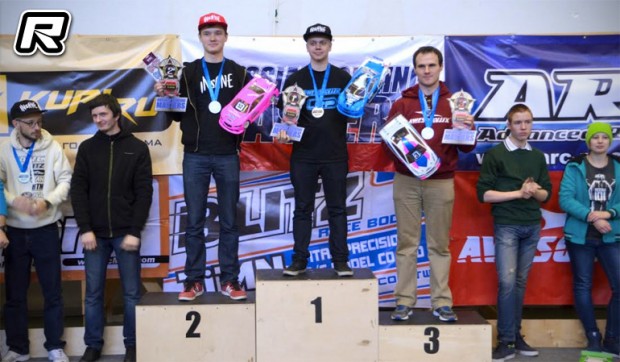 From 26th to 27th of March 2016 the annual TC event called the Russian Touring Masters was held in St. Petersburg, Russia. This time the track had a new bigger 32x16m carpet and a new layout and for the third in a row some drivers from abroad have visited the event. Former LRP TCM winner Viljami Kutvonen from Finland with Marcel Geiger and Max Machler from Germany were racing in modified. Mad Max was also racing in 13.5 turn stock class. During qualifications there was total domination of Viljami Kutvonen in modified. Former Russian national champion Kirill Trofimov grabbed second spot showing very good speed. ETS A-main participant Maxim Laverychev lacked some pace in qualification and started from the third place on the grid.
In 13.5 turn stock class Max Machler won all rounds of qualifications without problems with Kirill Kiselev in second and Vitaly Karpov on the third. In 17.5 turn stock class it was Kirill Artsishevsky who was dominating the whole event. Gennady Karlov sat in second and youngster Nikita Trofimov in third.
Finals were very interesting with a lot of battles and overtakings on the track. In modified Viljami has won first two finals but last one has gone to Maxim with great overtaking on the last lap and so took the second place overall. Kirill Trofimov after a couple of mistakes in the finals has moved down to third position.
TC-10 Modified overall:
1. Viljami Kutvonen – Awesomatix
2. Maxim Laverychev – Awesomatix
3. Kirill Trofimov – Awesomatix
4. Georgy Chmigal – Awesomatix
5. Max Machler – Awesomatix
6. Marcel Geiger – Awesomatix
7. Vitaly Sushkov – Xray
8. Oleg Lastochkin – ARC
9. Ilya Plakhotnik – Spec-R
In 13.5 stock class Max Machler won all three finals with Kirill Kiselev behind him. The most interesting battle was for the third place where Vitaly Karpov and Alexander Naumov had the same pace and a lot of battles. Finally after a mistake of Vitaly in the last final Naumov finished second and managed third position on the podium.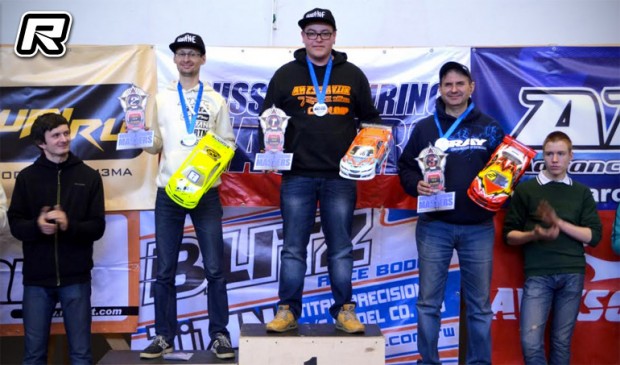 TC-10 13.5 turn stock overall:
1. Max Machler – Awesomatix
2. Kirill Kiselev – ARC
3. Alexander Naumov – Xray
4. Vitaly Karpov – Awesomatix
5. Alexey Egorov – Tamiya
6. Mihail Scherbakov – ARC
7. Alexander Chernukhin – ARC
8. Igor Shirokov – Xray
9. Karen Kochkonyan – Xray
10. Kirill Artsishevsky – ARC
In 17.5 stock class Kirill Artsishevsky hadn't any problems and took the victory. Ivan Shelevakho showed great performance and grabbed second overall from the fourth starting position. Third place went to Gennady Karlov.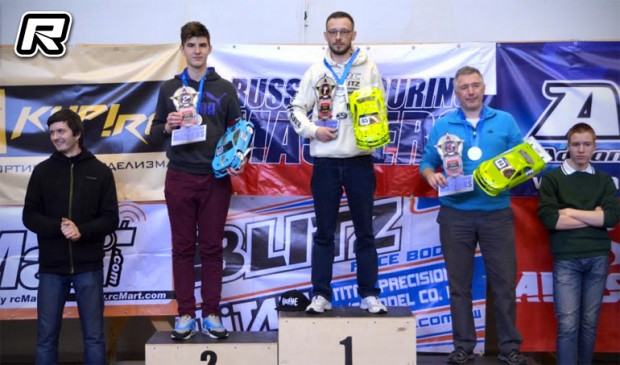 TC-10 17.5 turn stock overall:
1. Kirill Artsishevsky – Tamiya
2. Ivan Shelevakho – Xray
3. Gennady Karlov – Xray
4. Arina Ushakova – Spec-R
5. Georgy Zabrodin – Hot Bodies
6. Nikita Trofimov – Xray
7. Sergey Sakovich – Yokomo
8. Alexander Kobelev – Spec-R
9. Pavel Bochkov – Yokomo
10. Andrey Fedin – VBC
Thanks to Kirill Kiselev for the report.
---