March 22, 2016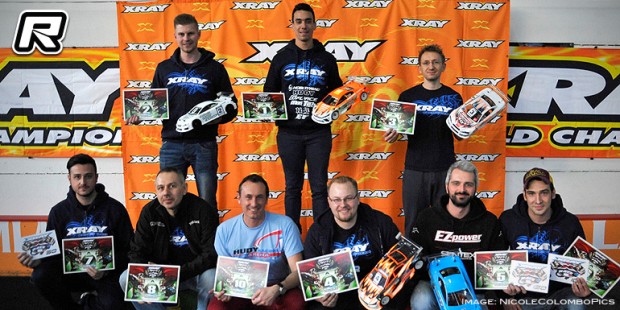 The recent X-Race Italy was hosted by the Team La Gang in Scandiano, Italy with the event attracting over 100 drivers to compete in the five classes of Touring Modified, Touring Stock 13.5T, Formula, 1/10th GT and 1/12th scale. The 2-day event saw controlled practice and the first three qualifying rounds on Saturday followed by two more qualifiers and triple mains on Sunday. In the Touring Modified class Coelho Bruno would take the TQ from Marco Kaufmann and Martin Hudy while in Touring Stock Jan Ratheisky would come out fastest from Davide Bertuzzi and Andrea Valerio. In the Formula class Guido Barbera would grab the pole position for the finals while 1/10th GT had Jan Ratheisky took the TQ honours. Finally in 1/12th pan car it was Alessio Mota who placed his car on the 1 spot for the finals.

The Touring Modified A-mains were a pretty entertaining affair with Bruno Coelho and Marco Kaufmann battling for the win. Ultimately Bruno would come out fastest from Marco while Martin Hudy had to settle for third.
T4 Modified A-main results:
1. Bruno Coelho
2. Marco Kaufmann
3. Martin Hudy
4. Jan Ratheisky
5. Guido Ristori
6. Fabrizio Manicardi
7. Federico Milanese
8. Luca Torreggiani
9. Marco Baruffolo
10.Giuseppe de Liguori
In 13.5T Stock Mr. "More classes, more fun", Jan Ratheisky brought home the winning honours from Andrea Ghilotti and Andrea Valerio.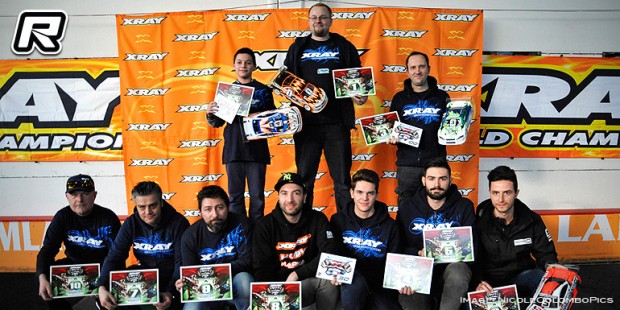 T4 Stock 13.5T A-main results:
1. Jan Ratheisky
2. Andrea Ghilotti
3. Andrea Valerio
4. Davide Bertuzzi
5. Nicola Fornasari
6. Davide Rabitti
7. Luca Baronchelli
8. Luca Giovannoni
9. Roberto Fabiano
10.Emanuele Agnoletti
The Formula class had Guido Barbera taking the day's win from Simone Brocca and Martin Hudy in second and third respectively.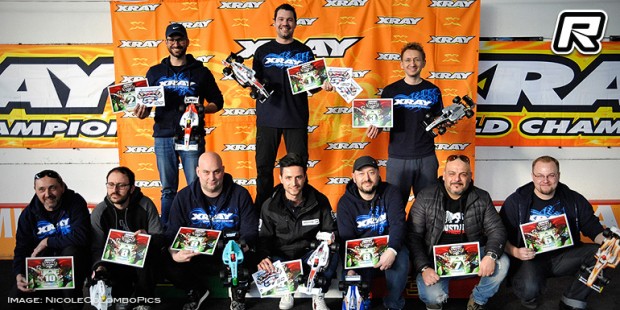 Formula A-main results:
1. Guido Barbera
2. Simone Brocca
3. Martin Hudy
4. Davide Rabitti
5. Jan Ratheisky
6. Davide Carbone
7. Massimiliano Mossa
8. Simone Palmonari
9. Valerio Solca
10.Maurizio Materassi
In the 1/10th GT class it was again Jan Ratheisky who would take the title, this time in front of Nicol Grisenti and Andrea Selva.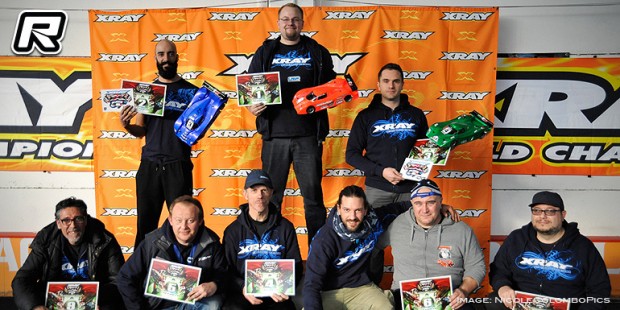 X10 A-main results:
1. Jan Ratheisky
2. Nicol Grisenti
3. Andrea Selva
4. Cristiano Ciarlone
5. Giampiero Ferri
6. Michele Piluzza
7. Marco Pavarelli
8. Luca Isola
9. Marco Del Panta
Finally in the 1/12th class Alessio Mota was able to defend the top spot from Jan Ratheisky, who participated in all five classes, while Alessandro Rampini completed the top 3 result.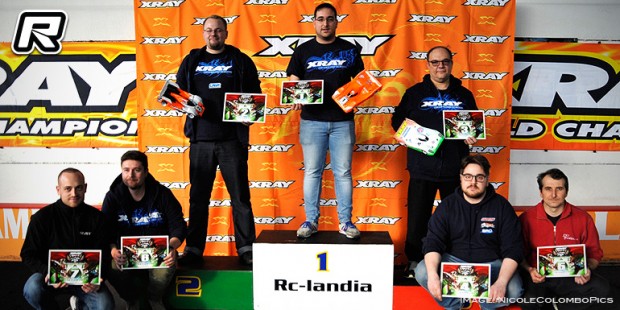 X12 A-main results:
1. Alessio Mota
2. Jan Ratheisky
3. Alessandro Rampini
4. Claudio Brandi
5. Davide Bertolino
6. Enrico Avoni
7. Nicola Marrone
8. Marco Neri
Source: Xray [teamxray.com]
---