March 3, 2016
Last weekend saw Singapore holding its first ever Offroad Indoor Carpet Event – aptly named ICE – at the nation's famous Science Centre. Over 60 racers signed in for the three classes of 2WD Open, 4WD Open and a Junior under-12 race. The event was run on a custom-built carpet track and saw all racers running on the new track with a new layout on new tires for the first time. These conditions, coupled with a strict no-additive rule, made for an incredibly fair and exciting race. The 2WD Open Buggy practice and qualifying saw racers clocking faster laptimes with every round as setups were tuned and the handout Sweep Nonslip tyres started to groove in and generate more grip. Topping the table on 2 of the 3 qualifying runs, Mark Lim would take a convincing TQ position with Vincent Yong in second and Jeremy Hong qualifying third.

The finals would be a totally different story with TQ Mark sitting out – which saw Vincent Yong taking A1 and A2 for the early win despite strong challenges from Bobby and Jeremy respectively. An early pile-up in A3 allowed Mantoyolz to move from fifth on the grid all the way up to first where he would lead the race and win the leg – giving him a well-deserved third place on the podium behind second place Jeremy Hong.
2WD Buggy A-main result:
1. Vincent Yong
2. Jeremy Hong
3. Mantoyolz
4. Bobby
5. Thomas Teo
6. Smith Kek
7. Fazly
8. Alan Chia
9. Terence Low
10.Mark Lim
The 4WD class saw lightning fast lap times on the consistent carpet surface. Setting the pace early in qualifying would be Dennis Chiang. Topping each of the 3 qualifying runs with 21-lap runs of almost identical 5:02 laptimes, he would be the undisputed TQ with his team mates Jeremy Hong and Mark Lim. The finals were an exciting affair with TQ Dennis and runner-up after qualifiers, Jeremy putting on great driving displays, constantly swapping leads in both A1 and A2. With Jeremy taking the win in A1 and Dennis in A2, all eyes were on A3 to see who would ultimately be crowned champ. In a fitting finish to the thrilling race weekend, the battle between the two cars would see Danial Miswan to sneak by them both late in the race and take A3 followed by Dennis and Jeremy – handing Dennis the overall win with Jeremy in second and Danial taking third.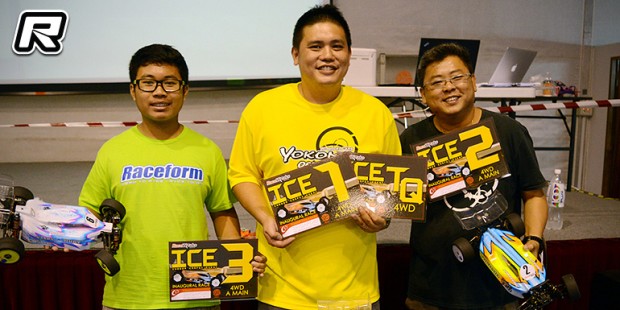 4WD Buggy A-main result:
1. Dennis Chiang
2. Jeremy Hong
3. Danial Miswan
4. Roy
5. Fadzil
6. Thomas Teo
7. Danny Png
8. Terence Low
9. Mark Lim
10.Janson Seow
Source: RaceWorks Hobbies [raceworks.sg]
---