April 26, 2016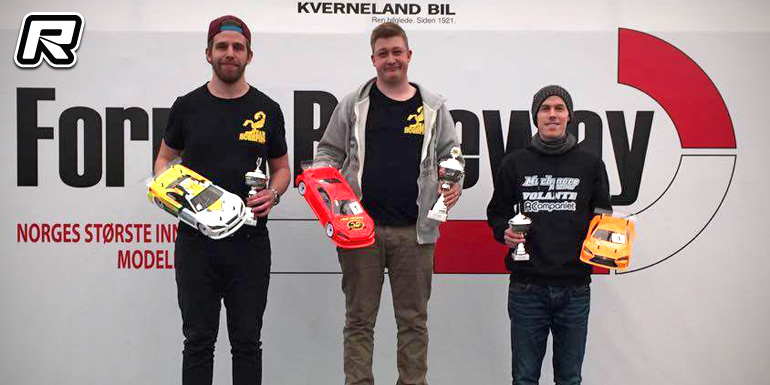 The first round of the Norwegian Outdoor Cup was held at the Stavanger Forum Raceway in the city of Stavanger located on the south-west coast of Norway. The asphalt track is located inside a rubber clad storage warehouse and and it thankfully features a roof as it started to snow during the weekend. The event saw the running of four different classes including Touring Modified, Touring 13.5T blinky, Touring 21.5T blinky and M-Chassis. The Touring Modified qualifiers were dominated by newly crowned Norwegian indoor champion Nikolai who took the TQ with Helge in second and Svein third.

The first A-main was a tone to tone win for Nikolai with Helge in second and Svein third. The second main looked to be heading for a similar result, but Helge got by Nikolai after a small mistake and Nikolai started to hunt him down, but during an attempt to retake the lead the two touched sending Helge off the track damaging his car and forcing a retirement. During all this Andreas had managed to slip past Svein and the incident between Nikolai and Helge put him in the lead and he ended up taking the win in the second final just in front of Nikolai. It all came down to the third and final main to decide the winner. Unfortunately, Helge had to sit this one out as his car was too badly damaged from the crash to get fixed in time. Nikolai took this run tone to tone, but the fight for second was very close between Andreas and Svein where Andreas (starting fourth) managed to get past Svein quite early on, but could not shake him off. Svein was right on his bumper and looking for an opening almost the entire race, but Andreas kept it tight and clean and was able to hold on to the second spot by four tenths of a second.
Touring Modified A-main result:
1. Nikolai Haaheim – VBC/Scorpion
2. Andreas Daving – Yokomo/Scorpion
3. Svein Anfinnsen – VBC/Muchmore
4. Helge Johannessen – ARC/GForce
5. Rune Svestoel – Xray/Muchmore
6. Georg Ellingsen – HB/Muchmore
7. Even Enerstvedt – VBC/Muchmore
8. Rune Halvorsen – Xray/Team Orion
In the Stock 13.5 blinky class it was Fredrik who had the upper hand over Jonas and Mathias, they had the same one-two-three positions in all qualifiers and all mains with Fredrik in front of Jonas and Mathias, but it was a close fight and lapped traffic made it very tense. The local up and coming youngsters Mathias, Vegard and Ole Thomas weren't that far behind and will surely be some to look out for in the near future.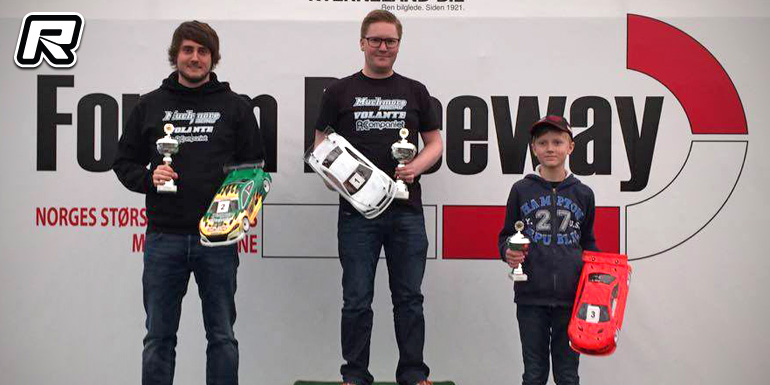 Touring Stock 13.5T A-main result:
1. Fredrik Håvardsrud – ARC/Muchmore
2. Jonas Ramsrud – VBC/Muchmore
3. Mathias Nedrebø – Yokomo/Muchmore
4. Vegard Johnsen – Schumacher/Muchmore
5. Ole Thomas Bryne – Schumacher/Muchmore
6. Rudi Sand – –/–
7. Inge Homme – ARC/–
8. Andreas Bryne – Schumacher/Muchmore
9. Roy Bråten – ARC/Muchmore
10.Odd Helge Johansen – –/–
Standard 21.5T blinky was the most consistent class as it brought the same result in all qualifiers as well as all the finals. No one could catch Sindre as he dominated all sessions and one all the races with at least one lap. There were two debutants in this class, Markus and Tobias, they really impressed the crowd as well as the other competitors with their performances.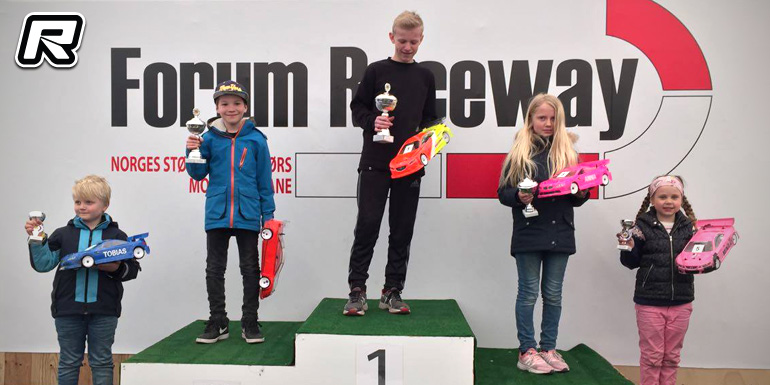 Touring Standard 21.5T A-main result:
1. Sindre Skjeie
2. Markus Sørensen
3. Anna Nedrebø
4. Tobias Nedrebø
5. Mina Theresia Time
The M-Chassis class was TQ'd by Thomas, with Ole Thomas in second and Kjetil Skjeie in third and Thomas went on to win all the finals, but he had to work hard to fend off a strong challenge from Ole Thomas, the two of them were in a class of their own and the others had to fight amongst themselves as these two raced for the win.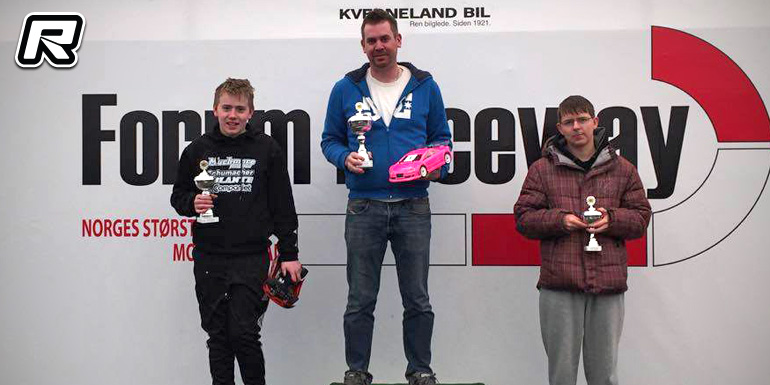 M-Chassis A-main result:
1. Thomas Roaldkvam
2. Ole Thomas Bryne
3. Inge Homme
4. Kjetil Skjeie
5. Johnsen Jarle
6. Roger Vestvik
7. Ingvar Time
Thanks to Svein Anfinnsen for the report.
---