April 20, 2016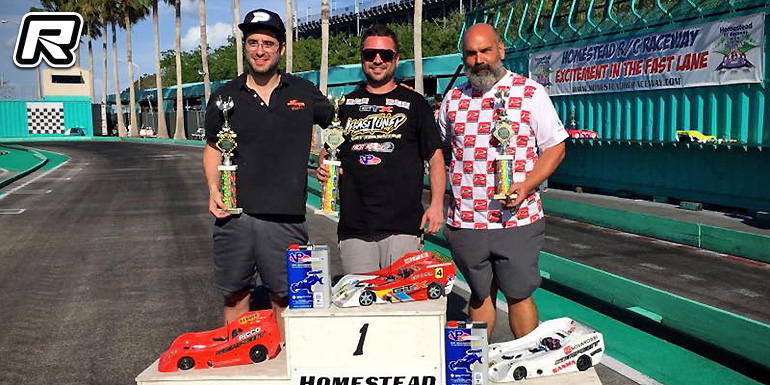 Last week the top US nitro drivers made there way to Homestead, Florida to compete in the 2016 Miami Grand Prix with the top drivers from almost every manufacturer set the stage for a shootout in nearly perfect South Florida weather. As practice began the fastest 1/8th drivers were getting down into the 15's showing some ballistic pace. DJ Apolaro, Paolo Morganti, Chris Tosolini, and Joaquin Desoto Junior all looked to be a factor to contend for the win. On Friday qualifying got underway and DJ Apolaro set the bar putting down a 16 lap run followed by Paolo, Joaquin, and Tosolini.

In round two Paolo and Tosolini would step up to 16 lap runs Paolo setting a new fast time. On Saturday in round 3 Paolo would barely hold on to TQ when DJ posted a 16 4:12.594 just off Paolo's 16 4:12.559 from round 2. In round 4 the overall fast time would stay the same but Joaquin Desoto Junior would join DJ, Paolo, and Tosolini in the elite 16 lap club. In round 5 DJ would step up and reset TQ posting a 16 4:12.376. After qualifying concluded it was very clear the main was going to be a battle. Efficiency and strategy would come into play.
Sunday main day arrived and the talk around the pits was all about tire strategy for the 45 minute final. Out of the top drivers Chris Tosolini was the only one rolling out on harder tires and confident in being able to make the duration of the final without a change. As the 45 minute Final started DJ jumped out to an early lead with Paolo in tow, Tosolini made a pass on Joaquin and was able to pace with the leaders running in the 3 spot. After about 10 minutes DJ would have a problem and Tosolini would make his way to the top spot. Toso looked to be on a leisurely joyride as the pit stops and tire changes started. Chris drove away from the field and dominated the 45 minute encounter with a 12 lap lead on Joaquin Desoto Junior. After looking at Tosolini's tires after the main it was clear he could have made it on one set even if the main was 60 minutes.
Source: Hot Race Tires [hotracetyres.com] & Ielasi Tuned [ielasituned.com]
---