April 26, 2016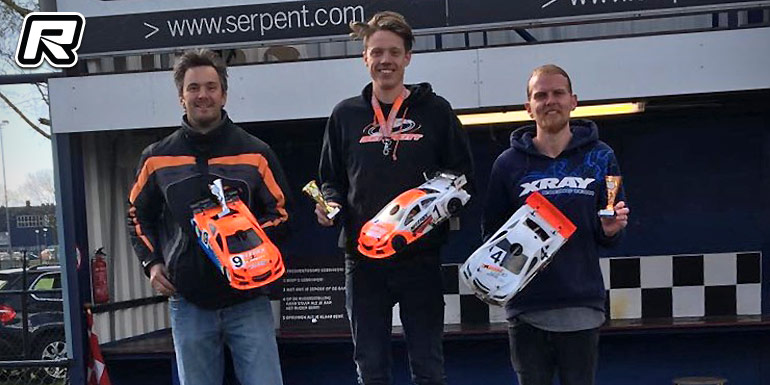 The season opener of the Dutch 200mm Nitro On-road Nationals was held at the Heemstede track over the weekend. With a new spec tyre selected for the season all racers were eager to make maximum use of the practice session on Saturday although all conclusions made were pretty much useless on Sunday when the weather turned to the worst with rain, wet snow, hail, and sunshine showing up in differing combinations. In the end only the wet qualifiers would count as not all drivers had been able to run on a completely dry track. Ultimately it would be Daan Jacobs that claimed the TQ while Julius Kolff almost missed the final in 9th place.

The finals at the Dutch nationals are run in an A/B/C… type but run as 2 separate 20 minute runs that are added up for the final result. The first finals would be run on a dry track so everyone tried to get a dry setup working but as a lot of the grip had been washed away everyone was a bit in the dark with tyre wear, leading to differing performances throughout the field.
Daan Jacobs would lead away from pole closely followed by Pedro Rombouts who had been very quick in Saturday's practice. Julius had made a great start and slotted in third after the first lap. Slowly Daan and Pedro pulled away in the first 5 minutes when Pedro took over the lead. Halfway into the race Pedro lost a little speed so Daan was able to retake the lead. Julius would get quicker as the final went on and he had an intense battle with Pedro for the final 7 minutes, in the end picking up 2nd spot.
About 10 minutes before the start of the second A-main a big rain shower hit the track. Although the rain stopped and the sun came out the track would be wet for the second A-main so everyone started on rain tyres. The now drying track would catch many driver out as the conditions changed every lap. Again it was Daan that took the lead at first, but was caught by Roy Bakker who was really quick in the wet. After an incident on the first lap Julius had to work his way back up to the front. When Roy crashed out due to water in the receiver, it was Daan and Julius back in front. Julius found some extra pace and started to close on Daan with the latter suspected a tyre was coming loose on the straight and had to give up the lead so Julius would win the second A-main with Daan second and Milan Holthuis in third. After the results of the two finals were added up it would be Dan Jacobs that took the overall win, with Julius only 0.9 seconds behind in third. Pedro Rombouts would take 3rd for the day.
Source: Serpent [serpent.com]
---