April 16, 2016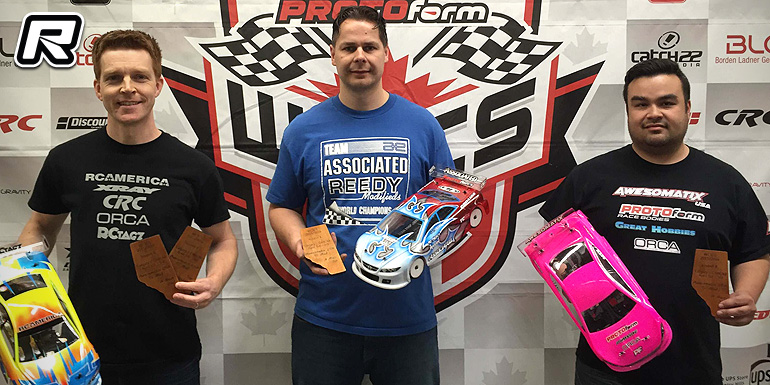 The Protoform Western Canadian Indoor Championship Series round 8 finals brought racing excitement to Canada's beleaguered Oil capital, Calgary, and was met by the largest turnout ever for a carpet race in Alberta. Hosted by CarCar it was a great Finals race weekend. As usual, CarCar's long time track director Jim created a layout that perfectly balanced driving skills in the tight sections, with multiple passing opportunities. In the Touring Modified class TQ, Xray's Blake Bell would lead from the tone for the first 5 laps, when an infield touch would drop him to 2nd, and Team Associated's Peter Toszer would take the lead. A pattern that would repeat several times during this great race, with Team Awesomatix' Wayne Mah joining the party in the second half. The last 10 laps were nose to tail, some of the best racing all weekend, with Toszer/Bell/Mah coming across the line just a second apart.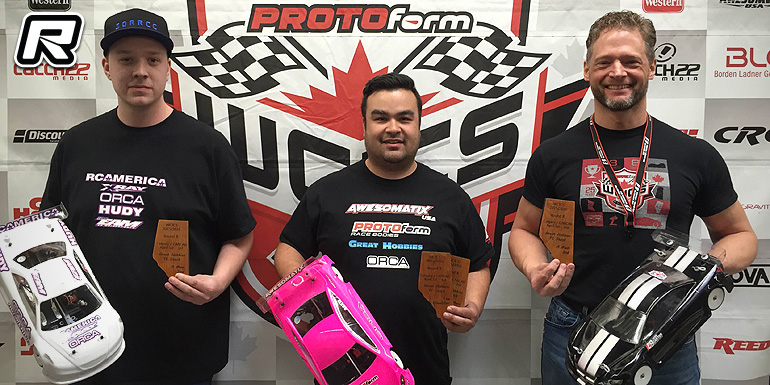 TQ'ing the biggest class of the weekend, Touring Stock, Awesomatix' Wayne Mah would lead the next 2 qualifiers, Xray'ss Danny Buck, and top privateer Josh Carter, in an even tighter race then TC Modified. The top 3 were never more than 7ft apart for over 20 laps. They all posted their fastest laps within 2 laps of each other, finished in the same order they started, and apart from 2 mistakes, ran a virtually triple perfect run, with Danny and Josh crossing just 0.07sec apart.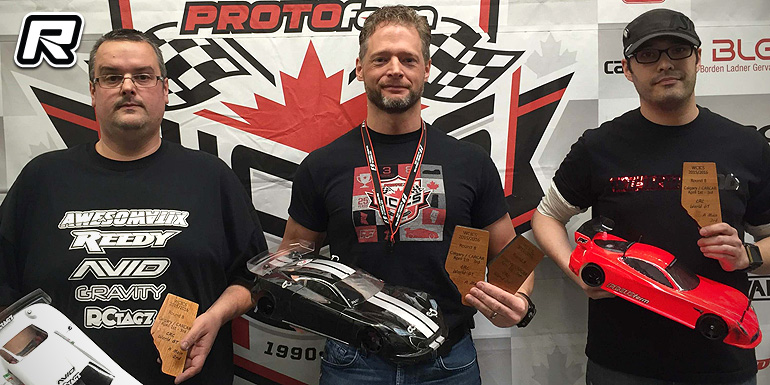 In World GT, TQ Josh Carter would recover from a first lap board to take back the lead on lap 2, posting fastest lap, and lead to the checkered, finishing a full lap up on the field. Joining him as the only other car in the 8 seconds was Frank Bortolazzo, running a borrowed car. Dennis Beck would come from 5th on the first lap, and down to 6th on lap 3, to fight back and take the last spot on the podium.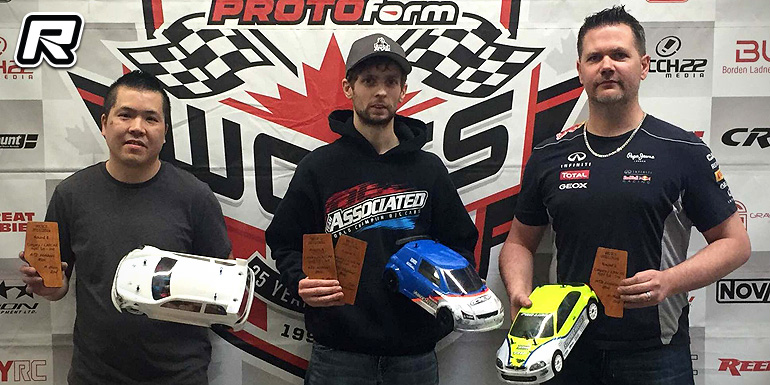 In Tamiya Mini local club president Matt Wilfort used his local carpet experience and a blazing fast Mini to take TQ, win, and fast lap-the only car in the 10's. In fact, it was an all-Calgary podium as Erwin Leong would post the best climb of the Finals climbing from 8th up to take 2nd from Aaron Friend, who would round out the podium just a second back from Erwin at the line.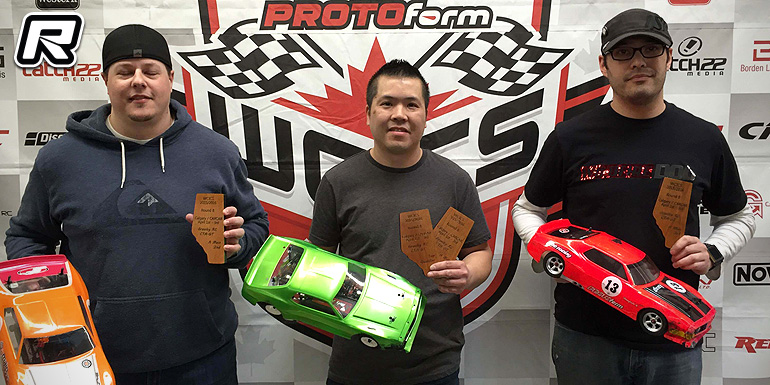 CTA saw TQ Erwin continue his great performances in the mains, leading from tone to tone, with fast lap. Cam Spence and Dennis Beck, who started in 5th and 6th, would freight train through the entire field to finish 2nd and 3rd.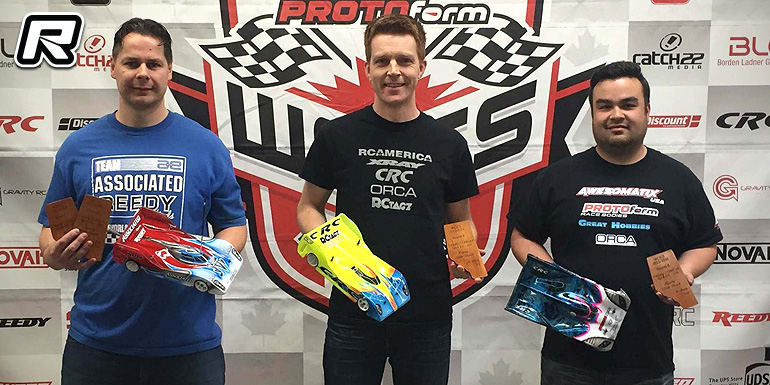 In the second biggest class, 1/12th Stock it was Team Associated's Peter Toszer who would take TQ over CRC's 2015 Canadian National Champion Blake Bell, and Wayne Mah qualified just behind in 3rd. With early action dropping Blake down to 6th, and Wayne down to last, it looked like it was Peter's race. But showing what a National Champ is made of, Blake would stage an amazing recovery drive, using most of the 8 minutes to catch, and pass Peter, while Wayne would equal the recovery drive of the weekend coming from 8th to 3rd. This was such a great race it was one of those times you wish 12th scale was even longer.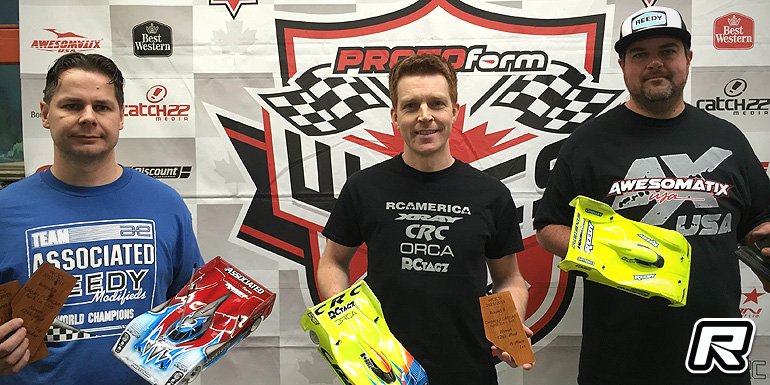 When you're fast, you're fast, and none posted a faster lap all WCICS finals weekend than … the guy who finished last? 1/12th Modified TQ holder, Team Associated's Peter Toszer would swap off the lead to CRC's Blake Bell on the second lap, then take it back, then lose it again, and all the while Korgae Scales was solidly waiting in 3rd place. But the top 2 would stop swapping, and finish with Blake taking top honors, Peter in 2nd, and Korgae in 3rd.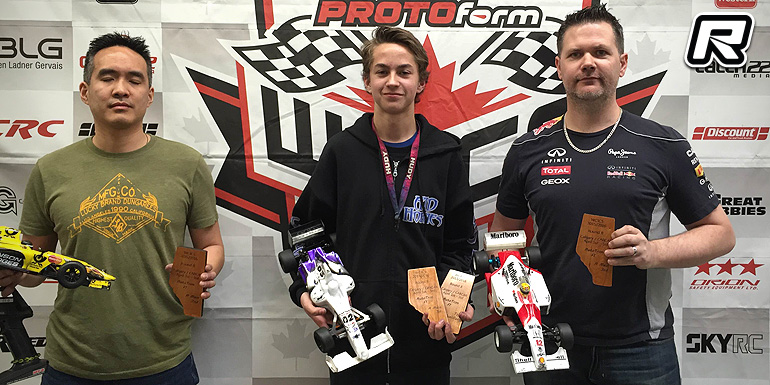 In the Formula class the youngest winner of the weekend was also one of the most dominant. 16-years old TQ Brandon Rogers would start from pole, lead from tone to tone, finish a lap up on the entire field, and post the fastest lap in the process – the only one in the 9's. Hometown Calgary drivers surrounded Brandon on the podium, with Ivan Chan in 2nd, and Aaron Friend in 3rd.
Source: WCICS [wcics.ca]
---