April 15, 2016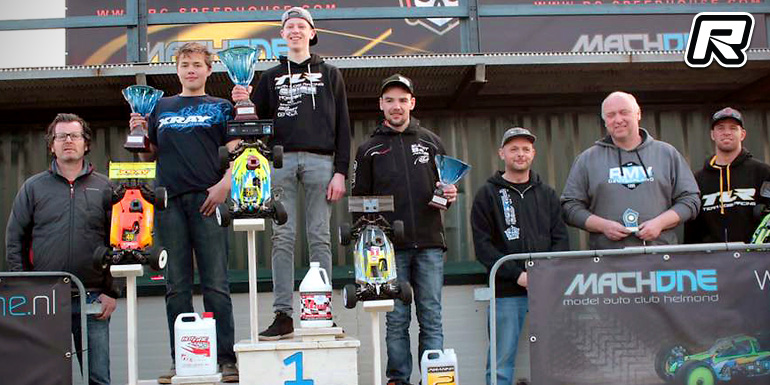 The recent Helmond Kickoff Race attracted about 100 entries with drivers coming from the Netherlands, Belgium and Germany. Xray pilot Jarno Pijpers started from pole position into the Nitro Buggy main after winning the semifinals. At first he was in a battle with Bart Mullink (Agama) until Wesley van Helmond (TLR) made it a triple up front. All three were in a position to win the race and ultimately it was Wesley who brought home the win from Jarno, who was able to pass Bart for the runner-up spot.
Nitro Buggy results:
1. Wesley TLR van Helmond – TLR
2. Jarno Pijpers – Xray
3. Bart Mullink – Agama
4. Jeffrey Halsema – TLR
5. Rene van Schaijk – Mugen
6. Jannis Dammers – Agama
7. Rajco van der Sluijs – Tekno
8. Mark van Waayenburg – Mugen
9. Bjorn Nagels – Tekno
10. Markus Bierholz – Mugen
In the 1/8th E-Buggy class it was Agama driver Bart Mullink who came out fastest in the final from Stefan Petrich (Team Durango) and Jarno Pijpers (Xray).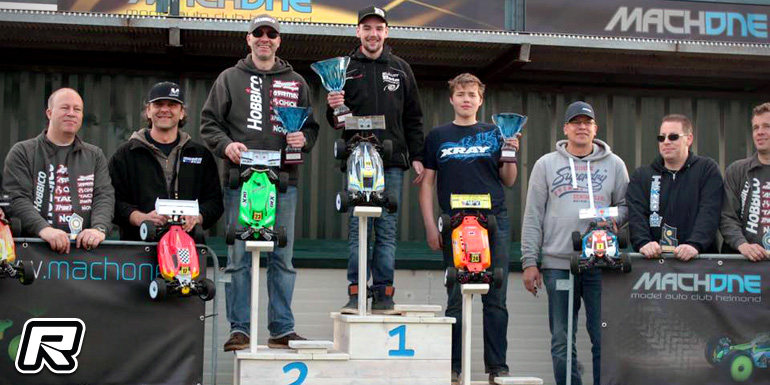 E-Buggy results:
1. Bart Mullink – Agama
2. Stefan Petrich – Team Durango
3. Jarno Pijpers – Xray
4. Sascha Alexander Gerhing – Xray
5. Kurt Vanvlemen – Tekno
6. Erik Wadners – Team Durango
7. Koen Middelkoop – Agama
8. Dick Doorn – Team Durango
9. Andreas Meyer n/a
10.Oscar Koot – Team Durango
Source: Xray [teamxray.com]
---