April 7, 2016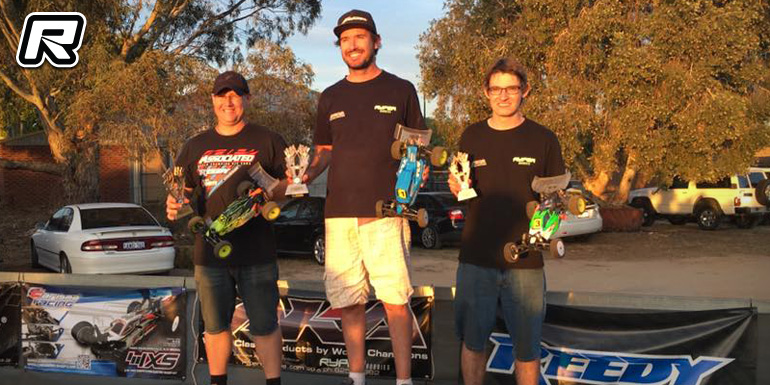 West Coast Model RC played host to the recent 2016 Carisma AARCMCC Western Australian EP Off Road State Titles. Over 103 entries across the weekend came in to do battle and with the weather on track to be nice and warm, all the stars seemed to align for a great weekend of racing action on the club's natural outdoor clay surface. Racers poured into the facility from all across Western Australia, and some from as far as Melbourne, Victoria and Brisbane, Queensland came across to take part in the event and get a feel for the upcoming Australian EP Off Road titles in November. Practice started early Friday morning with many drivers taking to the track early to maximise their track time, the clay surface quickly developed more grip as more cars ran on it, and the lap times continued to fall, by the end of practice on Friday evening the collective group of drivers felt very happy with the grip on track.

Saturday saw the running of the 2WD portion of the event, and immediately from Q1 Josh Pain (TLR) leaped to the front of the 2WD Modified field, 5 seconds clear of Ray Munday (Team Associated), and a further 8 second clear of Chris Bozich (Xray). However in Q2 it was Ray Munday who got the better of Pain in a different heat to take the round win by just 0.4 seconds, giving Munday the current TQ position based on best single round heading into the round 3 re-grade. Starting Q3 saw new heat orders for all drivers as Josh Pain put in the first 13 lap run of the event to take the round win ahead of Munday in second and Mark Hawkins in third. The final qualifying round came around and it saw once again Pain take the round win to secure overall TQ, Munday slipped to third as Mark Hawkins put in a fast run to take 2nd for the round.
In the A-mains it didn't all quite go to plan for Josh Pain in leg 1, a loose wheel nut ending his run inside the opening 2 minutes, giving Munday a solid win over Hawkins, and Christopher Mitchell making a spectacular final corner pass on Chris Bozich to sneak 3rd at the line by just 0.6 seconds. However in A2 Pain set out to right his errors by taking a demanding win by 13 seconds over Munday in 2nd and Bozich in 3rd. With a 1st place tie between Pain and Munday going into A3 all eyes were on the lead two cars as the buzzer went to signal the final 5 minutes to decide the WA champion, but Pain proved too strong on his home soil, edging out Munday by just over 6 seconds at the line to secure the WA title from Munday in 2nd, Hawkins in 3rd, Bozich in 4th and Mitchell in 5th.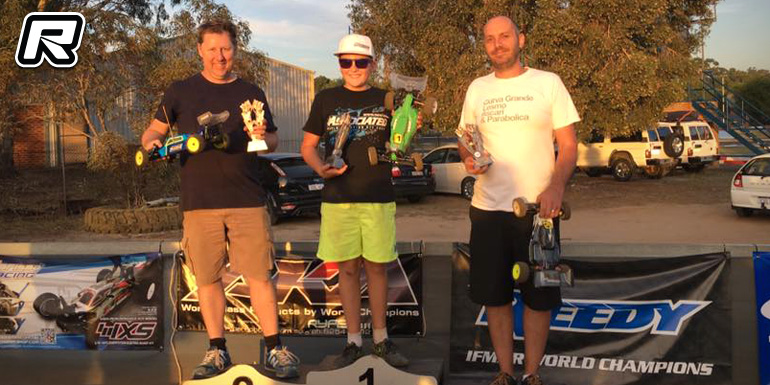 In the small but competitive 2WD Stock class it was a non-stop driving clinic from young Team Associated Driver Brayden Johnston who took all 4 rounds of qualifying to secure overall TQ for the A finals ahead of David Kilroy and Kevin Duffy. Johnston form didn't stop there as he led from tone to tone in A1 to win with a lap to spare over Duffy in 2nd and Chris Murphy in 3rd, as 2nd place qualifier David Kilroy slipped to 5th behind a hard charging Dan Anderson in 4th. In A2 David Kilroy fought as hard as he could, but the pace of the young Johnston was simply too much as Johnston led from tone to tone to take the win in A2 ahead of Kilroy and Murphy, to secure the overall title and leave the others to fight for the remaining positions in A3. With 2 spots still up for grabs in A3, and Johnston sitting out leaving the TQ spot vacant for the final race, David Kilroy led from tone to tone to win A3 ahead of Paul O'Shea from 5th on the grid, and young TLR driver Jordan De Filippis in 3rd. Rounding out the event with Brayden Johnston TQ & 1st, David Kilroy in 2nd and Chris Murphy in 3rd.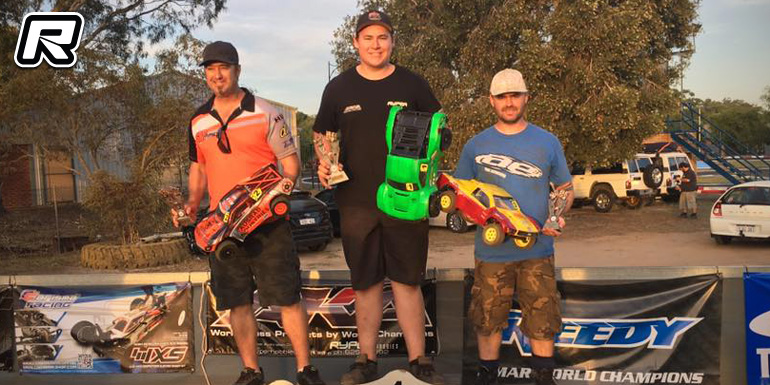 Sadly the fields of Stadium Truck and 2WD Short Course Truck were quite small, with drivers opting to focus on the buggy classes.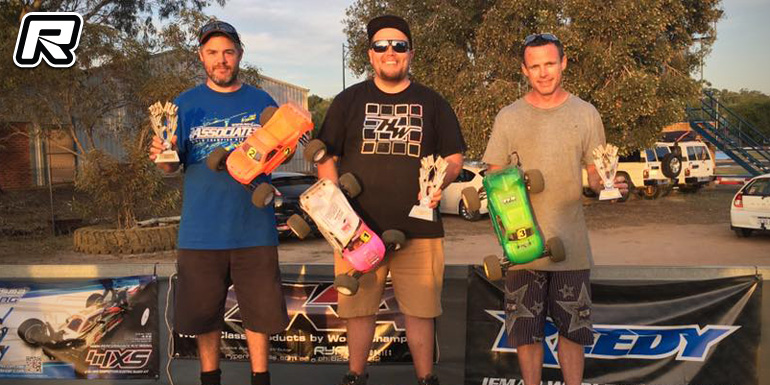 In 2WD Short Course Truck Brody Miller drove his TLR to TQ 3 rounds of qualifying, and then sweep the first 2 finals to secure the overall win over Kane Holt and Scott Hobbs. In Stadium Truck Chris Mitchell Swept all 4 qualifying rounds in wheel-standing style to take the overall TQ, and then went on to win the first 2 finals to win the overall title ahead of Daniel Robins and Paul O'Shea.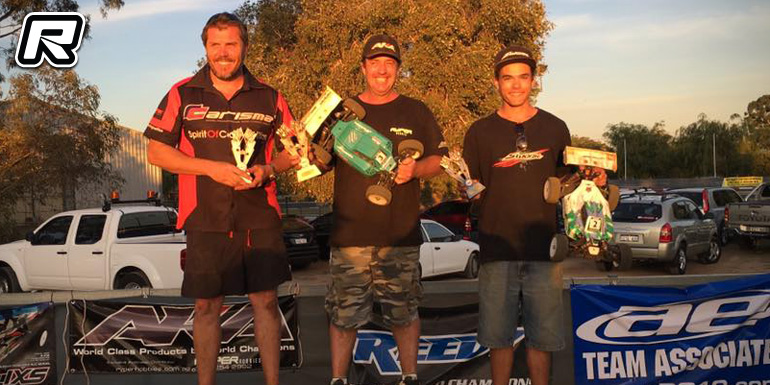 Sunday came and 4WD day started early, with 2 stacked groups of EP8 Superlight cars, the 2S battery powered 1/8 scale EP Buggies sporting Short Course electronics ran as a demo class for the weekend and was one of the largest and most exciting classes over the weekend. Starting the day out right, TLR's Tod Trower opened up the 4WD day proceedings with a round 1 TQ ahead of SWorkz' Fabio Silvi and TLR's Reece Hendy in 3rd. Trower went on to TQ the next 2 rounds to secure the overall TQ ahead of Silvi in 2nd and an ever improving David Simms in 3rd. A1 saw a 5 minute thriller between Trower, Silvi and Simms, with Silvi snatching the lead from Trower after just one lap, but a mistake costing him that lead just 2 laps later, as Trower went on to win by just 0.5s ahead of David Simms in 2nd and Fabio Silvi in 3rd. A2 started out much the same but Trower managed to hold onto the lead for a while as he took plenty of heat from Silvi and Simms in a 3 car battle train that lasted until the half way mark where a mistake from Trower handed the lead to Silvi, who carried on to take the A2 win ahead of Simms in 2nd and Trower in 3rd. Starting A3, as the lead was tied between Silvi and Trower, all eyes were on the front 3 cars of Trower, Silvi and Simms as the tone sounded and the three set off on the closest and most exciting race of the weekend. Silvia got off to a horrible start and let the other two slip away as he had to battle his way through traffic to try and stay in touch, Trower led Simms for half the race until Simms made a wonderful pass at the halfway mark to switch the two, as Trower continued to try and find a way back past the SWorkz of Simms out front, the two stayed practically joined together for the next few laps until a mistake from Trower on lap 10 gave Simms a breather, as he charged to take the A3 win, forcing a tie for the overall win. After the tie break it would be David Simms victorious by just 3 seconds over Tod Trower in second and Fabio Silvi in third.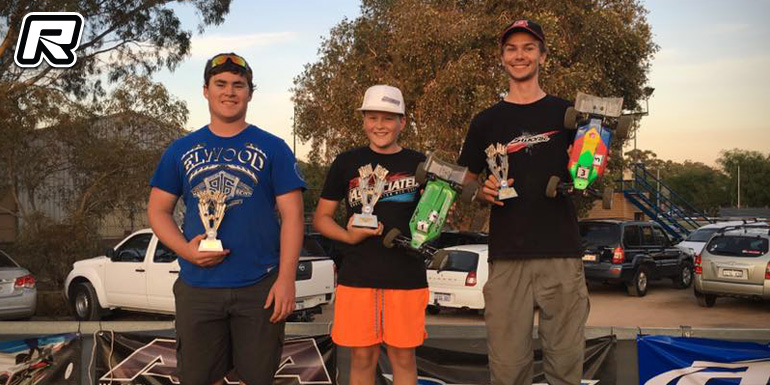 The 4WD Stock class saw a continuation early on of the powerhouse effort from young Brayden Johnston however the margins were smaller than in 2WD, as local speedway ace Brayden Miller did all he could to keep Johnston honest throughout qualifying. With a win each heading into the Q3 re-grade, Miller held provisional TQ with the faster time, mistakes from both Miller and Johnston in round 3 gave way to a surprise round 3 winner, Jordan De Filippis making the best of the mistakes of others to shake up qualifying with a round 3 win ahead of Chris Murphy in second. But in Q4 Johnston was back to his strong form taking the win and overall TQ heading into the main finals ahead of Brayden Miller and Kai Jaeger starting third. In A1 Miller showed he was serious, jumping to an early lead as Johnston slipped to third behind Jaeger, however Johnston proved consistency is key as he kept chipping away at Millers lead to snatch the win in the last minute ahead of Murphy and Miller. A2 started out a docile affair out front as Johnston jumped to an early lead just ahead of Miller, but on lap 8 a mistake saw Miller snatch that lead and begin a charge out front to try and force a 3rd round decider between the two, but in the final minute the pressure got to miller as he cracked and rolled his Yokomo, allowing Johnston to power home with the A2 win to take the overall with his Team Associated, securing the double in style. In A3 the spectators were once again left with a vacant spot at the front of the grid, as Miller led out into turn 1, but his lead didn't last long as a mistake on lap 2 put him down to 3rd behind the SWorkz of Kai Jaeger and the TLR of Jordan De Filippis. Jaegers lead lasted only a couple of laps as a mistake of his own allowed De Filippis to take the lead for a single fleeting lap before Miller passed him and continued on to win A3 and lock down 2nd overall ahead of Kai Jaeger in 3rd.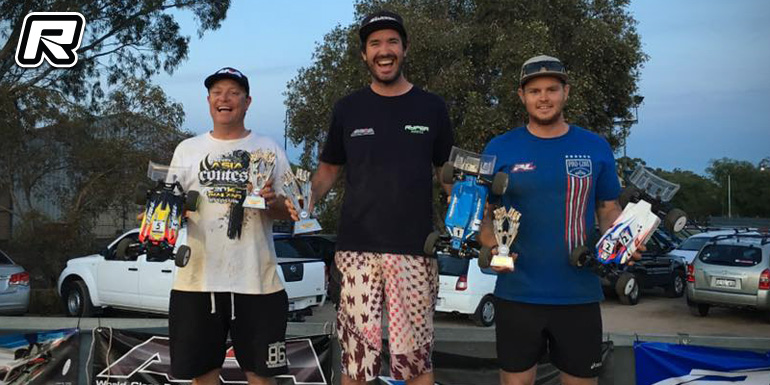 Finally in 4WD Modified Josh Pain set out with his SWorkz to repeat his performance from the previous day, taking wins in both Q1 and Q2 to take provisional TQ at the Q3 re-grade, but his progress was halted as Logan Bruecher powered his Yokomo to a Q3 win by just 0.6 over Pain in 2, and Steve Smith in 3. Q4 saw Pain return to form as he re-set the fastest time of the day on his way to securing overall TQ ahead of Logan Bruecher and Ray Munday. in A1 Pain led from tone to tone and won by a solid 9 seconds over Bruecher and Munday close behind. A2 saw much the same as Pain stretched another tone to tone win over Bruecher by 10 seconds, however Steve Smith mounted a charge from 5th on the grid to finish 3rd ahead of Fabio Silvi and Ray Munday. As Pain sat out the 3rd leg, allowing Bruecher a clean run into turn 1 it seemed as if Bruecher would sweep the final race, until his race was sadly cut short with a battery failure at the half way mark, leaving the door for Steve Smith to gain the lead ahead of Munday and Bozich, the two continued in formation until the finish, where a very ambitious passing attempt from Munday at the final corner turned Smith around and onto his roof, Munday did the gentlemanly thing and waited as Smith was righted and then powered over the line to take the A3 win ahead of Munday and Bozich. To round out the weekend with Josh Pain in 1st, Steve Smith in 2nd and Logan Bruecher in 3rd.
Thanks to Christopher Mitchell for the report.
---