May 4, 2016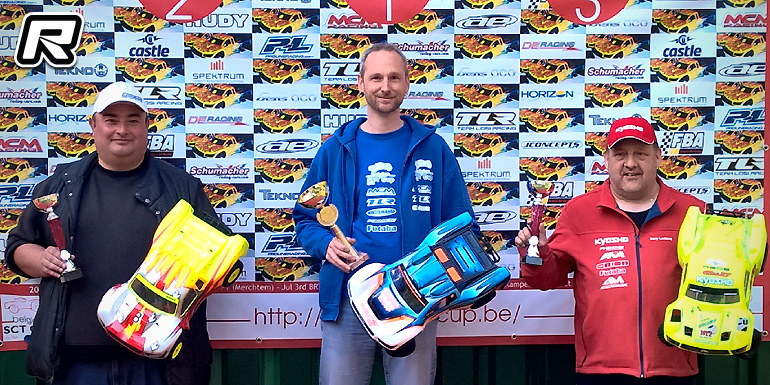 The season opening round of the Belgian SCT Cup was held at the RC@CZ club whose track is located within the full scale Zolder Circuit. A big track surrounded by pine trees the facility made for a perfect place to start the new season that also attracted a record entry of drivers. In the Pro2 class, Samuel Castel (TLR) took the opening qualifier with Géry Ledocq (Kyosho) coming out fastest in the second round while Nicolas Evens (TLR) TQ'd the third and final qualifier. Overall the pole position for the finals would be taken by Nicolas with Géry and Samuel lining up in second and third. The three drivers had quite a similar pace with Tom Pierard (TLR), Laurent Halluin (TeamC) and Philippe Hautecoeur (Team Associated) battling for the 4th spot.

In the Pro4 category, Nicolas Evens (TLR) swept all qualification rounds to take a dominant overall TQ. Sam Puttevils (TLR) came in second despite a very close battle with Nicolas in the first round but soon after Sam started to struggle with his car. Raf Wittendorp (TLR) would complete the top 3.
In the first leg of the Pro2 A-final, Nicolas, Géry and Samuel pulled away easily. Mid-race Géry took the first spot only to loose it to Nicolas on the last lap with Samuel close behind. Nicolas then checked out early in the next two legs, taking the wins with a margin and getting the overall victory. The battle for second included Laurent Halluin who was getting faster and faster with his brand new car. He succeeded to take the second place in the second leg ahead of Samuel and Géry. In final A-main the drivers had a close battle, being separated by only three seconds in the end, with Samuel ahead of Géry and Laurent, giving a final order of Nicolas in front of Samuel and Géry.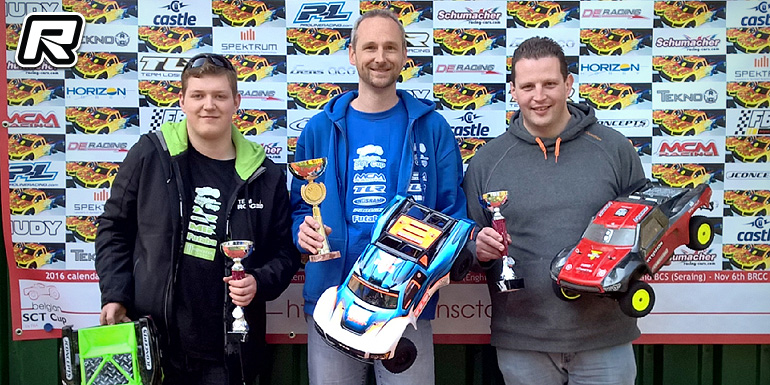 The Pro4 A-mains were a done deal for Nicolas who took legs win in A1 and A2 although the second leg was a bit closer but without a real battle. Sam came in second while Raf scored three third place finishes to take the final podium spot.
Source: Belgian SCT Cup [belgiansctcup.be]
---