May 22, 2016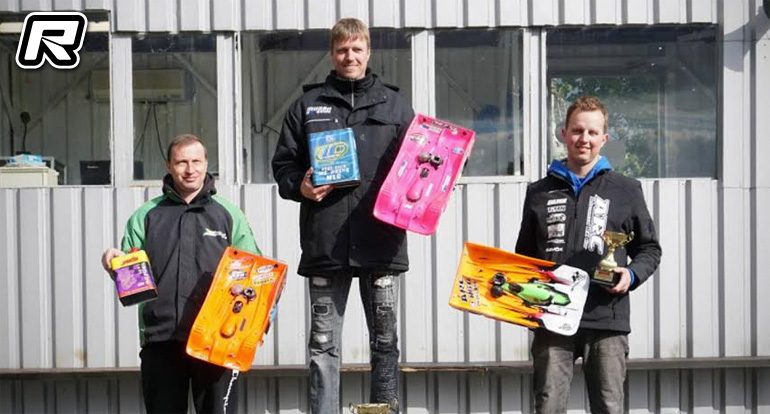 Steven Cuypers in 1:8 scale class 1, Thomas Reiche in 1:8 class 2 and Melvin Diekmann in 1:10 nitro category are leading in the Western German Championship at halftime after two rounds at Dormagen and Haltern. A total of 61 nitro racers joined the season opener at the challenging track of Dormagen which was hampered by rain on Saturday afternoon during practice as well as on Sunday morning and at the end of the event. At the first championship appearance at Haltern since 2003 only 39 attended a cold and partly wet race weekend at Pentecost. It was the lowest turnout for years in Western Germany caused mainly by a bad weather forecast.
In 1:8 scale class 1 20 racers competed at the 268 meter track of Dormagen with ARC racer Tobias Hepp taking pole position in front of Michael Salven (Serpent) and John Ermen (ARC). While reigning champion Ermen was stopped in his semifinal after hitting the concrete barriers, Hepp won his semi in front of ARC fellow Christian Wurst and Shepherd racer Frank Schewiola. Salven won the other semi ahead of Mugen´s Steven Cuypers and young Philipp Roemer (ARC). When rain came back just before the last race of the day the drivers decided not to start. So finally full points went to Hepp followed by Salven, Wurst, Schewiola and Cupyers. At Haltern Cuypers took pole position at the 234 meter track with Merlin Depta on second and Serpent fellow Gunther van Staey on third spot. While the track was drying up quick during the first section of the finale, Cuypers managed to achieve a three lap advantage over van Staey with Benny Ciere (ARC) on third place having two Belgians and a Dutch on the podium of a German championship race.
In the points ranking Cuypers has a huge lead (237) over Karl-Heinz Meister (Shepherd/229), Ralf Vahrenkamp (Mugen/227), Ciere (226) and Uwe Baldes (Shepherd/225). Among a total of 22 competitors in 1:8 class 1 are seven Mugen, six Shepherd, five ARC, two Serpent and each one Capricorn and Xray.
In 1:8 class 2 old boy Reinhard Zick (Mugen) was the pole setter at Dormagen but didn´t make it to the finale. Coming from 12th spot in the heats ranking, full points went to Hans-Peter Holl (Serpent) winning the 30 minutes finale which had a wet end. Heiko Kube (Mugen) took second followed by Ingo Braun (Shepherd), Helmut Hoessler (Serpent) and Thomas Reiche (Serpent). At Haltern pole went to Braun but he was disqualified from his semi being three grams below the minimum weight. Due to rain a poor field of only four cars started into the finale which saw Matthias Guenther (Shepherd) winning less than two seconds ahead of Joachim Kuehn (ARC). Reiche made it to third step of the podium in front of Dirk Drechsler (Mugen).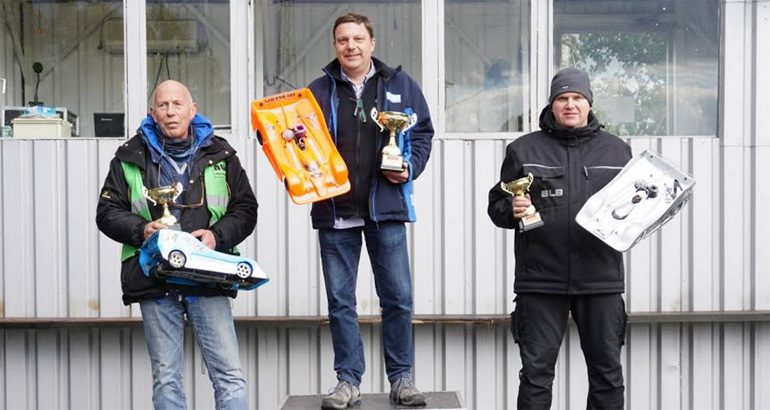 In the 1:8 class 2 points standings, Reiche (234) is in the lead in front of Guenther (232), Braun (226), Zick (226) and Ralf Wacker (Mugen/224). There are twelve Mugen, six Serpent, four Shepherd, three ARC, two Capricorn and each one Motonica and Xray among 29 drivers in the halftime ranking.
René Puepke pushed his Shepherd to pole position in 1:10 scale at Dormagen but was the first to retire from the finale. Victory was caught by young Melvin Diekmann who brought his Shepherd home two laps in front of Daniel Thiele (Serpent), followed by the three Shepherd racers Marco Nenner, Bernd Rausch and Julien Cevani. At Haltern Daniel Toennessen (Mugen) took pole position and in the main race went over water to achieve a 13 laps advantage while he was the only driver to make it to the chequered flag after 30 minutes. Diekman finished second in front of Georg Goehlich (KM), Puepke and Rausch.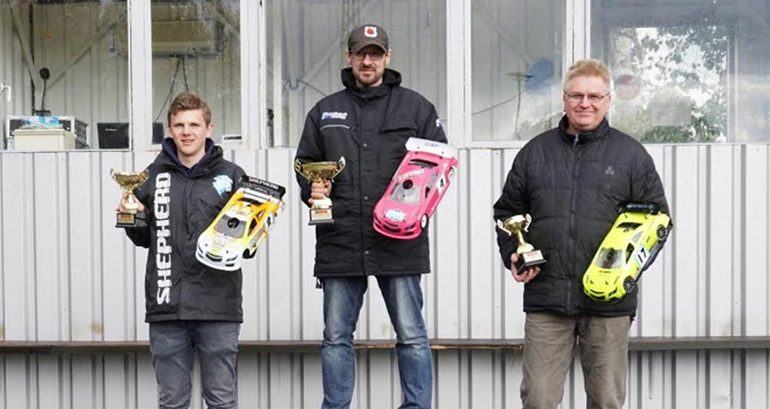 17 year old Diekmann leads the 1:10 scale ranking at halftime by 240 points with a huge gap ahead of Rausch (233), Nenner (232), Toennessen (230) and Puepke (228). Among 18 touring car racers are ten relying on Shepherd, three on Serpent, two on Mugen and each one on Capricorn, Xray and KM.
The Western German Championship will relocate to Hamm for round three on 5th and 6th of June. The fast 300 meter track will host the German Nationals in September as well as the European Championship 40 Plus. For round four of the Western German Championship competitors have to travel to The Netherlands, to Velp on 9th and 10th of July.
Source: Nitro-West [nitro-west.de]
---