May 2, 2016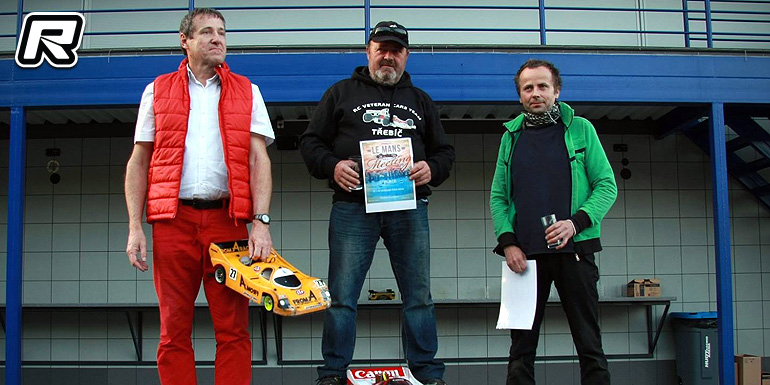 The first inaugural Le Mans and Historic RC meeting was held at the Hudy Racing Arena in Trencin, Slovakia. The one day event attracted about 50 drivers from three countries to compete in the three classes of vintage 1/8th on-road, Le Mans and Formula. In the Historic RC Veteran Tour class, vintage 1/8th cars line the SG Futura, SG Columbia, Cumis, Graupner or Hudy were raced with Jarda Beran driving an original Juraj Hudy constructed car taking the TQ with 31 laps ahead of Pekarek and Blaha, both using very nice home-made BMW CSL bodyshells on their Cumis chassis. The quickest car was a McLaren M8F on a Graupner Club 90 chassis driven by Roman Krejci but unfortunately he did not finish this heat.

The 30 minute main saw 11 cars on the grid. Roman Krejci and his McLaren went from 9th to 1st in lap 4 setting the best lap. However the cars' front suspension suffered a failure and a missing part caused a DNF. Another Can-Am bodyshell, a Porsche 917/10 SG Futura replica, driven by Karel Novosad went held the lead until lap 18 but Karel also had to retire. This promoted Petr Blaha and his Cumis into the lead while quick Beran had some trouble, only running in 5th place. In the second part of the final Beran and his Canon Porsche 956 on a Hudy chassis became quicker and quicker and he set a new best lap time with a 24.311 seconds and he went from 6th to 1st position in lap 37 and he would later take the win from Jaroslav Cip and his From-A Porsche 956 in 2nd and Pekarek in 3rd. The Veteran Tour will continue in Trebic, Czech Republic the 28th of May.
IC 1/8 Veteran results
1. Jarda Beran – Hudy 2WD
2. Jaroslav Číp – SG Futura VCS Replica
3. Jan Pekárek – Cumis
4. Petr Blaha – Neocumis
5. Tomáš Rajdus – unknown
6. Milan Parák – selfmade
7. Jiří Kunz ml. – SG Columbia Mk2
8. Jan Höfer – SG Columbia Mk2
9. Karel Novosad – SG Futura Replica
10.Roman Krejčí – Graupner Club 90
11.Jiří Čermák – Hudy
The Moravian RC Le Mans Series is divided in several sub categories such as LMP1 for Pro10, LMP2 for 10.5T boosted 200mm cars or GT for WorldGT 17.5T cars. However all cars raced together divided by qualification which was counted by best lap set in two qualification rounds. The TQ among the 27 cars was set by Milan Parak ahead of Roman Krejci (both Corally) followed by the two Xray driven by Tomas and Filip Rajdus. The finals were raced in a unique format with six final heats that were counted by scored laps. Each final heat was run over 10 minutes, so the Pro10 cars had to be limited in power to be able to make the full distance. Krejci almost lead all finals to take the overall win. TQ holder Parak missed several laps in one of the finals because of a damaged suspension so he dropped down the overall ranking. Young Filip Rajdus finished on the runner-up spot after a very nice drive ahead of his father Tomas and Martin Krejci, both LMP2 drivers. The championship continues in Blansko, Czech Republic on the 21st of May.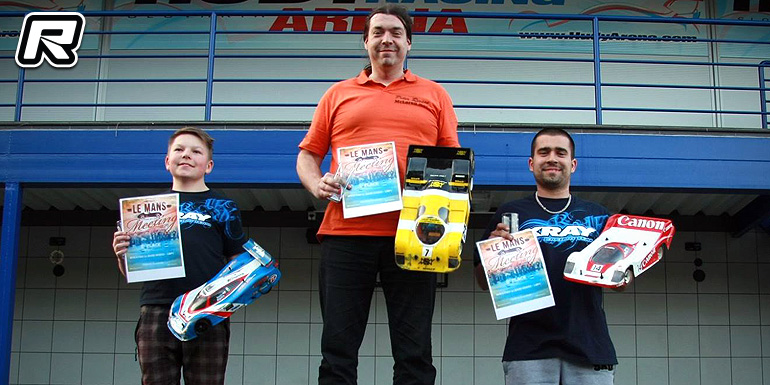 Moravian Le Mans Series results:
1. Roman Krejčí    – Corally  – 1. LMP1
2. Filip Rajdus    – Xray  – 2. LMP1
3. Tomáš Rajdus – Xray  – 1. LMP2
4. Martin Krejčí – Corally  – 2. LMP2
5. Vít Parák – Corally  – 3. LMP1
6. Ondřej Vícha – Corally  – 1. GT
7. Ladislav Holásek – Corally  – 2. GT
8. Jakub Vícha – Corally  – 3. GT
9. Pavel Červenka – selfmade  – 4. GT
10.Martin Korotwitschka – Xray –  5. GT
The rubber tyre Formula class also was run using a somewhat different format. Three 7-minute long qualifiers were run with the fastest lap counting for the qualifying result. Raced in the two sub classes of 21.5T and 17.5T Martin Hudy (21.5T) and Vit Parak (17.5T) where the stars of the show in the qualifiers and the five final legs. Four of them counted towards the overall results and when the dust settles Vit and Martin were separated by one 0.006 seconds in the combined standings.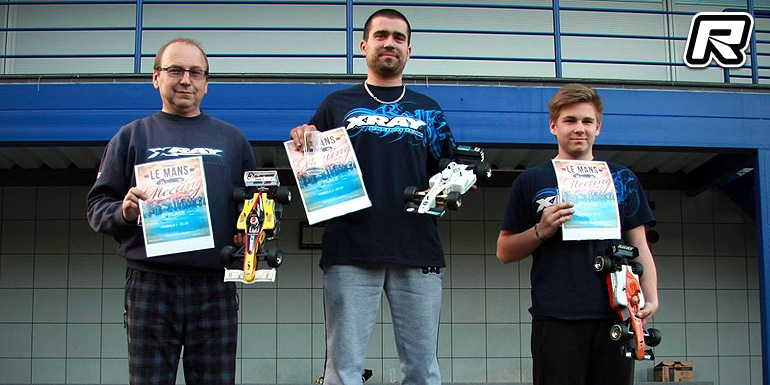 Formula results:
1. Vít Parák – Xray  – 1. 17.5T
2. Martin Hudy – Xray –  1. 21.5T
3. Tomáš Rajdus – Xray –  2. 17.5T
4. Michał Milanowicz – Xray –  2. 21.5T
5. Lukas Hoch – Xray –  3. 17.5T
6. Aleš Horák – Xray –  3. 21.5T
7. Milan Parák – Tamiya  – 4. 17.5T
8. Milan Peška – Tamiya  – 5. 17.5T
9. Martin Korotwitschka – Tamiya  – 6. 17.5T
10.Ondřej Pernický – Serpent  – 7. 17.5T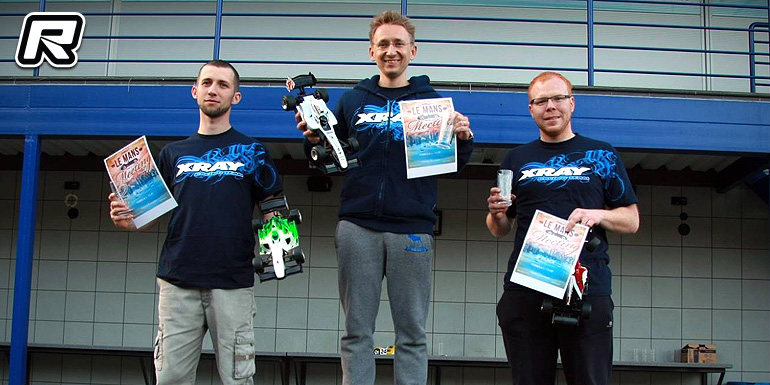 Source: Xray [teamxray.com]
---