May 26, 2016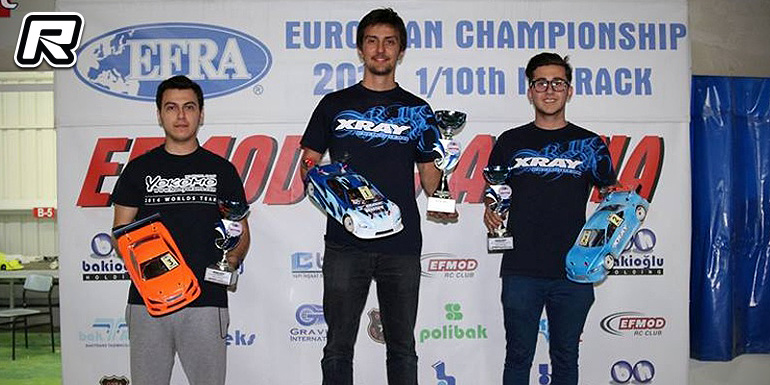 Round two of the Turkish Onroad Championships was held at the Efmod track in Izmir. Like in wide parts of Europe the weather forecast for the weekend was pretty depressing. Friday's practice would be held in dry conditions but arriving on Saturday morning the track was damp, meaning further practice would be delayed a couple of hours. Right in time for the first rounds of practice it started to rain again which meant further delays. As more rain was predicted for Sunday the organisers decided to go ahead with a shortened schedule of one practice round, two qualifiers and shorted sub and main finals to make sure the race could be held on Saturday.

Finally the event would start at 4 p.m. and it soon became apparent that the traction was nowhere near what it was on Friday so it was decided to take the risk and sugar-water the track to up traction. In the Pro Stock class Mustafa Alp would grab the TQ although struggling with traffic in Q1 but the second qualifier was much better which was also helped by the track finally grooving in. In the 200mm Touring class it was pretty much the same as Mustafa took the TQ in the second qualifier following an average Q1.
In the Pro Stock A-mains Mustafa then took relatively easy wins thanks to being able to save his front tyres from overheating. Hot on his heels was Ahmet who would grab the runner-up spot while Kagan Aydin rounded out the top 3 result.
Prostock final results:
1. Mustafa Alp – Xray
2. Ahmet Kasap – Xray
3. Kagan Aydin – Xray
4. Onur Karacuhalilar – Xray
5. Ali Caglar – Xray
6. Kayhan Ketenci – Xray
7. Berk Ogretmen – Xray
8. Baris Turkay – Xray
9. Poyraz Serezlioglu – Xray
10.Sefer Kursad Alalma – Xray
In the 200mm Nitro Touring class the main final would be started at midnight, leaving many drivers unsure what to do setup wise in the colder and more humid conditions. Right at the start Mustafa made a mistake, crashing into the inside wall of the apex curb in the fast chicane. This send his car airborne but the landing was ok so he could resume in second position and with a seemingly undamaged car. Ali in front was able to open a gap on the field of about a couple of metres before the first round of pitstops. But soon after Ali had a moment on the straight which made some pit work needed, allowing Mustafa to take the lead. From that moment on Mustafa shifted into cruise mode to not take any risks in the difficult conditions. At the end Alp would bring home the win some two laps ahead of Ali. Alain Sarafyan finished in third place another two laps back, after a very safe and consistent drive.
1/10th 200mm final results:
1. Mustafa Alp – Xray
2. Al Kaya – Serpent
3. Alain Sarafyan – Xray
4. Halit Korpe – Xray
5. Cengiz Gökbulut – Xray
6. Sertac Palaz – Mugen
7. Utku Kizildag – Xray
8. Haluk Soyyoruk – Xray
9. Mert Koroglu – Xray
10.John Knight – Serpent
Source: Xray [teamxray.com]
---