May 10, 2016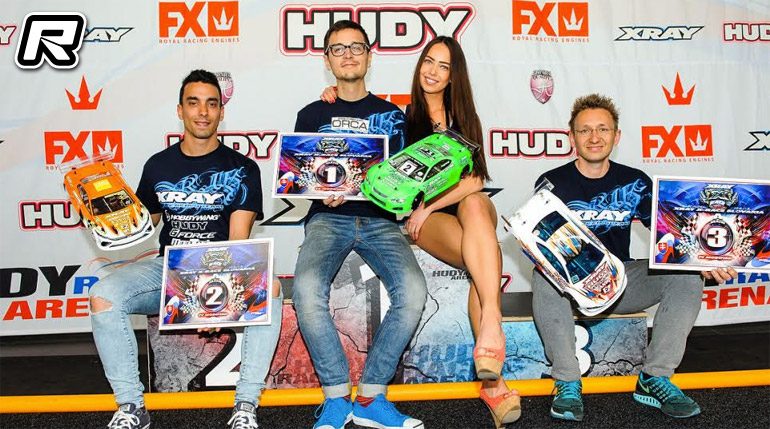 The Xray X-Race Grand Final was held last weekend at the company's on site facility, the Hudy Arena and Alexander Hagberg gave this report. 'Great weather, and a great atmosphere as always, gave the racers that came to Trencin this past weekend a really enjoyable experience. Drivers were able to compete in 6 different categories, at the beautiful Hudy Arena outdoor circuit! Practice ran all Friday, with qualifiers on Saturday, and finals on Sunday as always.
One of the highlights of the weekend was the Xray Night Race hosted on Saturday night at a local go-kart/party venue. Racers could enjoy great food, drinks, and go-kart racing for a very affordable price. This night event attracted more than 50 participants, and everyone seemed to have a good time! The go-kart race consisted of 7 minute qualifying runs, to determine the top 5 lap times, and who would go directly to the main final. In the end it was Bruno Coelho who took the TQ in front of myself and Mato Krivos. In the main final I managed to pass Bruno to take the overall win. The evening ended with drinks at the venue, it was a great and relaxing end to a long qualifying day. Thanks to Xray for making this happen!
In the modified category, after a very close qualifying, I lined up 2nd on the grid behind my team mate Bruno. Unfortunately due to some mistakes, I could not take the TQ spot. All was set for a great showdown in the finals. Dionys Stadler qualified 3rd, and our own designer Martin Hudy in 4th. In the finals, I had the faster car, and managed to win two out of three finals, after a great show case of battling with my team mate. In the end, Martin managed to take the 3rd and final podium spot!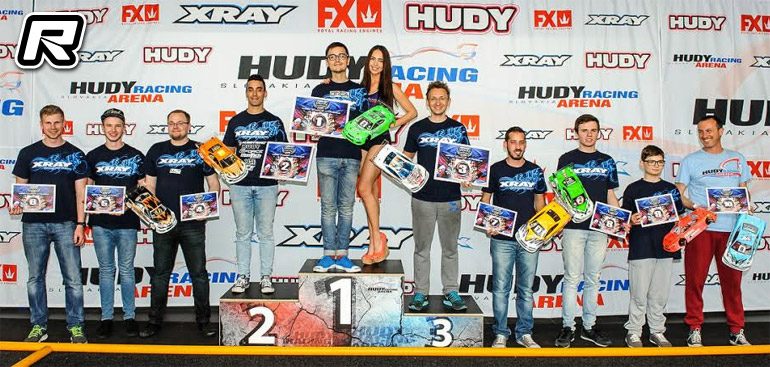 TC Modified – T4
1. Alexander Hagberg
2. Bruno Coelho
3. Martin Hudy
4. Jan Ratheisky
5. Dionys Stadler
6. Marco Kaufmann
7. Nikos Georgiadis
8. Jiří Vyšín
9. Radek Voda
10. Giuseppe De Liguori
In the nitro class, all went well for me in qualifying as I managed to TQ with a decent margin in front of Marco Kaufmann. I went on to win my Semi A final to qualify for the main final in 1st. The final was going well, I held a 5 lap lead, but unfortunately I spun out in the sweeper with 8 minutes remaining, and got collected by another car, which broke my front suspension and ruined my race. The race was eventually won by the young and talented Jannick Namyslo, in front of Marco Kaufmann, and Hartmut Rose in a strong 3rd, after a steady final!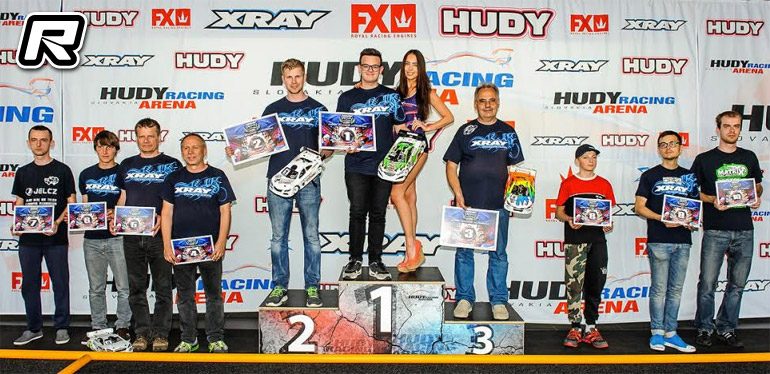 Nitro 1/10 – NT1
1. Jannick Namyslo
2. Marco Kaufmann
3. Hartmut Rose
4. Juraj Hudy
5. Jan Kanina
6. Jiří Král
7. Robert Okoński
8. Tomas Hrkel
9. Alexander Hagberg
10. Ondrej Kulhanek
Jan Ratheisky showed his domination and took the wins in the stock, formula & pan car class. In the 1/8 nitro category Tom Kragefski with his new RX8 took the win in front of XRAY designer Juraj Hudy.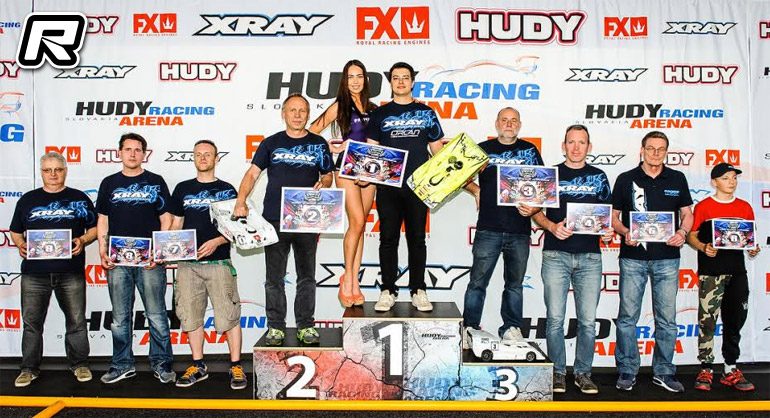 Nitro 1/8 – RX8
1. Tom Krägefski
2. Juraj Hudy
3. Igor Liptak
4. Filip Uher
5. Norbert Hügel
6. Tomas Hrkel
7. Tomas Liptak
8. Frank Wittke
9. Alexander Očkaják
10. Rafał Zeljaś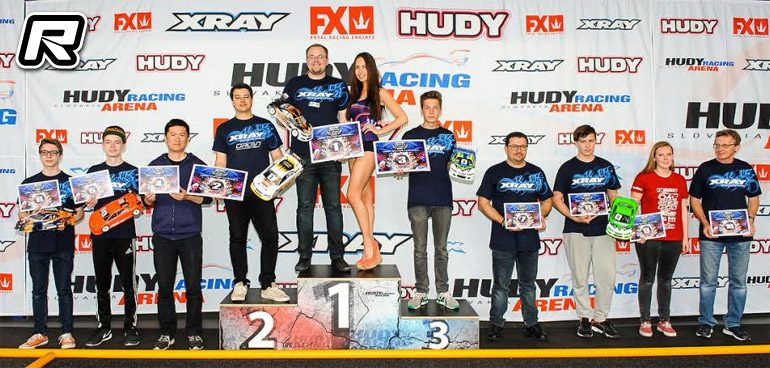 TC Stock 17,5 – T4
1. Jan Ratheisky
2. Tom Krägefski
3. Noah Asendorf
4. Salton Dong
5. Patrick Danielsen
6. Antonios Theofilou
7. Rui D´Almeida
8. Filip Obora
9. Vanessa Wende
10. Jan Neuwirth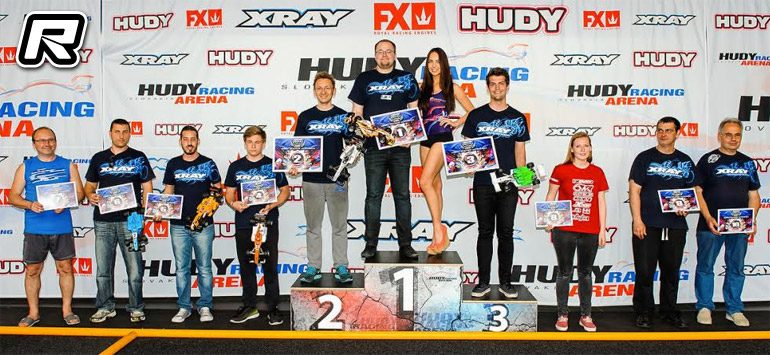 Formula – X1
1. Jan Ratheisky
2. Martin Hudy
3. Andrej Vnucko
4. Lukas Hoch
5. Nikos Georgiadis
6. Martin Janíček
7. Tomáš Rajdus
8. Vanessa Wende
9. Svetlin Douhlevski
10. Hartmut Rose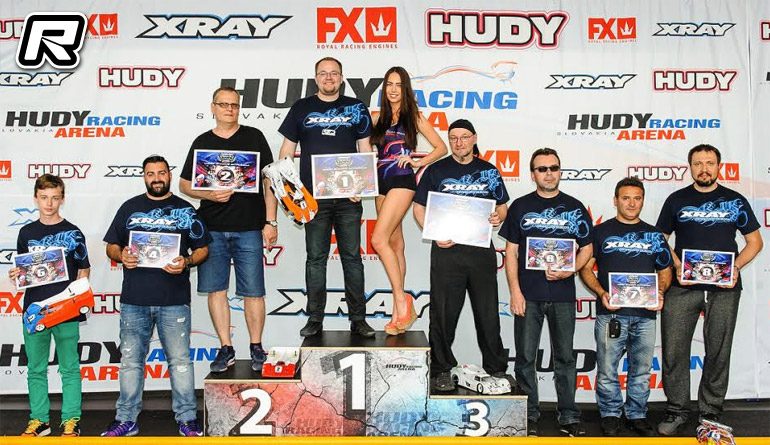 Pan car – X12
1. Jan Ratheisky
2. Wojtek Bukryj
3. Kai Asmer
4. Christos Panagiotopoulos
5. Ondřej Kohoutek
6. Vladimir Kulhanek
7. George Kazoglou
8. Dariusz Smyk
Source: Xray [teamxray.com]
---