June 23, 2016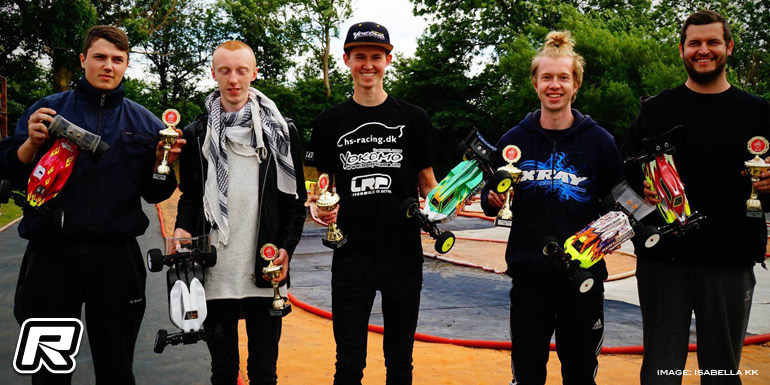 Round four of the Danish Electric Off-road Nationals was held in Sommersted on a super high-bite and technical track. In the 2WD class, Frederik Hovgaard took the TQ from Mike Gosvig, who struggled a bit with the hotter and slightly lower grip conditions compared to the practice sessions before. The opening A-main then saw Frederik continue to dominate as he won from Jesper Rasmussen in second and Marcus Kærup in third. Mike ran into some trouble and wasn't able to finish in the top 3.

A2 then again saw Frederik coming out in front, this time from Jesper and Mike, who again ran into trouble but he was able to at least grab the third spot. Sitting out A3 Frederik made way for the other drivers to battle it out for the remaining podium spots. With Mike on "pole position" things promised to be a tight affair between him and Jesper. Shortly after the start Jesper was able to pass Mike but the latter was able to regain the lead only to loose it again after a tangle with another car, sending Mike's buggy on two wheels which allowed Jesper to slip by and to take the win.
2WD final results:
1. Frederik Hovgaard – Yokomo
2. Jesper Rasmussen – Team Associated
3. Mike Gosvig – Xray
4. Jonas Kærup – Team Associated
5. Mikkel Søholt – Team C
6. Marcus Kærup – Team Associated
7. Christoffer Henriksen – Team Associated
8. Christer Rasmussen – Team Associated
In the 4WD class the race for the TQ was on between Mike and Frederik. Ultimately Mike would take the overall TQ after narrowly winning Q2 and Q3. The opening A-main then had Mike pulling away from the field until he got stuck at the "3 Dead Man Jump" but he got marshalled quick enough to rejoin still in first place while behind him, the race was on for the runner-up spot. Ultimately Mike would bring home the win from Frederik, Jesper and Kim. At the start of A2, Mike again jumped into the lead with no problem. Frederik had a horrible run and Jesper was under pressure of Kim. Things became a bit messy mid race with many drivers, including the leader, making issues but quick marshalling send Mike back on the track some two seconds on front of Kim, allowing him to take the leg win and the overall victory. Not needing the third leg, Mike opted to use the run for some setup testing but things didn't work as planned so he opted to let the top 2 drivers battle it out for the runner-up spot.
4WD final results:
1. Mike Gosvig – Xray
2. Frederik Hovgaard – Yokomo
3. Kim Nielsen – Schumacher
4. Jesper Rasmussen – Team Associated
5. Mathias Skaarup – Schumacher
6. Rune Gustavsen – Xray
7. Christian Lassen – Xray
8. Marcus Kærup – Team Associated
Source: Xray [teamxray.com]
---