June 1, 2016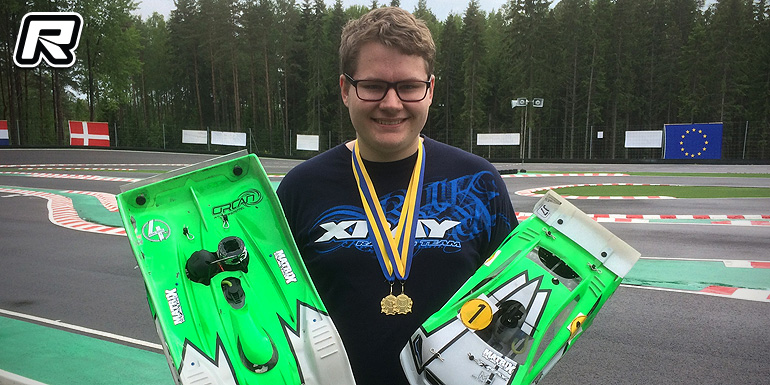 The Nordic Nitro On-road Championships were held this weekend at the Eskilstuna track in Sweden. The race also doubled as the warm-up for the EFRA 1/8th Track Euros later in July and thus the event attracted drivers from six countries but unfortunately the weather would play a major factor during the weekend. The 1/8th main final was a 3-horse race for the win with Mikael Fransson being the fastest driver in qualifying, from Roland Ström and Markus Hellquist. Tricky conditions laid the ground for a very exciting race with the lead swapping several times and in the end Markus Hellquist was the one to finish first and to bring home the victory. Mikael Fransson finished in second and since Roland Ström was not able to finish the race, Italian driver of Marco Vanni rounded up the podium in third.
1/8th final results:
1. Markus Hellquist
2. Mikael Fransson
3. Marco Vanni
4. Magnus Bengtsson
5. Jon Pedersen
6. Roland Ström
7. Mattias Ericsson
8. Lasse Andresen
9. Alain Levy
10.Per-Ola Hård
The 1/10th main final started in very heavy rain and right after the start almost all cars struggled to complete a single lap and so the organisers designed to stop the final and to count the race based on the qualifying results. This handed Markus Hellquist the second win of the weekend with Andreas Husman coming in second. Nikolaj Hviid would round out the podium in third.
1/10th Touring final results:
1. Markus Hellquist
2. Andreas Husman
3. Nikolaj Hviid
4. Hans Elmerfors
5. Åke Törnros
6. Castro Jose
7. Rene Kjellerup
8. Ronnie Pettersson
Source: Xray [teamxray.com]
---