June 13, 2016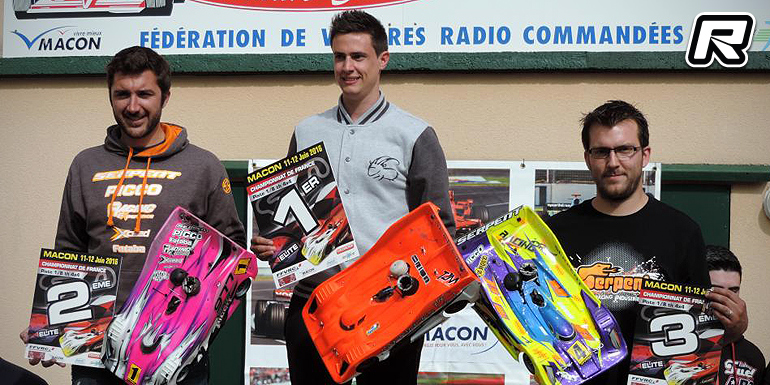 The third round of the French 1/8th On-road Championship was held this past weekend at the Macon track with almost 90 drivers attending in the Elite and National categories. After the qualifiers, Anthony Abisset took the TQ spot in the Elite class in front of Christophe Aygon and Romain Picard while Arnaud Mathieu rounded out the top 4. On Sunday, while rain affected the lower finals during the morning, the semis were run on an almost dry track. Arnaud Mathieu took the win in the semi final B on a mixed dry and wet track while Anthony Abisset won the semi A on a fully dry track, taking the pole position for the main final.

Arnaud then took the lead in the first lap of the 45-minute main final, eventually opening the gap on his competitors during the first part of the race, but he had to let it back to Anthony after the tyre pit stops as he had to have his car's second gear pinion replaced. After pushing hard, Arnaud took back the lead during the final 15 minutes, winning by a lap ahead of Anthony while Damien Thirion finished third. In the championship, Arnaud Mathieu increased his lead thanks to his last back-to-back wins in front of Anthony Abisset.
Elite class final results:
1. Arnaud Mathieu – Capricorn/Orion
2. Anthony Abisset – Serpent/Picco
3. Damien Thirion – Serpent/Picco
4. Jean-Philippe Michel – Xray/Max
5. Stephane Bouche – Shepherd/Novarossi
6. Nicolas Miramont – ARC/Novarossi
7. Romain Baerhel – Mugen/Picco
8. Romain Delaunay – ARC/OS
9. Leo Arnold – Xray/Orion
10.Benjamin Brassrt – Serpent/Picco
In the National category David Billard, coming from the 9 spot on the grid, took over the lead in the opening stages to hold on to it until the checkered flag, taking the win some two laps in front of David Wintzerith in second and Bruno Bec in third.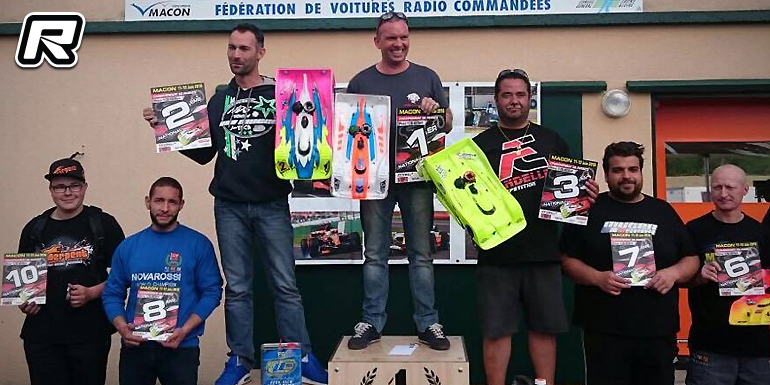 National class final results:
1. David Billard
2. David Wintzerith
3. Bruno Bec
4. Simon Bergoin
5. Frederic La Spesa
6. Gabriel Maufroy
7. Guillaume Girard
8. Fabrice Gottsheck
9. Yoann Coelho
10.Enzo Battistini
Source: Capricorn [capricornrc.com]
---