July 20, 2016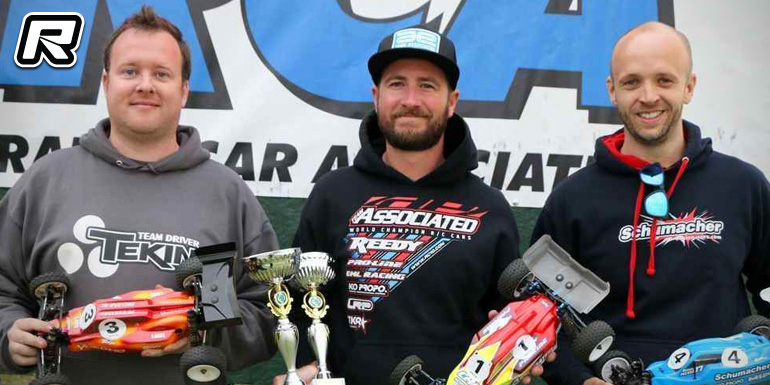 Round four of the BRCA 1/10th Off-road National Championship was held at the Telford astro turf track last weekend. As usual the 2WD class opened the weekend with Saturday morning's qualifying saw an early battle between Neil Cragg and Tom Yardy. Tom would TQ round 1 while Neil Cragg and Simon Moss set identical times in Q2. Q3 then had Neil coming out fastest while Tom Yardy stroke back in Q4. As both Neil and Tom scored two round TQs each the faster time would decide and ultimately it was Neil who snatched the pole position for the triple A-mains by 0.28s. Tom would line up in second from Simon Moss, Danny McGee and Lee Martin. A noticeable mention goes to Tristram Neil who made his first ever national A-main on the 8 spot.

From the pole position Neil drove a great A1 and never let anyone get too close. Tom also drove superbly too and closed the gap to under a second but didn't have a chance to make a move on Neil. Danny McGee was third closely followed by Lee Martin. In leg 2 Neil was off to a flyer. Tom didn't challenge this leg and it was down to Simon Moss to take up the quest in hunting down Neil Cragg. He scored fast lap after fast lap but the consistency of the Associated man was to prevail at this event. Neil took another win and with that a 131, the highest score for an event. Simon Moss was second in the leg, Danny third. As Neil already won the event he was racing for the bragging rights of the fastest lap of the meeting. He threw it at the track with nothing to lose. A few errors by the winner let Simon Moss through to go on and take the leg 3 win. Neil Cragg chased him down in 2nd, scoring the fastest lap with a 21.44 in the process, with Lee Martin in at 3rd.
2WD final results:
1. Neil Cragg – Team Associated
2. Simon Moss – Yokomo
3. Danny McGee – Schumacher
4. Tom Yardy – Schumacher
5. Lee Martin – Yokomo
6. Craig Collinson – Team C
7. Kevin Lee – PR Racing
8. Chris Doughty – Team Durango
9. Tristram Neil – Schumacher
10.Richard Taylor – Schumacher
On Sunday the 4WD event was held in dry yet windy weather conditions. Simon Moss again was at it. He opened up his account with a big fat zero in round one. Neil Cragg was a very close second, Tom Yardy third. Round 2 came and again Simon Moss was stamping his authority on this 4WD event by taking 3 seconds off his previous fastest time. Tom Yardy comes through to take second in the round with Neil in third. Into round 3 and things were getting interesting because it was Neil that took the round TQ but didn't beat Simon's round 2 time. Lee Martin came through to second in the round, Tom Yardy third. In Q4 Simon was going first out of the potential overall TQ contenders and went even faster than his own fastest time. It was Lee Martin that got second in the round with Tom Yardy third, Danny McGee fourth and Craig Collinson fifth.
In the opening A-main, Simon Moss from pole drove a perfect race to take a comfortable win by 4 seconds from his team mate Lee Martin. Neil Cragg in third with Tom Yardy fourth and Craig Collinson fifth completed the top 5. In leg 2 pole man Simon made an error. Neil took the lead and never looked back, taking the win in A2 from Tom Yardy in second, Danny McGee third with Simon fourth and Kev Lee fifth. Before leg 3 nothing was decided yet. In fact it could have been a multitude of drivers that could take the overall win. Simon Moss though started with some intent as did Neil Cragg. These two drivers were head to head most if not all weekend and it surely would be one of these two that would win the event. Fast laps after fast laps smashing the previous best was proof they were pushing to the absolute limits. A great race that was also error free from both drivers but it was Simon Moss that would come home to take the win with the fastest time of the day too. Neil would have to settle for second while Tom Yardy would come home in 3rd.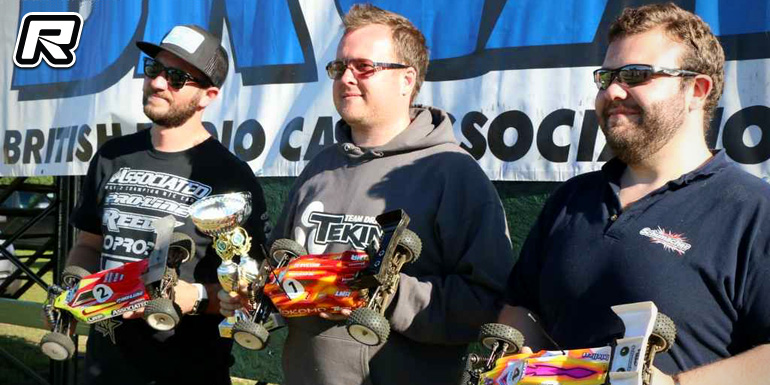 4WD final results:
1. Simon Moss – Yokomo
2. Neil Cragg – Team Associated
3. Tom Yardy – Schumacher
4. Lee Martin – Yokomo
5. Danny McGee – Schumacher
6. Craig Collinson – Team C
7. Kev Lee – PR Racing
8. Ellis Stafford – TLR
9. Richard Taylor – Schumacher
10.Chris Doughty – Team Durango
Source: BRCA [brca10thoffroad.co.uk]
---