July 18, 2016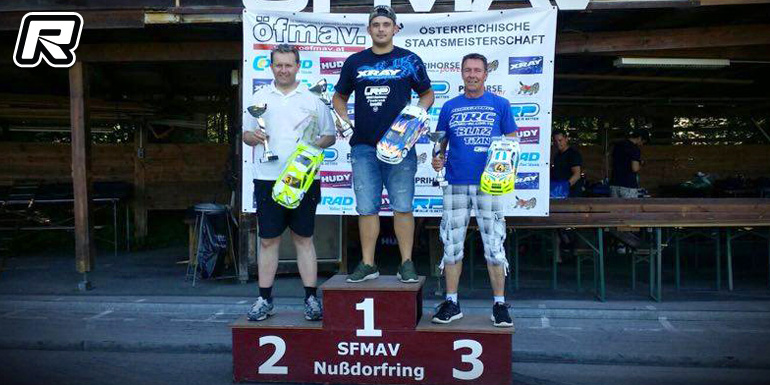 Round four of the Austrian Electric On-road Nationals was held at the SFMAV track in Salzburg. The Touring Modified class qualifying saw a close fight for the pole position between Patrick Gollner, Dominic Vogl and Helmut Fraunschuh with the better end for Patrick who took the overall TQ from Dominic. In the Touring Stock class Nico Haider was pretty much unstoppable, taking the overall TQ by winning all qualifiers with Björn Moser and Christian Völker in second and third.

The Modified A-mains saw Patrick taking the opening leg but a mistake in A2, that damages his car's body, meant the decision for the overall win would be shifted to A3. Ultimately Patrick would also take a win in A3 to bring home the overall victory from Helmut Fraunschuh and Toni Eder.
Touring Modified A-final results:
1. Patrick Gollner
2. Helmut Fraunschuh
3. Toni Eder
4. Dominic Vogl
5. Gerhard Kandelhart
6. Sascha Klug
7. Manuel Gremlica
8. Mario Sowka
9. Christian Fraunschuh
10.David Wöß
In the opening Stock A-main Nico made a rare mistake but it allowed Christian Völker and Björn Moser to battle for the win. In the process both Christian and Björn made mistakes at different points of the race but ultimately it was Christian who took the win in A1. A2 and A3 then saw Nico dominating up front, allowing him to grab the day's win from Christian and Björn.
Touring Stock A-final results:
1. Nico Haider
2. Christian Völker
3. Björn Moser
4. Vinzenz Schrank
5. Manfred Pasch
6. Wolfgang Wöß
7. Markus Pröll
8. Stephan Heigermoser
9. Thomas Hofstätter
Source: Xray [teamxray.com]
---