July 25, 2016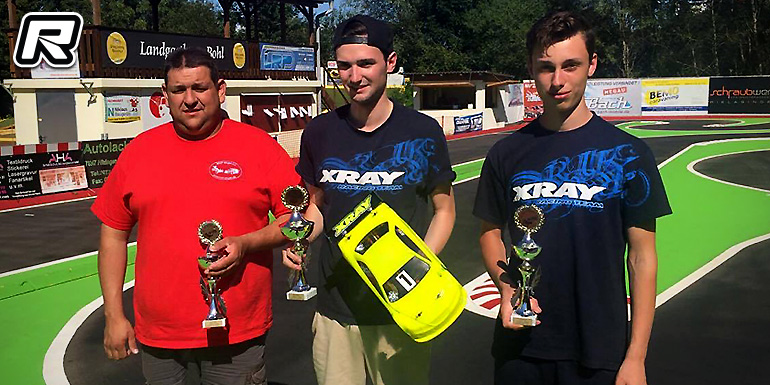 The final round of the South German On-road Championship was held in Singen, host of the German National Championships in a couple of weeks time. In the Touring Modified class, Tim Wahl made a clean sweep to take the TQ while also scoring the fastest lap. Markus Wegmann lined up in second from Florian Fink and Antonios Theofilou.

The Stock class again saw Tim Wahl coming out on top after winning all six qualifiers. Behind Tim, Maximilian Stähle, Thomas Wegmann and Hannes Soyke battled or the positions with Maximilian ultimately taking the 2 spot from Thomas and Hannes.
The Modified finals then saw Markus applying some pressure on the leader in the opening laps but Tim was able to control the gap and to take the lead in all A-mains to take the overall win from Markus Wegmann in second and Florian Fink in third. Antonios Theofilou completed the top 4 result.
The Stock finals were pretty much a blueprint of the Modified races for pole sitter Tim Wahl. He pretty easily opened a gap on the field in every leg, leaving the driver behind him to battle for the remaining podium spots. Like in the qualifiers Hannes Soyke, Maximilian Stähle and Thomas Wegmann had some great and close fights through all three finals. In the end it was Thomas Wegmann who came out on top to take the runner-up spot from Maximilian Stähle.
Touring Stock final results:
1. Tim Wahl
2. Thomas Wegmann
3. Maximilian Stähle
4. Hannes Soyke
5. Jörg Westerhaus
6. Thomas Pittelkow
7. Tino Weller
Source: Xray [teamxray.com]
---