July 3, 2016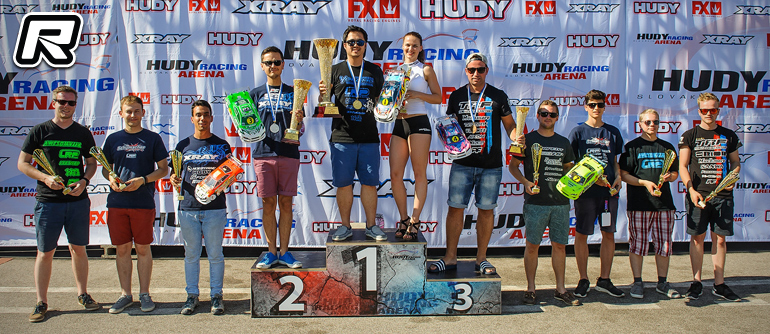 The 2016 EFRA European Electric On-road Championships were held this weekend at the iconic Hudy Racing Arena in Trencin, Slovakia. Classes run were the usual Touring Modified and Touring Stock categories as well as, for the first time, a 1/10th Formula class. Ronald Völker (Yokomo) and Jan Ratheisky (Xray) would grab the TQs in the Touring classes while Mike Gosvig (Xray) took the top qualifier honours in Formula. In the opening Touring Modified A-main a collision between Bruno Coelho (Xray) and pole position holder Ronald made way for Alexander Hagberg (Xray) and Marc Rheinard (Tamiya) with the latter holding the upper hand thanks to a very late move on Alex.

The second final was pretty much a blue print of A1 with an ambitious Bruno colliding with Ronald but the latter was able to recover to second while up front reigning champion Alexander Hagberg took the win in A2. Before the final A-main, Alex, Ronald and Marc were in the position to take the overall win. Bruno again tried to make a move on Ronald while the latter tried to lay down a time faster than Alex's in A3 to keep his title hopes alive. Going into the final round, Ronald wasn't on target but a blistering fast final lap allowed Ronald to take the leg win and with it the overall victory by just a tenth of a second from runner-up, Alexander Hagberg. Marc Rheinard, who suffered from having to run on old tyres, rounded out the podium in third. The EFRA Touring Modified Junior title went to Schumacher's Michal Orlowski.
Touring Modified final results:
1. Ronald Völker – Yokomo
2. Alexander Hagberg – Xray
3. Marc Rheinard – Tamiya
4. Bruno Coelho – Xray
5. Victor Wilck – Serpent
6. Michal Orlowski – Schumacher
7. Viljami Kutvonen – Awesomatix
8. Christoper Krapp – Tamiya
9. Elliott Harper – Schumacher
10.Frederik Südhoff – Awesomatix
In the Touring Stock class things looked a bit different for the TQ holder. Jan Ratheisky made a clean sweep in the opening two A-main legs to take the overall win early although being heavily pressured in A1. Alexandre Duchet (Xray) came in second while an unhappy Mike Gosvig (Xray) suffered two difficult mains but still rounded out the podium in third.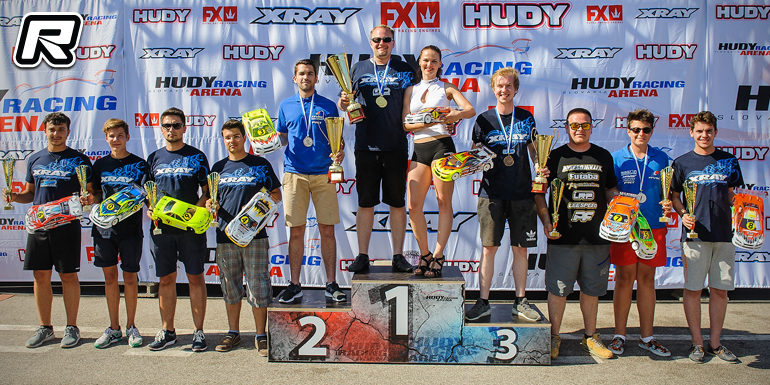 Touring Stock 10.5 final results:
1. Jan Ratheisky – Xray
2. Alexandre Duchet – Xray
3. Mike Gosvig – Xray
4. Max Mächler – Awesomatix
5. Steve Favrelle – Xray
6. Davide Bertuzzi – Xray
7. Tom Kragefski – Xray
8. Blazej Orlowski – Xray
9. Noah Asendorf – Xray
10.Mattia Collina – Xray
The Formula class was a 3-horse race between Mike Gosvig (Xray), David Ehrbar (Serpent) and Jan Ratheisky (Xray). The opening A-main saw a tone-to-tone win by Mike with David coming in second following an error by then-second placed Jan. The second A-main saw Jan taking the leg win from Olivier Bultynck and Martin Hudy, shifting the decision for the overall win to the third and final A-main. David was on fire, taking the win but a better final time of Jan Ratheisky allowed him to grab the first Formula class European Championship title.

Formula final results:
1. Jan Ratheisky – Xray
2. David Ehrbar – Serpent
3. Mike Gosvig – Xray
4. Olivier Bultnyck – Roche
5. Stephen Lander – MD
6. Martin Hudy – Xray
7. Hector Albarracin – MD
8. Matteo Berlincioni – Fenix
9. Andrej Vnucko – Xray
10.Herbert Weber – VBC Racing
11.Andrea Selva – Xray
Source: Xray [teamxray.com]
---