August 22, 2016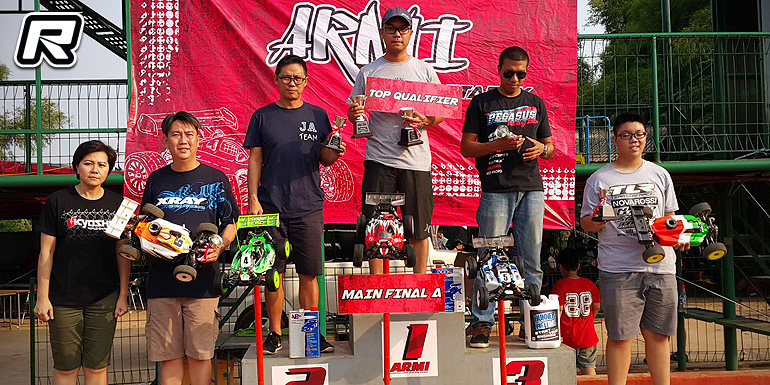 This past weekend round four of the Jakarta regional Buggy Championship was hosted by the Graha Raya track, in Serpong, West Java. A total of 53 drivers attended this event with the race format being three rounds of ten minutes qualifying of which the best two would count. For the finals the best five drivers would bump up and after the three rounds of qualifying it was Adrian Wicaksono (Mugen/Reds Racing) who took the TQ honours. In the 45-minute main final it was again Adrian who came out fastest with John Agus (Kyosho/O.S.) taking the runner-up spot some 10 seconds down. In third Rama Tribudiman (Team Associated/O.S.) completed the podium result.
Final results:
1. Adrian Wicaksono – Mugen/Reds Racing
2. John Agus – Kyosho/OS
3. Rama Tribudiman – Team Associated/O.S.
4. Indra Liono – Xray/SPower
5. Adrian Sutanto – TLR /O.S.
6. Aswin N – TLR/O.S.
7. Edianto – Kyosho/Reds Racing
8. Faisal Ali – Mugen/Reds Racing
9. Jason Nugroho – Xray/Novarossi
10. Darmadi K – TLR/O.S.
11. Hade Mboi – Mugen/Novarossi
12. Vindra Mboi – Mugen/Reds Racing
13. Ariathena – Xray/FX
14. Chopin – TLR/Novarossi
15. Rizky P – Xray/O.S.
Thanks to Michael Nugroho for the report.
---