August 9, 2016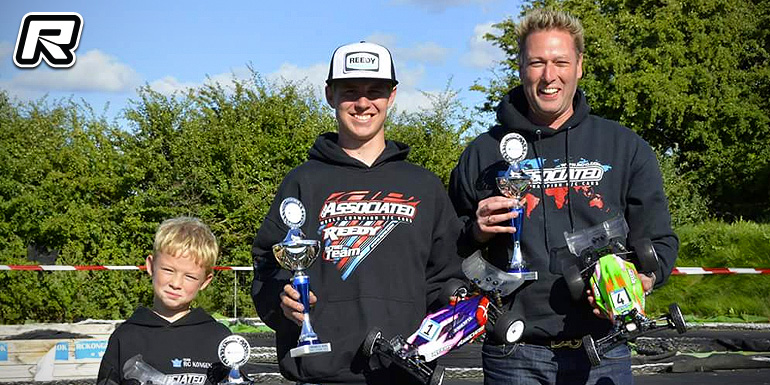 Round five of the Danish Electric Off-road Nationals was held at the RCKongen outdoor carpet track. In the 2WD class the battle for the top spots was on between Mike, Frederik, Marcus and Jesper. In the opening qualifier Marcus and Mathias were the lucky winners due rain in middle of the top heat. Jesper and Jonas made it 3rd and 4th while others from the top heat were out of a main pace. For the final qualifiers the track was still wet and Frederik TQ'd the second round just in front of Jesper meaning the overall TQ would be decided in Q3. Meanwhile Mike chose to drop the 2WD race due to the rain and up front Jesper TQ'd the last round in front of Jonas. This handed Jesper the pole position for the mains from Marcus and Frederik.

The 2WD A-mains then held close battles between Jesper and Jonas and after both made mistakes in A1 it was Jesper to take the win after Jonas rolled his buggy in the penultimate lap. In A2 Jesper again held everything together to take a popular win and with the the overall victory. The race in A3 was on for the final podium spots between Frederik, Jonas and Marcus. After a close battle with his son, Jonas would come out successful to take the runner-up spot from Marcus while Frederik had to settle for fourth.
2WD final results:
1. Jesper Rasmussen
2. Jonas Kærup
3. Marcus Kærup
4. Frederik Hovgaard
5. Christoffer Henriksen
6. Niklas Engholm
7. Mathias Douglas
8. Kim Boelslund
The 4WD class had Mike Gosvig take TQs in round two and three of the qualifying to take the overall TQ from Jan Larsen and Jesper Rasmussen. Mike then also went on to win the first two finals in style to take the overall win in pretty commanding fashion. Frederik though was able to come out fastest in A3 to take the overall runner-up spot from Jan Larsen in third. Jesper was a bit off pace in the finals, resulting in a fourth place overall.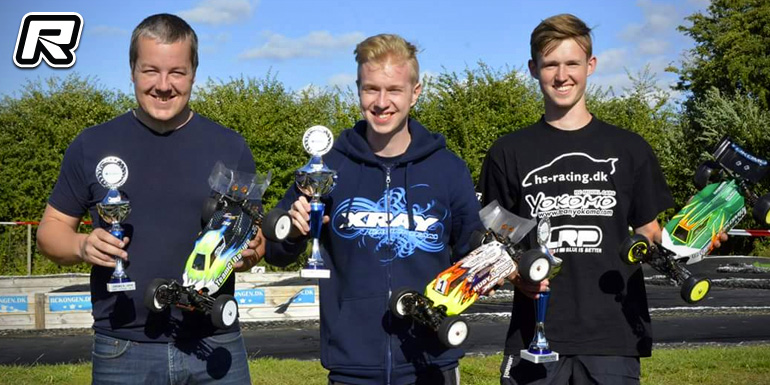 4WD final results:
1. Mike Gosvig
2. Frederik Hovgaard
3. Jan Larsen
4. Jesper Rasmussen
5. Tobias Hansen
6. Rasmus Petersen
7. Henning Warner
8. Jens Otto Frederiksen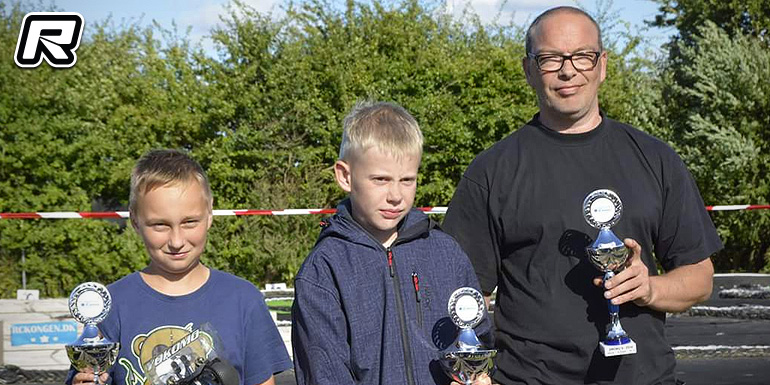 The Stock class saw the battle between up and coming Nicolas and Victor Nielsen. Victor would take the TQ and also the win in the A-mains from Victor as Kim Bruun had to settle for third.
Thanks to Jesper Rasmussen for the report.
---