September 26, 2016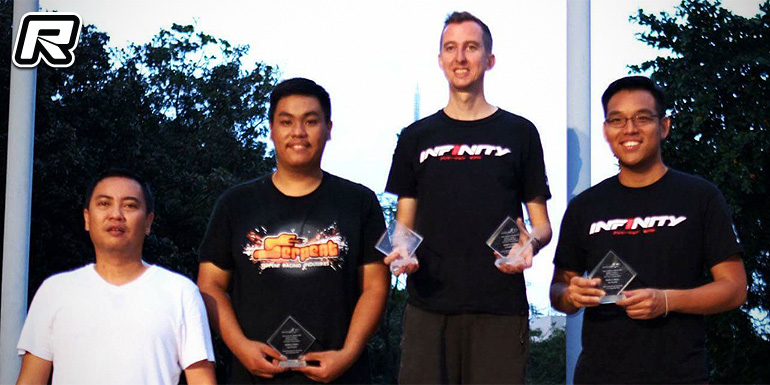 The JITC Farewell race was held this past weekend with the 2-day event attracting drivers from Indonesia, Brunei, the UK, The Netherlands and Thailand to compete in several nitro on-road classes. In the 1/10th 200mm Nitro Touring category, Infinity's Andy Moore would take the overall TQ and it would be Andy and his Infinity team mate Jilles Groskamp who would battle it out in the main final until eventual leader Jilles ran into trouble. This promoted Bowie Ginting (Serpent), who started from the 5 spot following many troubles on Saturday, into second place with Andy Moore bringing home the win while Bowie was able to take the runner-up spot from Trin Tanongsakchaikul (Infinity) in third.
1/10th 200mm final results:
1. Andy Moore – Infinity/O.S.
2. Bowie Ginting – Serpent/REX
3. Trin Tanongsakchaikul – Infinity/O.S.
4. Christian Mamesah – Serpent/REX
5. Jilles Groskamp – Infinity/O.S.
6. Adrian Sutanto – Xray/Novarossi
7. Chavit Saligupta – Infinity/O.S.
8. Fayakhun Andriadi – Xray/Novarossi
9. Arya Seta – Serpent/REX
10.Rudy Budihardjo – Xray/XRD
Thanks to Bowie Ginting for the report.
---