September 7, 2016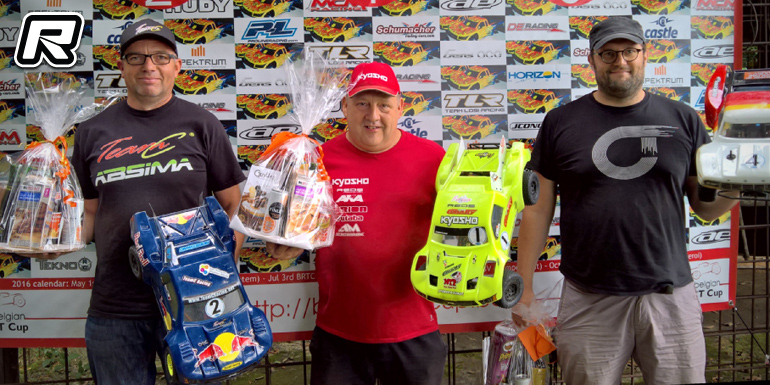 Round five of the Belgian SCT Cup was hosted by the MBV Kampenhout club on a slightly modified layout that made the superb astroturf track even better. Once again rain affected the race but thanks to the well-drained track the surfaces dried up quickly, allowing to carry on with the event but some of the qualifiers were mixed up a bit due to the same rounds being held both under wet and dry conditions. This was in particular the case in the opening round of the Pro2 qualification with the last heat running under rainy conditions. Frederic De Conchy (TLR), Martin Vierin (Team Associated) and Stéphane Lecomte (Team Associated) scored the best times in Q1 while the second round saw Géry Ledocq (Kyosho) taking the TQ with a big margin on Laurent Halluin (TeamC) and Tom Pierard (TLR). In the final round, Géry confirmed his overall TQ with another TQ run, ahead of Laurent Halluin and Martin Vierin.
Pro2 top 3 qualifying result:
1. Ledocq Géry – Kyosho
2. Halluin Laurent – TeamC
3. De Conchy Frédéric – TLR
In Pro4, Nicolas Evens (TLR) took the first two qualifying rounds ahead of Sam Puttevils (TLR) and Philip De Keersmaecker (Tekno) to secure the overall TQ. With a second place in the final round behind Sam Puttevils, Sam Damman (TLR) took the 3 spot on the grid.
Pro2 top 3 qualifying result:
1. Evens Nicolas – TLR
2. Puttevils Sam – TLR
3. Damman Sam – TLR
In the opening Pro2 A-final, Géry jumped into the lead right from the start while Laurent suffered from a first lap contact. Martin would put pressure on Géry for most of the race, both completing the leg one second apart while Nicolas Evens (TLR) followed in third. In leg 2 the start was cleaner and Géry controlled the pace, eventually crossing the finish line in the first place to take the overall win. Laurent Halluin followed four seconds behind, Martin Vierin came in third another eight seconds down. In the final round, Géry took another win with a flawless drive, while Laurent Halluin and Nicolas Evens had a good fight without overtaking but with constant pressure, ending the race 6 tenths apart.
Pro2 top 3 results:
1. Ledocq Géry – Kyosho
2. Halluin Laurent – TeamC
3. Vierin Martin – Team Associated
The Pro4 A-mains were a battle between Nicolas Evens and Sam Puttevils, with Sam taking the advantage in the first two rounds to take the overall win, and Nicolas taking his revenge in last one. Sam Damman is a consistent third in all rounds to secure the remaining podium spot.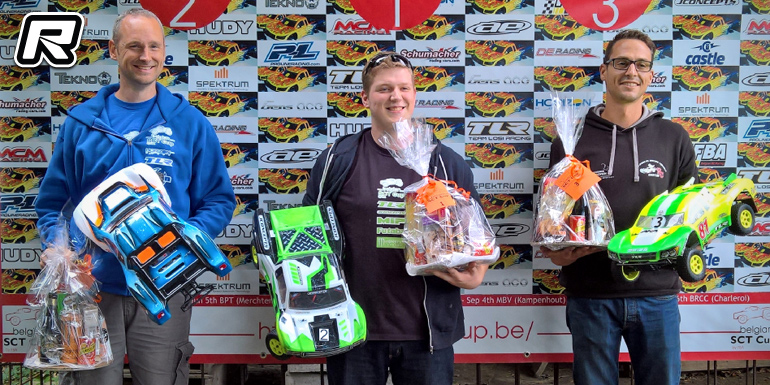 Pro4 top 3 results:
1. Puttevils Sam – TLR
2. Evens Nicolas – TLR
3. Damman Sam – TLR
Source: Belgian SCT Cup [belgiansctcup.be]
---