September 12, 2016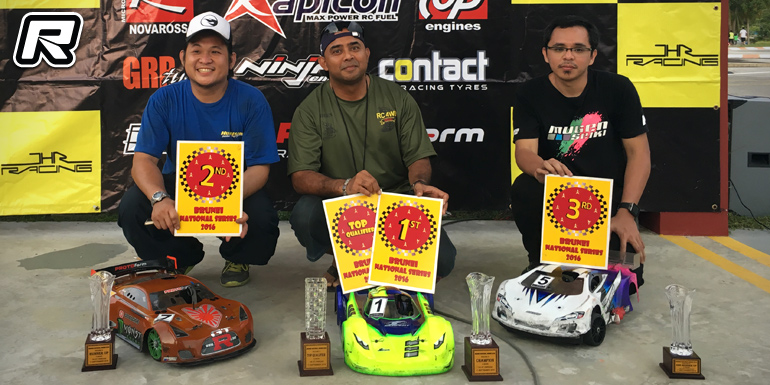 Round five of the Brunei Nitro GT Nationals was held at the big Budiman Youth Park track in the country's capital. Even though the turnout was smaller than at the previous rounds, the race still offered very close and competitive racing. With the series' top two points leaders Darul and Pg Shamsul absent from this race it was a great opportunity for the other racers to score some big points. In the qualifying rounds, Bahreen, one of the up and coming stars in this class swiftly clinched to TQ spot after topping two rounds straight.

In the A-main, Bahreen who was driving Serpent's 3.0 GT car, had a bad start and he found himself at the back of the pack after just a few corners. But with driving skills and some swift laps he soon recovered to to second after just a few laps and he found himself fighting for the lead with Hj Irman. The fight was very close and intense with both drivers swapping the lead almost every lap, much to the amusement of the crowd. 10 minutes into the run, Hj Irman unfortunately had a technical failure and had to stop his car. This easily promoted Bahreen into a huge lead and he eventually cruised to the victory in the 35-minute encounter followed by Mike (Team C) in second place and Azrul, driving a Mugen MGT7, who completed the podium in third. The next round of the series will be held in October and with the points leaders being separated by only a few points, it will for sure be a round not to be missed.
Thanks to Wirawan Hamidoon for the report.
---