September 29, 2016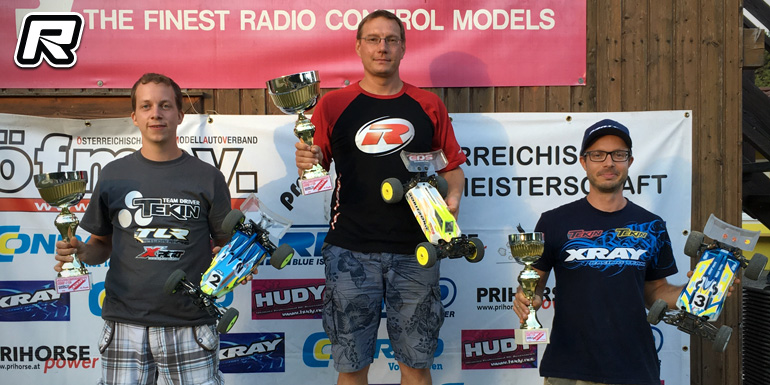 The 2016 Austrian Electric Off-road National Championship recently concluded with round five held at the WBC Hoheneich club in the north of the country. As one round was cancelled due to rain this was actually the forth round and was local hero, Roland Macho (Xray) who excelled in the 4WD Buggy class by taking the TQ in all qualifying rounds to leave Martin Kreil (TLR) and Hupo Hönigl (Xray) behind in second and third respectively.

The finals were a very exciting affair with the top 3 drivers all finishing tie on points meaning the tie-breaker would decide the overall standings and it was again Roland who came out fastest to take the day's win from Martin and Hupo.
4WD final results:
1. Roland Macho
2. Martin Kreil
3. Hupo Hönigl
4. Rene Trauner
5. Stefen Pfeifhofer
6. Prihoda Marcus
7. Th. Diesslbacher
8. Lucas Grainer
9. Marcel Rekettye
10.Peter Pinisch
The 2WD class had Hupo Hönigl (Xray) taking the TQ spot and the pole position for the triple A-mains from Stefan Pfeifhofer (Team Associated) and Schumacher's Peter Pinisch. The two opening A-mains then were a pretty chaotic affair with six different drivers finishing in the top 3 spots meaning all of them still had a shot on winning the event in A3. Ultimately Hupo would bring home the win after finally finding his concentration and rhythm to win the 2WD portion of the event from Stefan Pfeifhofer and young and talented Lucas Grainer (Team Associated).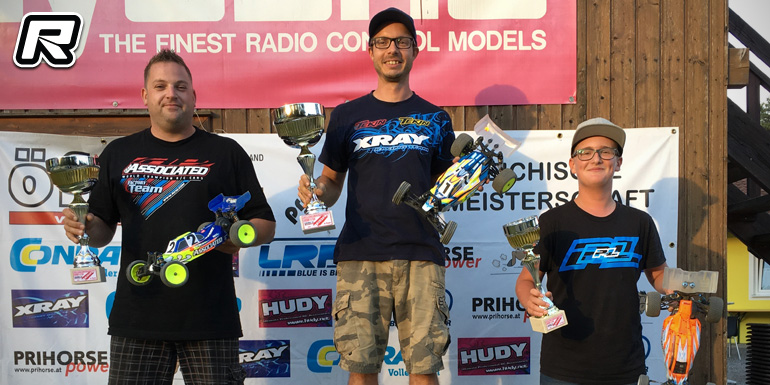 2WD final results:
1. Hupo Hönigl
2. Stefan Pfeifhofer
3. Lucas Grainer
4. Martin Kreil
5. Marcel Rekettye
6. Peter Pinisch
7. Christian Lanzl
8. Rene Trauner
9. Prihoda Marcus
10.Roland Hauleitner
Overall in the championship and with three of the four rounds to count it is Hupo Hönigl who takes the 4WD National title from Peter Pinisch and Marcel Rekettye.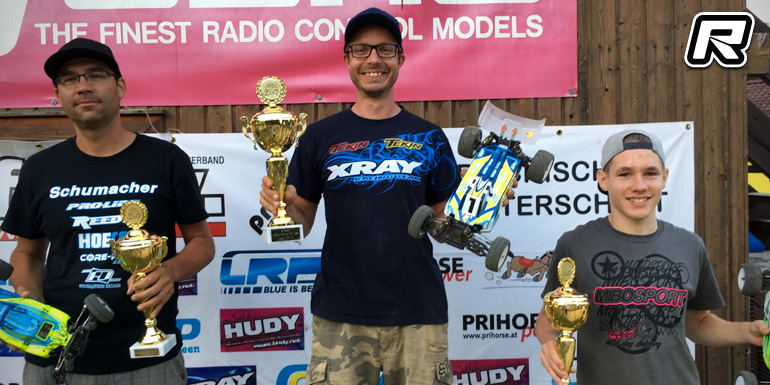 4WD overall results:
1. Hupo Hönigl
2. Peter Pinisch
3. Marcel Rekettye
4. Roland Macho
5. Stefan Pfeifhofer
6. Rene Trauner
7. Prihoda Marcus
8. Roland Hauleitner
9. Th. Diesslbacher
10.Martin Kreil
In the 2WD class it was again Hupo who came out on top after the season to take a double title in 2016 from Peter Pinisch in second and Stefan Pfeifhofer in third.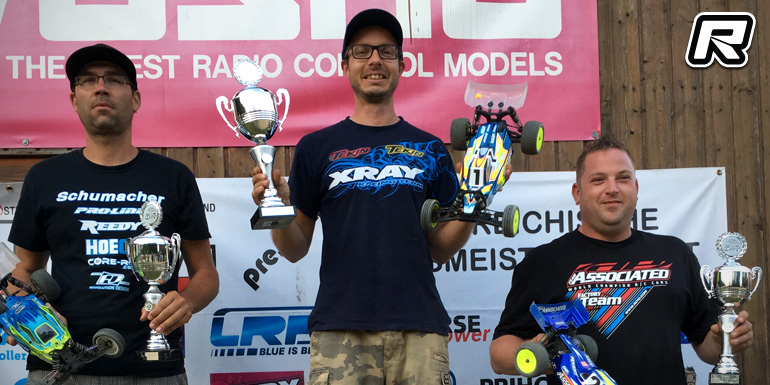 2WD overall results:
1. Hupo Hönigl
2. Peter Pinisch
3. Stefan Pfeifhofer
4. Marcel Rekettye
5. Lucas Grainer
6. Rene Trauner
7. Christian Lanzl
8. Roland Hauleitner
9. Thomas Pumpler
10.Andreas Janda
Source: Xray [teamxray.com]
https://www.teamxray.com/teamxray/news/newsdesc.php?news_id=5548&kategoria=5548&catName=XB4%20&%20XB2%20Austrian%20Champions%202016
---