September 16, 2016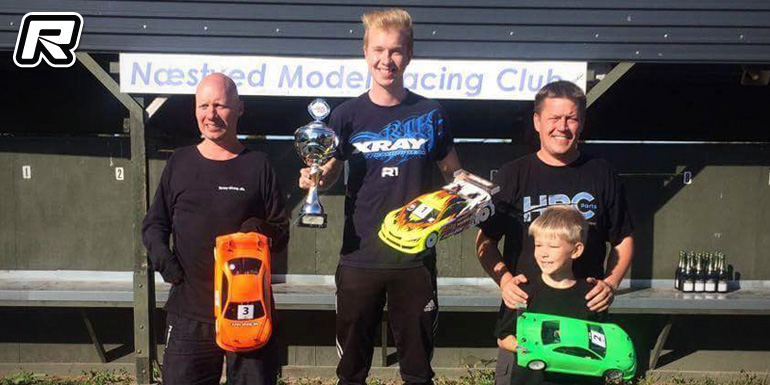 The fifth and final round of the Danish Electric On-road National Championship was held at the fast Næstved track. With both the Touring Modified and Stock Championship already decided in favour of Xray's Mike Gosvig, the race was on the for the remaining podium spots in the Superstock class. Mike wanted to end the year on a high and still competed in both categories and despite some problems with tyre preparation and a transponder he took the TQ in both classes.

In the opening Modified A-main Mike took the win from tone-to-tone from Michael Ivo in second and Casper Morgan in third. A2 again saw Gosvig coming out fastest despite one of his car's tyres showing a big hole after the race that prevented him from also running the third and final leg. Overall Mike ended the day on the 1 spot with Caspar Morgan (Xray) in second and Michael Ivo (Xray) in third. As for the Championship Mike took the overall title from runner-up, Frederik Hovgaard (Yokomo) on the runner-up spot and Michael Ivo (Xray) in third.
The opening Stock A-main saw a bad start of Mike because his tyres weren't up to the game, allowing Soren Boy and Daniel to pass Mike. When the latter's tyres kicked in he was able to pass Daniel on the inside of the first corner and soon after he also got past Soren Boy to regain the lead. From that moment on Mike never looked back to take the win some five seconds in front of Daniel. Steven got third in this round after passing Soren who made a mistake in the chicane. A2 went better for Mike who used a warm-up lap to condition is tyres and he would take the win from tone-to-tone with an eight seconds margin on Daniel who took the second place from Soren Boy on the penultimate lap. A3 then again saw a dominating performance of Mike who took the win some five seconds in front of Soren and Daniel. Overall and behind Mike Daniel Bjerg (Yokomo) and Soren Boy Holst (VBC Racing) completed the podium at round 5 while overall it was Soren Boy Holst who took the vice-championship honours from third placed Steven M. Olsen.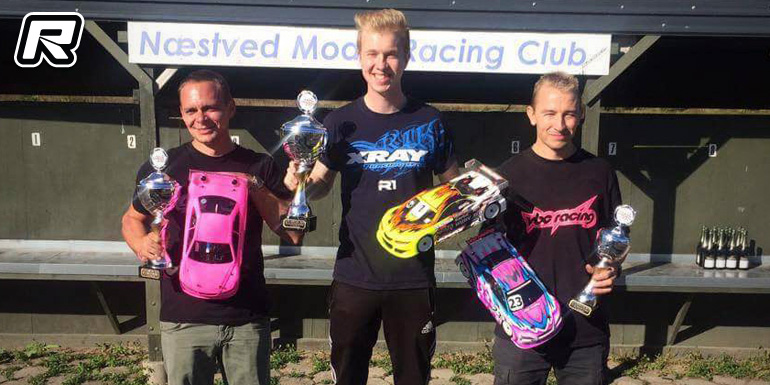 Source: Xray [teamxray.com]
---