September 5, 2016
Round four of the Danish Electric On-road Nationals was held at the popular Odense track. In the Touring Modified class it was Xray's Mike Gosvig who took the TQ while the Touring Stock class saw VBC Racing's Soren Boy Holst coming out fastest in the qualifiers that were held in low grip conditions due to overnight rain. In the opening Modified A-main Mike took an easy win and also the second final saw Mike coming out in front even though he ran on pretty used tyres but taking it easy allowed Gosvig to take the win and with it the overall victory and also the Danish title with one round to spare.
Modified overall top 3 result:
1. Mike Gosvig – Xray
2. Frederik Hovgaard – Yokomo
3. Michael Ivo – Xray
The finals of the Stock class were a pretty exciting affair with Soren Boy Holst coming out in front in the opening A-main from a recovered Mike Gosvig who tried to pass the leader on lap 3 but failed and had to come back from being deal last. For A2 a thunder storm soaked the track, making for very challenging track conditions. Soren Boy and Mike both ran into trouble but Mike made the best out of the conditions as he eventually took the lead and after some nice fights with his team mates Patrick and Steven, Mike was able to grab the win. A3 and Mike again ran into issues and so Steven came out in front from Stefan Finnich and Jeserp Rasmussen. Overall, as Steven's time was slower than Mike's, the latter grabbed the day's win from Steven and Soren Boy. The victory handed Mike another national title and the second that weekend.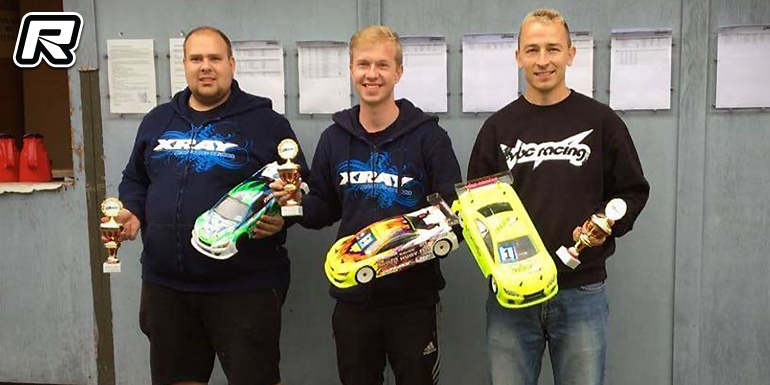 Stock overall top 3 result:
1. Mike Gosvig – Xray
2. Steven M Olsen – Xray
3. Soren Boy Holst  – VBC Racing
4. Stefan Finnich – Schumacher
5. Jesper Rasmussen – Team Associated
6. Patrick Danielsen – Xray
7. Daniel Bjerg – Gizmo
8. Soren Slot – VBC Racing
Source: Xray [teamxray.com]
---