October 8, 2016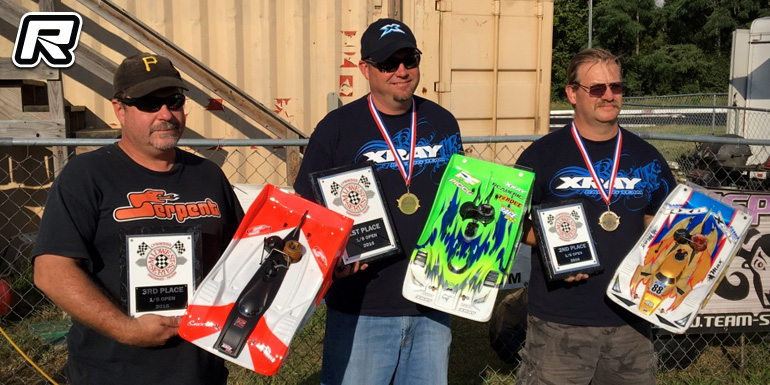 The nitro season in the U.S. is drawing to an end and the Tri-State Radio Controlled Auto Racers hosted a dual event at their facility located at the Hamilton County fairgrounds, in Cincinnati Ohio. The race was the season finale for the 2016 Midwest Series as well as the 2016 ROAR Region 5 Championship. The fall temperatures were cool and the track would prove to be in prime condition for the final event of the six race series. Going into the event, Lon Burling had already locked down the series championship in 1/10 Sedan as well as Tom Esposito in 1/10 Sedan Masters and Jason Conley in 1/8 Open. The 1/8 Masters title was locked in a dead heat between long time nitro veteran and seven time MWS Champion Rick Davis and Dwight Smith.

A light overnight rain delayed the start of practice until mid-afternoon Friday however, by the end of the day the track was coming in nicely and some very quick lap times were being run. Lap times continued to drop Saturday morning as the competitors made their final adjustments prior to qualifying. For those that haven't followed this series, it was first held in the summer of 1970, which makes it the longest standing RC series in the United States. The featured classes that compete in two races at each of the three hosting clubs are 1/10 Sedan, 1/10 Sedan Masters, 1/8 Open and 1/8 Open Masters. To keep the competition on their toes, the host clubs, One Eighth Racers in Toledo, Ohio, Team NITRO of Lynwood, Illinois and TSRCAR of Cincinnati, Ohio, provide a different course layout for each of their events. The featured classes are run together by scale but scored separately by class.
Ted Hammer nabbed the top spot in 1/8th Open through the first two rounds, until Joby Uchtman took it over with a 26 5:11 in Q3. In Q4, Hammer was on a TQ pace until a mistake took away any chance he had. Uchtman maintained P1 in Open and Dwight Smith secured the top spot for Masters. At the start, Uchtman would take advantage of his starting position and lead the race until a lap 7 crash knocked him to the tail of the field. At the same time, Ken Miller got around Ted Hammer to assume the lead. Through lap 20 the top five were Miller, Hammer, Jason Conley, Dwight Smith and Mike McBride. Miller set sail on the field while Conley and Smith battled for the number two position. McBride and Rick Davis were not far behind, running 4th and 5th. By lap 55 McBride had gotten around Conley and Smith for second, only to fall out of the race on the next lap with engine failure. A few laps later, with Davis maintaining 4th, Steve Lazarus got by Mark Unger to take over 5th. With 130 laps in the books and time winding down, Ken Miller continued to dominate with Conley in 2nd. Running in 3rd, Smith had a one lap lead over Davis and was running five car lengths behind him on the track, content to ride there to secure the series win in Masters. The top five would run in that order for 15 more laps, as Ken Miller crossed the line to take his second consecutive series win. Conley brought home the number 2 spot while Smith finished 3rd to take the Masters victory.
1/8 Open final results:
1. Ken Miller – Xray
2. Jason Conley – Xray
3. Dwight Smith – Xray
4. Rick Davis – Serpent
5. Mark Unger – Serpent
6. Ted Hammer – Shepherd
7. Steve Lazarus – Capricorn
8. Mike McBride – Serpent
9. Joby Uchtman – Xray
10.Mike Pulfer – Xray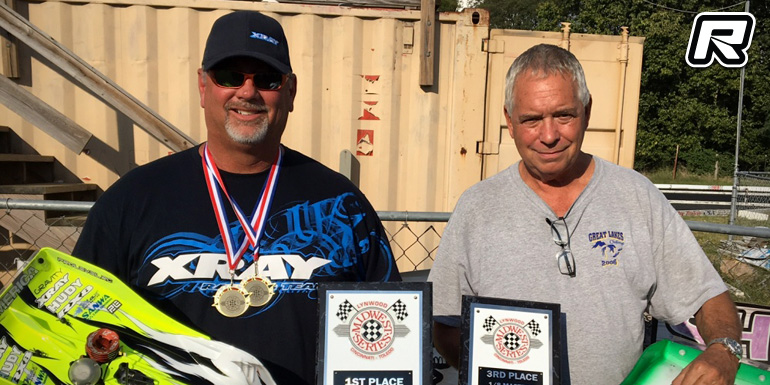 1/8 Masters top 3 results:
1. Dwight Smith – Xray
2. Rick Davis – Serpent
3. Mark Unger – Serpent
Through all four rounds of qualifying, Ted Hammer set the pace for the 1/10 Nitro Sedan field with Nick Altieri once again the quickest in Masters. Hammer jumped out to an early lead with Brad Mergy not letting him get too far away. P3 starter David Dunn got off to a slow start and Masters TQ Altieri grabbed the third position. Trouble for Mergy on lap 8 dropped him back to fifth. By lap 14, David Dunn found himself back at the head of the field followed by Hammer and the hard charging Mergy, who had recovered to third. At the 50 lap mark, Mergy had taken over the lead followed by Dunn, Hammer, Altieri and Ben Puterbaugh, rounding out the top 5. Positions continued to change and with a check at lap 75, Tom Bracket was mounting a charge and worked his way up to fourth. Bracket continued his run and got around Altieri to move into third. Mergy, Dunn and Bracket would be the order for the next 25 laps. By lap 110, Brad Mergy had built a commanding lead over the field and the tightest battle on the track was between Bracket and Altieri for the second spot. Mergy put his car in cruise for the next 24 laps to take the uncontested win. Altieri tried to mount a run on Bracket for second but just couldn't get it done. They would finish in that order, Mergy, Bracket and Altieri.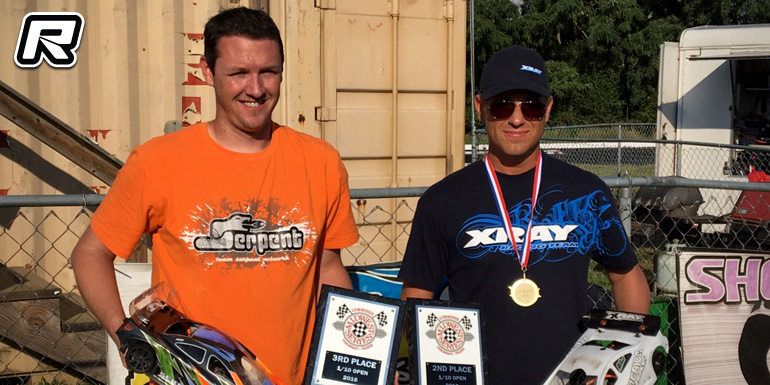 1/10 Sedan final results:
1. Brad Mergy – Xray
2. Tom Bracket – Serpent
3. Nick Altieri – Serpent
4. David Dunn – Serpent
5. Ted Hammer – Shepherd
6. Ben Puterbaugh – Xray
1/10 Sedan Masters Top 3 Results
1. Nick Altieri – Serpent
2. Phillip Neiswinger – Xray
3. Vinny Tuminaro – Xray
With the format for the series being the best four out of six races, a short break was taken after the mains to load the results and determine the top three finishers in each class. Once everything was in order, Midwest Series Director, Mike Parker gave out the following awards for the 2016 Midwest Series season.
1/10 Sedan
1. Lon Burling – Shepherd
2. Brad Mergy – Xray
3. David Dunn – Serpent
1/10 Sedan Masters
1. Tom Esposito – Xray
2. Nick Altieri – Serpent
3. Phillip Neiswinger – Xray
1/8 Open
1. Jason Conley – Xray
2. Ken Miller – Xray
3. Mike McBride – Serpent
1/8 Open – Masters
1. Dwight Smith – Xray
2. Rick Davis – Serpent
3. Mark Unger – Serpent
As for the ROAR Region 5 championship it was Brad Mergy (Xray) who took the 1/10 Sedan class with Nick Altieri (Serpent) grabbing the 1/10 Sedan Masters title. 1/8 Open was won by Ken Miller (Xray) and in 1/8 Open Master Dwight Smith (Xray) took the title honors.
Source: Xray [teamxray.com]
---