November 7, 2016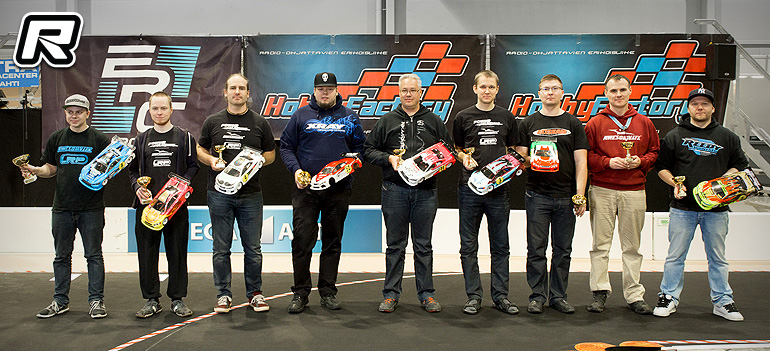 The Lahti Touring Car Challenge 2016, season opener for the FinTrack National Touring Car Championship, was held as part of the Kätevä & Tekevä hobby & crafts expo at the Lahti Fair Centre. The expo gathered about 10.000 visitors with many of them watching the finals from the grandstands. In previous years the Lahti Touring Car Challenge race has been held in an invite Reedy style format but for this year it was promoted to be the first round of FinTrack Tour. The race was held in several classes and in Touring Modified it was Awesomatix's Viljami Kutvonen who TQ'd all qualifiers and he would also come out fastest in all finals to take the day's win from the Awesomatix duo of Miko Teponoja and Kalle Lehto.
Touring Modified top 6 results:
1. Viljami Kutvonen – Awesomatix
2. Miko Teponoja – Awesomatix
3. Kalle Lehto – Awesomatix
4. Henry Salmén – Xray
5. Teemu Saarinen – Capricorn
6. Joni Minkkinen – Awesomatix
ProStock had many of the top Modified guys running against the regular ProStock drivers. Racing was super close, with top 3 drivers finishing less than two tenths of a second apart after the qualifiers. Ultimately it was Vesa Yli who secured the TQ with two rounds TQs while Marcus Åfelt and Kalle Lehto scored one round TQ each. The finals then had some really close racing to offer between the fastest guys and it was last year's ProStock champ, Vesa Yli who won all three final legs to walk away with the win. Kalle Lehto got past Åfelt in the finals to secure the second spot on the podium with Markus Åfelt ending up third.
ProStock top 6 results:
1. Vesa Yli – Awesomatix
2. Kalle Lehto – Awesomatix
3. Markus Åfelt – Awesomatix
4. Lasse Ilvessalo – Xray
5. Teemu Saarinen – Capricorn
6. Marko Vähäkuopus – Capricorn
Stock 21,5T blinky saw tight battle between Leevi Loukola and Jona Oksanen for the TQ spot, with both being tie on points, but it was Leevi who had the faster tiebreaker time to secure the pole position for the finals. In the A-mains Jona Oksanen had some good runs and he secured the win. Leevi Loukola came back from a bad first final and took the second spot with Miikka Luhta rounding out the podium.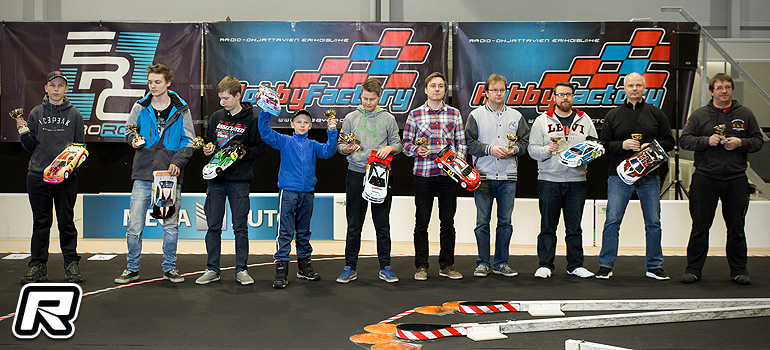 Stock 21,5T blinky top 6 results:
1. Jona Oksanen – Xray
2. Leevi Loukola – Xray
3. Miikka Luhta – Destiny
4. Joonis Oksanen – Xray
5. Eemeli Anttonen – Top Racing
6. Tero Niskanen, – Xray
After a slow start for Formula class last year, this year had quite decent outcome of drivers. It was Janne Valtanen who was fast all day and TQ'd and won the class with his new Roche formula car. Niko Sinervo and Aapo Koro battled their way to the podium finishing second and third.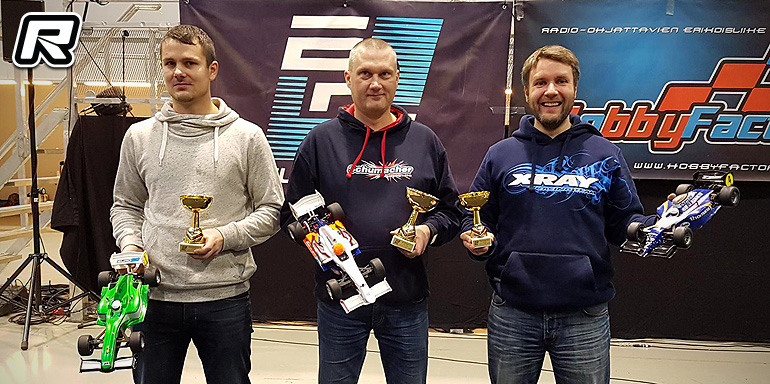 Formula top 6 results:
1. Janne Valtanen – Roche
2. Niko Sinervo – Xray
3. Aapo Koro – Xray
4. Antti Silvennoinen – Xray
5. Ilari Lamminsivu – Roche
6. Jethro Lehtojärvi – Serpent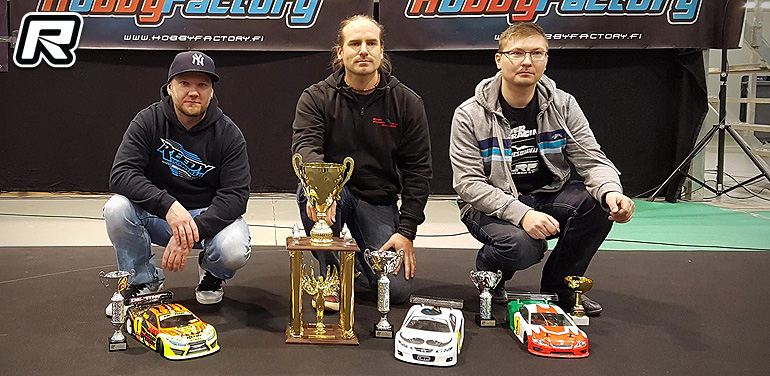 The LTCC 2016 also crowned the unofficial King of the Weekend, the driver with the best combined results from Saturday's Modified or Stock classes and Sunday's Pro Stock category. This time the title went to Kalle Lehto with third place in Mod and a second place in ProStock. Vesa Yli was second best with a tenth place in Modified and a win in ProStock while Markus Åfelt ended in third with a seventh place in Modified and a third place in ProStock.
Thanks to Henry Salmén for the report.
---