November 11, 2016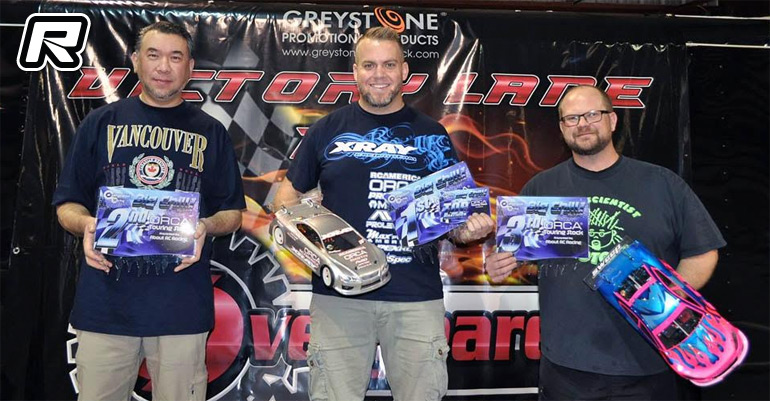 The Big Chill went down in Chilliwack, BC, Canada in early November and Xray's Luke Pittman made the trip to represent team Xray and RC America.  The track layout was very fast and flowing and allowed for some excellent racing which was seen in all classes.  The Touring Stock class was sponsored by ORCA who provided their new RT 17.5 for all entrants as a hand-out motor, creating an even playing field among all those who entered.  Motors were randomly picked during registration and racers were free to change timing and gearing as they wanted.  Pittman left the timing at the recommended setting and ran the recommended gearing of 3.72.
During practice Pittman struggled to get his T4 '17 up to pace as it had just come off the track in Las Vegas at the IIC, but a quick call to Xray's Jimmy Maddison to discuss layout, traction and setup options put him in the right direction.
Pittman was then able to set TQ early in Round 1 and then re-set his own TQ in Round 2, but in Round 3 Mike Malkinson laid down a slightly faster time, securing TQ for the day. Pittman made a couple minor setup adjustments during practice that evening though and was confident the car would be ready to take TQ back in the morning during the last chance qualifier.  As it turns out he had a solid run come Sunday morning and was able to re-take TQ by one hundredth of a second.
Starting first on the grid Pittman led the field around the track, eventually pulling away from the pack and finishing the main where he started; in first.
TC Stock Top Ten:
1. Luke Pittman
2. Mike Malkinson
3. Dwayne Flodell
4. Doug Smith
5. Dick Reece
6. Greg Gherasim
7. Gary Lanzer
8. Justin Gilkison
9. Tim Copp
10.Frank Bortalazzo
Source: Xray [teamxray.com]
---