December 27, 2016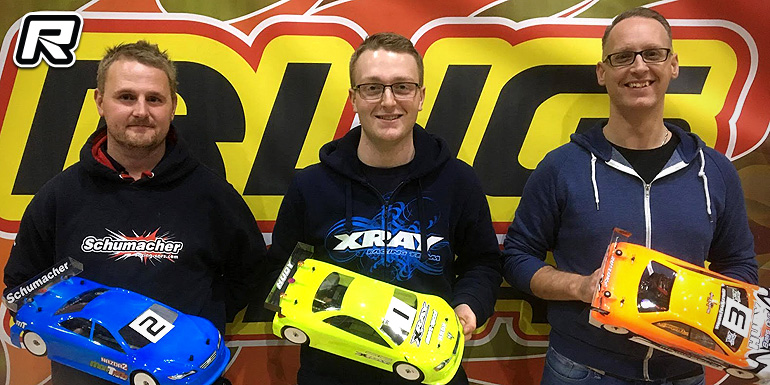 Round three of the 2016/17 RugRacers series, and the final round before the Christmas break, saw a full capacity entry – along with the popularity of GT12 an extra heat was put on taking the entries up to 44. Touring 13.5 Open saw Zak Finlay back and in dominant form again, but Ashley Wiffen was on hand to keep him honest. Zak would take the A-main legs one and two with Ashley very close behind. Leg one third place went to Jon Seals, with Dale Burr making third his for leg two but overall the ranking would see Jon taking the final podium spot.
Touring 13.5 Open final results:
1. Zak Finlay
2. Ashley Wiffen
3. Jon Seals
4. Damian Giddins
5. Dale Burr
6. Liam Hammond
7. Ben Eastmead
8. Matthew White
9. Jason Coe
10.Douglas Campbell
Touring 17.5 saw Billy Fletcher out in front in every heat with his closest competitor being Matthew Worton from the top heat, however Gary Jones made it up to second from the next heat down so Mr. Worton was to line up third.  Both legs saw a break away from the top 3 meaning they finished with the status quo of Billy top of the tree from Gary and Matt.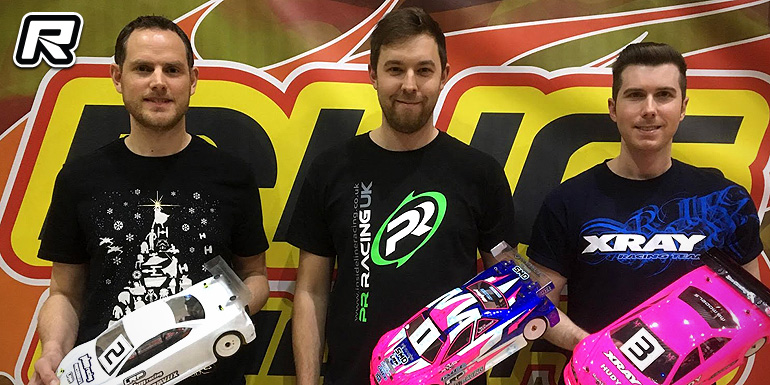 Touring 17.5 final results:
1. Billy Fletcher
2. Gary Jones
3. Matthew Worton
4. Mark Young
5. Aaron Rose
6. Jamie Hickin
7. Dani Young
8. Michael Ball
9. Malc Hall
10.Andrew Walters
Formula once again found Luke Lee in totally dominant form leaving everyone else in his wake and to fight over the other spots. Luke would take both final legs leaving Martin Southall to come home second in both with Lee Hedges third in leg one and Javier third in leg two.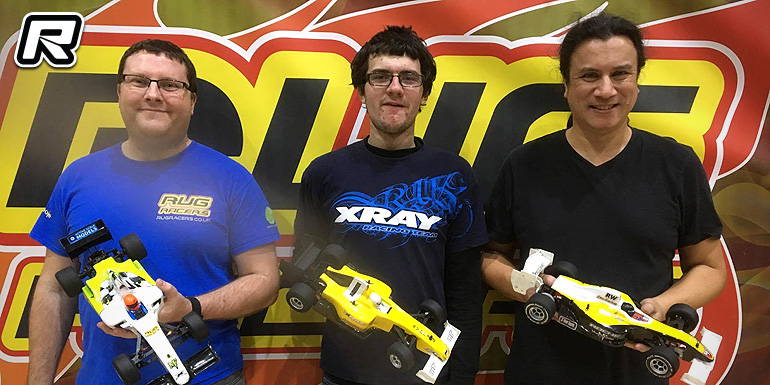 Formula final results:
1. Luke Lee
2. Martin Southall
3. Remo Casadei
4. Michael Cook
5. Javier Jimenez-Pradillo
6. Lee Hedges
7. Tony Archer
8. Alan Chipolina
Racing however started with the GT12s. First out and a stellar start for Andy Murray making his RugRacers GT12 debut alongside current European Junior LMP stock Champion Ollie Payne would ensure Tim Hancock was going to have an even more difficult day. The A-final would see Andy Murray take leg 1 from Tim and Niall while leg 2 went to Niall Cochran from Andy Murray and Ben Elliott.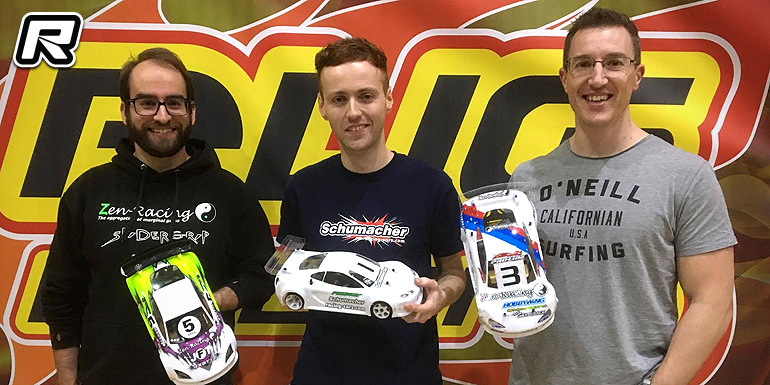 GT12 final results:
1. Andy Murray
2. Niall Cochran
3. Tim Hancock
4. Ben Elliott
5. Owen Smith
6. Mark Deacon
7. Chris Wilkinson
8. Neil Mottram
9. Carl Beecroft
10.Ollie Payne
11.Stuart Barber
Source: The RC Racer [thercracer.com]
---