December 1, 2016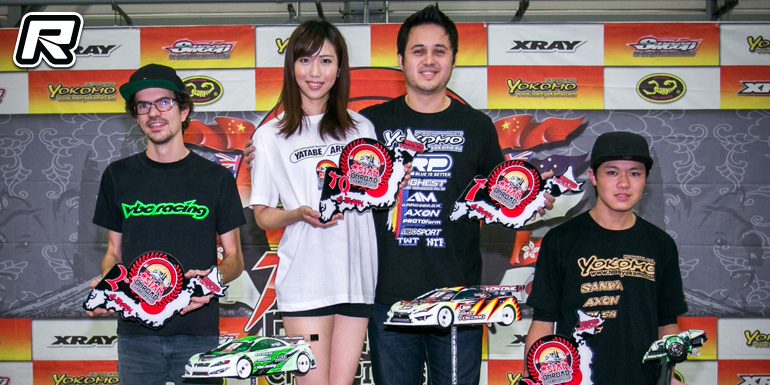 Since 2013, the Asian Onroad Championship has grown through the years and has become the premiere onroad racing event in the Asia Pacific. Making five stops throughout the calendar year in various regions across Asia, the AOC continues to grow and gain momentum from each and every event bringing with it a world class level of competition wherever it goes. The final stop on the 2016 schedule was held at the historic Yatabe Arena in Tsukuba, Japan. With heritage and history like the Yatabe Arena, the final AOC event was sold out within a few days and has become the biggest race in Japan attracting many international racers from across the world including from countries like Germany, France, America, and other neighboring Asian countries like China, Taiwan, Korea to name just a few. Not only were racers on hand, the event attracted over 20 RC vendors that setup a display/support booth and transformed the atmosphere into a mini RC Expo.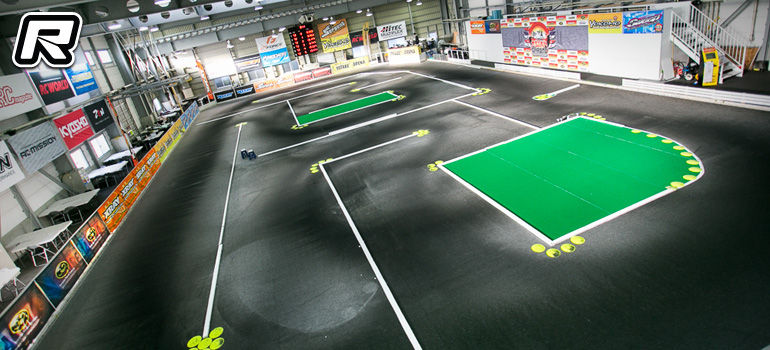 Friday kicked off with controlled practice giving all racers a chance to dial in their cars and adjust themselves to the massive 21 x 38 meter track dimensions as well as the super high grip surface. This year's layout was technical as it was fast providing challenge to all drivers of any skill level. With three qualifiers on Saturday plus one more ran on Sunday before the mains, the schedule was tight as racers would qualify using best two of four runs to sort for the 10-car main. In addition, the racer favorite "bump up" system was used to allow the top two finisher of the lower mains advancing into the next main giving drivers a possible second chance to make the coveted A-main.
The most interesting race came from the Modified Sedan class with a very rare qualifying overall finish with four different drivers TQ'ing each of the four rounds, resulted in a 3-way tie-breaker between Yokomo's Ronald Volker, VBC's Lucas Urbain and Destiny's Jin Sawada. Current ISTC World Champion Ronald Volker had a slow start to his AOC campaign, but was able to finally get things going early Sunday morning and carry the momentum from his final round TQ, into the five minute intense A final. From start to finish, Volker was able to clear himself from the elite pack and drove at his own comfort level and was able to pull a comfortable gap from him and the field. Fighting till the end, Lucas Urbain was constantly lurking from attack distance keeping Volker honest the entire race. Without a mistake from the WC, Urbain would finish only 1.5 seconds behind and lock up a satisfying second. Unfortunately for young Japanese rising star, Destiny's Jin Sawada would suffer a mechanical resulting in a ninth place finish. Sawada, who was able to TQ one of the four rounds in qualifying, was in third place at the time of his wheel nut failure. Benefiting from Sawada's misfortune, third on down would be gifted a spot and with a terrific crowd pleasing late race pass, Yokomo's Naoki Akiyama would edge out his teammate, Yugo Nagashima for third and final spot on the podium.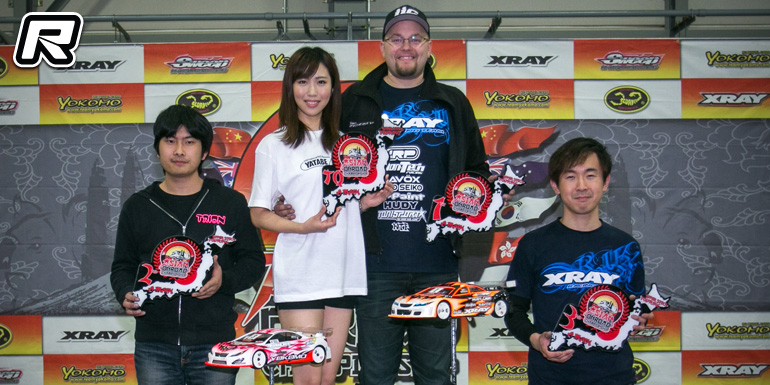 Making the trip from Germany, Xray's Jan Ratheisky showed magnificent form in the 13.5 Boosted Sedan class by TQ'ing three out of four rounds and a tone to tone win in the five minute A-final. The ETS Champion was able to dial his car in early and maintained a comfortable distance from his competitors during the A final to take the win with a big smile on his face. His closest competitors were Tsutomu Ikeya, who would finish second and Kiyoto Kanno, would dropped a spot from his qualifying position and finished third.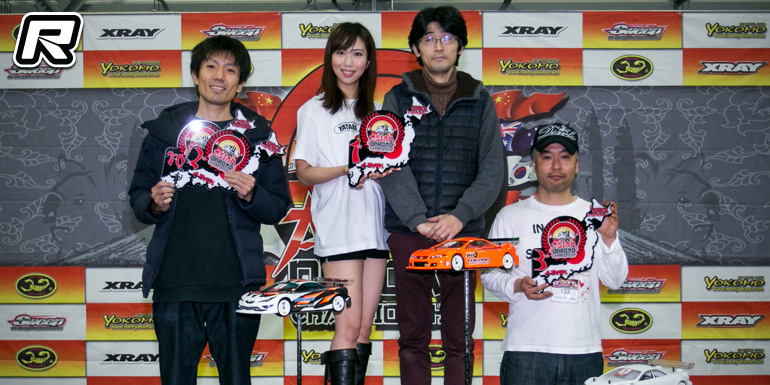 After a great effort in qualifying in the 17.5 Stock Sedan class, TQ Akihiko Ogiwara would make a crucial mistake during the main that would give second place qualifer, Yoichi Kojima the lead and enough space to take home the win. Ogiwara would recover to finish a respectable second with Yoshikatsu Namba taking home third.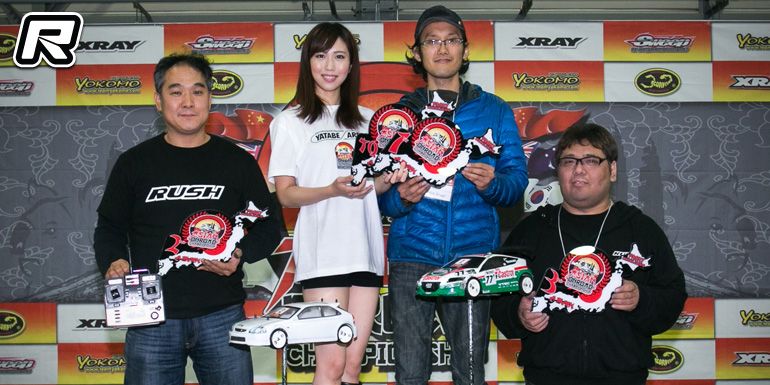 The FWD class saw some competitive racing between the top 5 drivers during the five minute final, but it was Shogo Eida taking the win with relative ease as he as he did in qualifying with the fastest time in three out of four rounds. With a good gap to third, Mamoru Ishikawa had second on lock down while the real battle was for third between Okawa Takayuki and a hard charging Yoshikatsu Namba, who was battling back from a poor start. In the end, Takayuki would finish third for the final podium spot.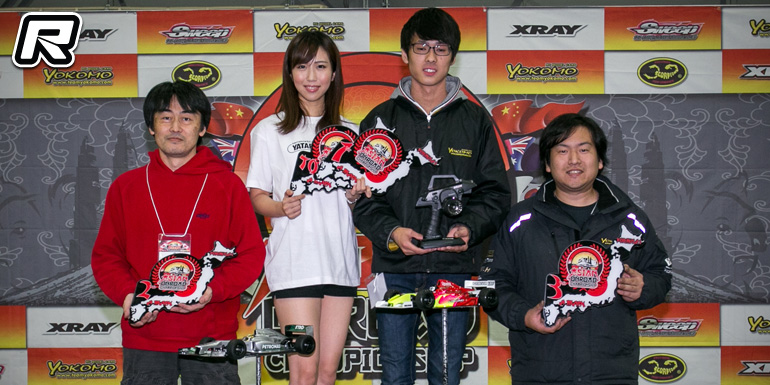 The Formula class saw a bit of resurgence with the class fielding out to a D-main. However in the end it was dominated single handedly by one young and talented individual, Yokomo's Toto Ebukuro. Ebukuro went on to TQ three of the four rounds and pull himself out of harms way early in the five minute A-final and deliver a flawless race taking the win by a secure nine seconds. This left Satoshi Yamazaki and former 1/10th scale offroad World Champion, Hayato Matsuzaki duel it out for the 2 remaining spots on the podium. For the entire race, Matsuzaki was trying to find a clean way around Yamazaki, but was unable to make the pass happen and as the pair would cross the line with 0.2 seconds between them. Yamazaki would finish second and Matsuzaki third on the podium.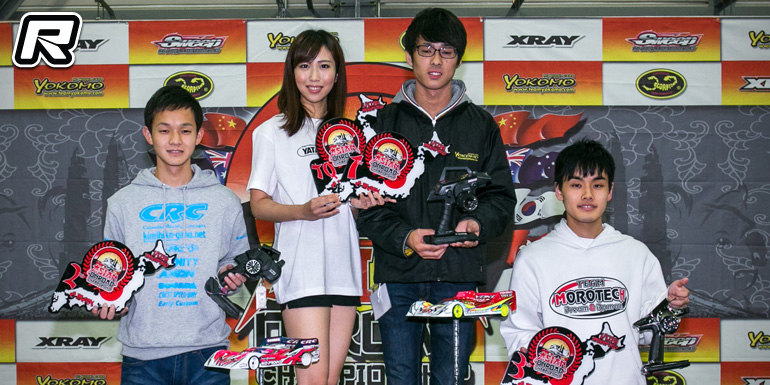 In a class some consider too fast, the field was stacked with top Japanese Modified 1/12th scalers from all over Japan including the reigning and 4-time 1/12th scale World Champion Naoto Matsukura. However, stealing the show this weekend was Yokomo's Toto Ebukuro, who was razor sharp and perfectly consistent all weekend. Ebukuro would go on to TQ three of the four rounds and lead from tone to tone for the entire 8-minute A-final. Once Ebukuro found his rhythm, he would go on to slowly pull a comfortable gap and manage it until the finish. Third place qualifier, CRC's Kosuke Suzuki would pursue after Ebukuro, but could only close the gap down to 1.5 seconds and claim second. Morotech's Toshinobu Yanagisawa would put in an excellent drive and finish with a strong third to round out the podium.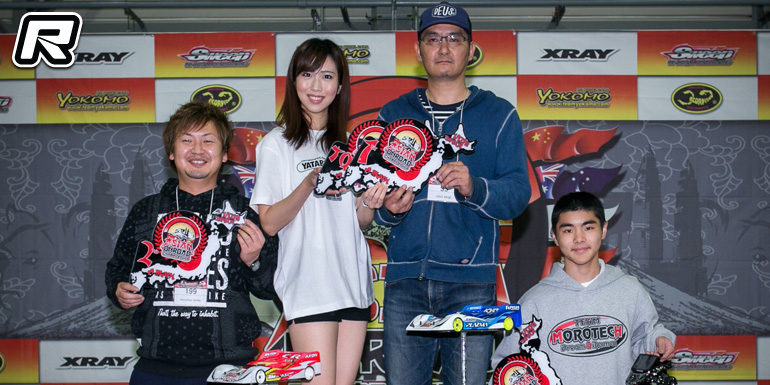 Growing in popularity, the 1/12th Stock class saw 40 drivers contest for the win, but came down to two drivers during qualifying. Splitting qualifying rounds was Morotech's Yoshi Yanagisawa and Kyosho pilot, Usui Seigi. The overall would be decided by the tie-breaker giving the top spot to Seigi. During the A-main, Seigi's steady and smooth style proved too strong for the young speedster, Yanagisawa. Every time Yanagisawa would close the gap to Seigi, he would make a costly error just as he was about to attack. With three chances and three mistakes for Yanagisawa, Seigi would cruise to an easy win after the long eight minute main. Kazushige Tomita would go on to finish second just ahead of Yanagisawa in third.
Source: AOC [aocrc.com]
---