December 6, 2016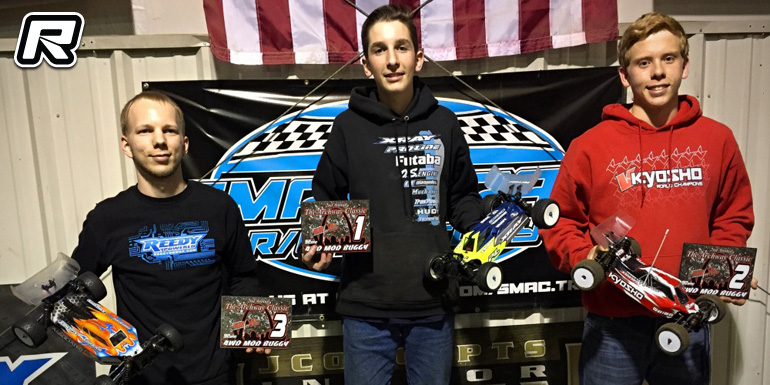 The recent Archway Classic at SmacTrac in St. Louis, Missouri was a fun trophy race with the 2016 edition marking the second annual race. Dillon Caldwell was able to TQ all three rounds in 4WD Modified buggy. The A-main was very tight racing as were the qualifiers. Right off the start, the top three broke away all battling for the top spot. Two minutes into the race the second and third spot got together and Dillon broke away. All Dillon had to do now was not to crash and the win would be his and at the end it would all work out, allowing Dillon to grab the victory from Jonathan Burkhalter in second and Brad Dean third.
4WD Modified Buggy final results:
1. Dillon Caldwell – Xray
2. Jonathan Burkhalter – Kyosho
3. Brad Dean – Team Associated
4. Ashton Brewer – TLR
5. Josh Wiechens – Xray
6. Cody McCkenahan – Serpent
7. Wesley Gifford – Xray
8. Cecar Keller – Xray
9. Scott McDonald – Team Durango
10.Kirk Eidel – Team Associated
In the 2WD Mod Buggy class it was Brad Dean that came out fastest in a pretty messy A-main from Matt Gosch second and Chris Baumgartner third.
2WD Modified final results:
1. Brad Dean – Team Associated
2. Matt Gosch – Team Associated
3. Chris Baumgartner – TLR
4. Nate Jaskot – Team Associated
5. Josh Wiechens – Team Associated
6. Ashton Brewer – TLR
7. Dillon Caldwell – Xray
8. Cody McClenahan – Serpent
9. Jonathan Burkhalter – Kyosho
10.Rod Rippee – Team Associated
Source: Xray [teamxray.com]
---