December 8, 2016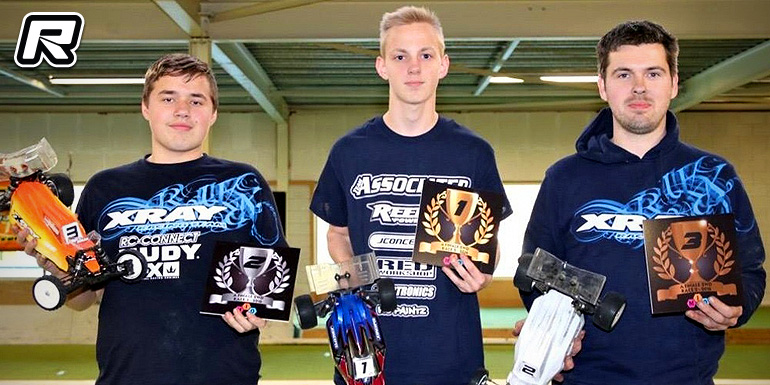 The second round of the MIO race series was held last weekend and in the 2WD Buggy class it was Team Associated driver Thibault Jacqueloot that came out on top after the triple A-mains. The Xray duo of Jarno Pijpers and Bart Wubben would complete the top 3 result in second and third respectively while Sander Van Genechtenen and Stephane Roufosse rounded out the top 5 result.
2WD Buggy final results:
1. Thibault Jacqueloot – Team Associated
2. Jarno Pijpers – Xray
3. Bart Wubben – Xray
4. Sander Van Genechten – Xray
5. Stephane Roufosse – n/a
6. Jörg Tauert – n/a
7. Mark Van Waayenburg – Xray
8. Rick Van Den Akker – n/a
9. Senne Pauwels – Yokomo
10.Paul Siebers – TLR
In 4WD the day's win went to Nigel Van Katwijk (Yokomo) from Bart Wubben (Xray) in second and David Pauwels (Xray) third.
4WD Buggy final results:
1. Nigel Van Katwijk – Yokomo
2. Bart Wubben – Xray
3. David Pauwels – Xray
4. Yolan De Weerd – n/a
5. Rajco Van Der Sluijs – Serpent
6. Leon van der Heijden – Yokomo
7. Robin Maas – Serpent
8. Arie Vos – Xray
9. Luc DE Weerd    – n/a
10.Pascal Van De Rijdt – Serpent
Source: Xray [teamxray.com]
---