December 15, 2016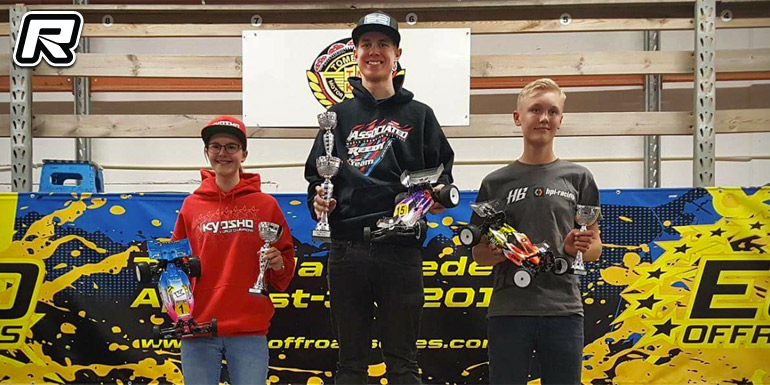 The TMK Raceway indoor track in Sweden recently held round three of the poplar Winter Cup. The tight track meant the racers had to be on their toes all of the time with no place to rest. This, combined with few possibilities to overtake made for close racing. Jesper Rasmussen made the best out of the difficult conditions as he came out fastest after the controlled practice with Jessica Palsson and local driver Hampus Berg in second and third. Victor Gunnarsson rounded out the top 4 in the 2WD class and those four were set to battle it out for the overall win.

In the finals Jesper had a good start in A1 but the top 3 all would have some issues in the opening stages which gave Victor the lead from Hampus, Jesper and Jessica. Ultimately Victor would take the win in the opening main from Jessica and Hampus. A2 then saw Jesper out in front and opening a gap on the field but when he rolled his buggy on the final lap it was Jessica who took the win from Jesper and Hampus. A3 then again saw Jesper jumping into the lead and giving 110 percent Rasmussen instantly opened a gap, trying to make sure he would bring home the win. At the end it would work out and with the win Jesper Rasmussen (Team Associated) also secured the overall victory from Jessica Palsson (Kyosho) and Victor Gunnarsson (HB Racing) while unhappy Hampus, with three third place finishes, ended the day outside of the podium spots.
Thanks to Jesper Rasmussen for the report.
---