January 17, 2017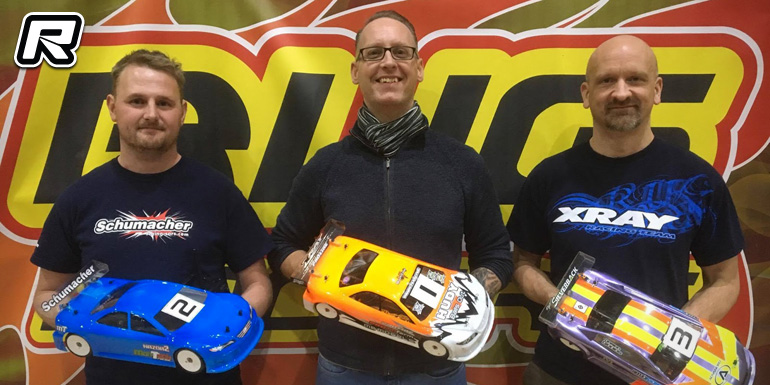 Round four of the RugRacers series was recently held and once the controlled practice had been completed everyone jumped right into the usual format of four rounds of FTQ Qualifying followed by the two legs of finals. In 13.5 Open Ashley Wiffen being the early pace setter only for Jon Seals to then improve the FTQ time for each of the next rounds to take the pole for the final.

Leg 1 saw Jon set off with Ashley in hot pursuit for a race that would go the whole 5 minutes between the two cars close enough to throw a blanket over and ultimately Jon stayed firm to take the win. Leg 2 was a similar affair after an early mistake from Ashley Damian moved up to second and continued to hunt Jon down until an error allowed the recovering Ashley back through to chase hard for the remainder a battle that would see both cars cross the finish line separated by 3/10th of a second.
13.5T Open final results:
1. Jon Seals
2. Ashley Wiffen
3. Damian Giddins
4. Tim Harrop
5. Dale Burr
6. Matthew White
7. Jason Coe
The 17.5 Blinky class saw a round by round improvement on time first with Colin Jackson then Matt Worton then back to Colin to stretch it out in round 3 and round 4 with his R4 time being less than 3/10th of a second faster to give him pole. Leg 1 went to Colin with Matt Worton second and Malc Hall up from seventh to third. Leg 2 was a lights to flag tour for Colin with Leyton Foster up into second from the 4 spot and Malc Hall third.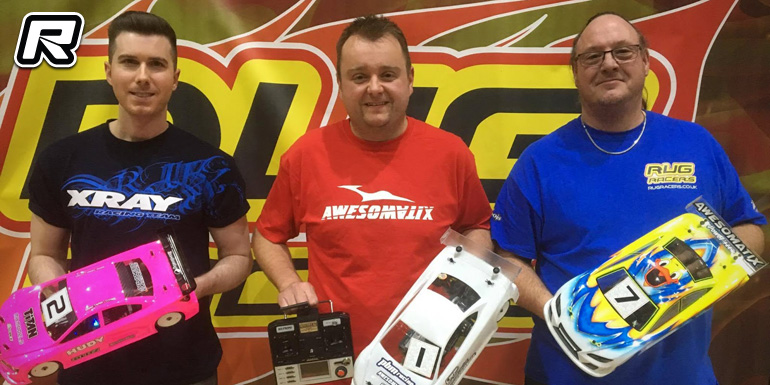 17.5 Blinky final results:
1. Colin Jackson
2. Matthew Worton
3. Malc Hall
4. Leyton Foster
5. Thomas Garnham
6. Ricky Copsey
7. Aaron Rose
8. Mark Young
9. Lisa Keen
10. Tom Hampson
Onto the Formula class and champion elect Luke Lee was out the blocks straight away an advantage he would stretch over the next two rounds. With a few new drivers in Formula as well it made for very close racing at the front as the remaining crowd fought over the rest of the spots. Leg 1 and Luke was off with Martin Southall up from fourth into second place and Tom Hampson upto third from fifth. The first half of the race saw the top 5 cars separated by two seconds. Leg 2 and Luke setoff early leaving the chasing pack to fight. At the end Luke came home with the win from his brother Michael Lee in second.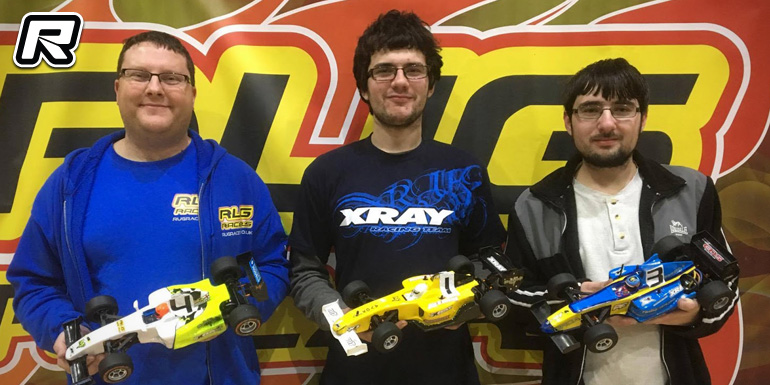 Formula final results:
1. Luke Lee
2. Martin Southall
3. Michael Lee
4. Tom Hampson
5. Andrew Walters
6. Chris Mucklow
7. Michael Cook
8. Remo Casadei
9. Luke Hobson
GT12 saw Tim Hancock set the early pace with Owen Smith keeping him honest. Andy Murray would post FTQ in round 3 with the only run that went into 29 laps. The A-final would see Andy Murray take leg 1 from Ben Vincent and Tim Hancock. Leg 2 was a much closer affair with the top 3 cars finishing with 1.1 seconds between them all, the battle ran for most the race which was a close affair that ultimately Andy triumphed over.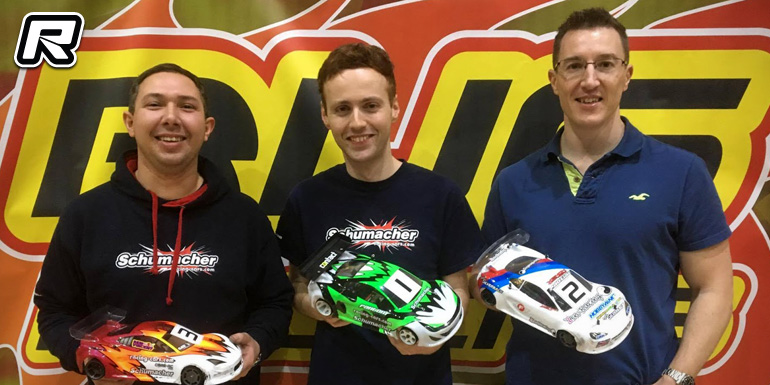 GT12 final results:
1. Andy Murray
2. Ben Vincent
3. Tim Hancock
4. Scott Morton
5. Neil Mottram
6. Michael Hull
7. Stuart Dye
8. Owen Smith
9. Carl Beecroft
10.Ben Hewett
11.Chris Graco
Source: The RC Racer [thercracer.com]
---