May 23, 2017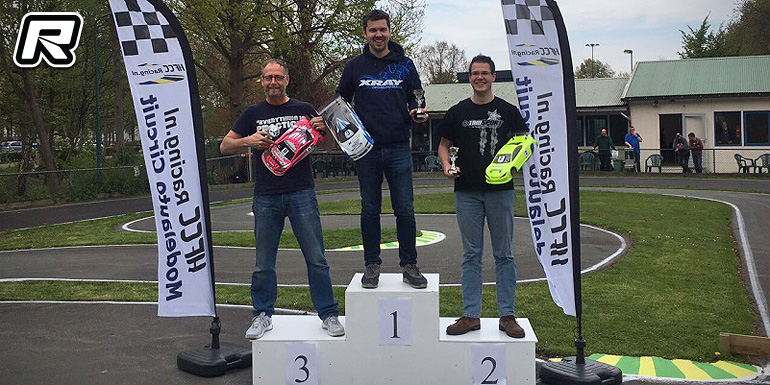 The opening round of the Dutch Electric On-road National Championship was held at the tight and technical track of the HFCC. The event attracted about 40 entries thanks to some updated rules and in the premier Touring Modified class it was veteran racer Bart Wubben who took the day's win courtesy of wins in A1 and A2. This allowed him to sit out the third and final main at what was his first national race in eight years, to watch the other driver battle for the remaining podium spots. Ultimately Mitchell van Es would take the runner-up spot from Peter Meurs in 3rd.
Touring Modified final results:
1. Bart Wubben
2. Mitchell van Es
3. Peter Meurs
4. Rick van den Akker
5. Nicolas Delisé
6. Sidney Blokker
7. Daniel Jansma
8. Giovanni Moguez
In the Touring 13.5T class Rob Janssen and Robert Krens would battle for the TQ with the better end for Robert. In the opening main and after a fierce battle it was Robert who came out on top with Rob behind. A2 saw Robert and Rob having a little bobble which allowed Bart Wubben to pass the two for the lead. Unfortunately it wasn't for long as Rob would pass him on the straight but the two would make contact which send Bart into the grass. Up front Rob took the win from Robert and Sybrand. In the final A-main Rob and Robert would make contact in the opening stages which meant Rob had to wait for Robert to becoming marshalled. In the chaos going on even Bart got hit here and there and when the dust had settled it was Rob Janssen who took the day's win from Robert Krens 2nd and Sybrand de Boer 3rd.
Touring 13.5T final results:
1. Rob Janssen
2. Robert Krens
3. Sybrand de Boer
4. Bart Wubben
5. Richard Arts
6. Ronald Arts
7. Stefan Rommens
8. Fokke Groen
9. Xavier Debroye
10.Jari van de Wal
In the Formula class Jitse Miedema was the man to beat. He grabbed the TQ spot after the qualifiers and would also bring home a popular win from Martin van der Heijden and Nick Snieder.
Formula final results:
1. Jitse Miedema
2. Martijn van der Heijden
3. Nick Snieder
4. Robert Wolf
5. Hampy Janssen
6. Balk Jeffrey
7. Randy van den Berg
8. Axel Kleingeld
9. Patricia Wessels
Source: Xray [teamxray.com]
---