May 24, 2017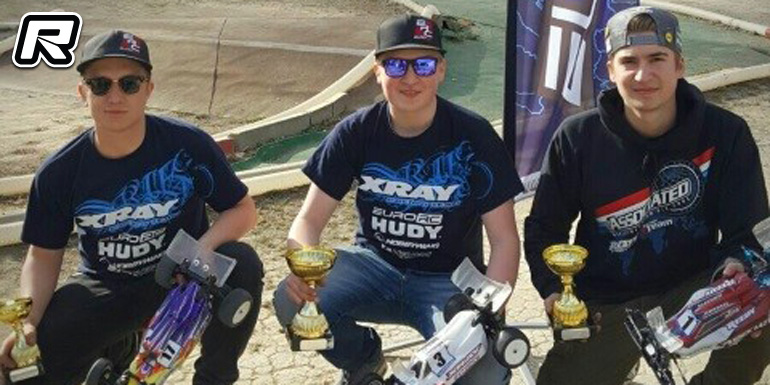 The opening round of the Finnish Summer Nationals was held at the Hyvinkää track. As usual the 2WD portion of the event was held on Saturday while Sunday was 4WD day. Thankfully the weather was great all weekend, making for good racing conditions on the pretty old and blown-out track whose large size and high speed sections are enjoyed by most drivers. The opening 2WD qualifier was a very close affair between Karri Salmela and Joel Valander. Both were separated by 0.1s in the end, with the better end for Karri as Joel got sideways on the last lap which cost him the TQ. In the following rounds Joel would hold the upper hand to grab the overall TQ from Karri in 2nd and Toni Niinivirta 3rd.
In the final Karri put a lot of pressure on Joel but the latter would be able to defend all attacks and so he brought home wins in the opening two mains to grab the overall victory from Karri in 2nd and Toni 3rd.
2WD final results:
1. Joel Valander – Xray
2. Karri Salmela – Team Associated
3. Toni Niinivirta – Xray
4. Konsta Saarinen – Xray
5. Mikko Luopajärvi – Team Associated
6. Juha Aromaa – TLR
7. Oskari Mäki – Team Associated
8. Jani Hovi – TLR
9. Antti Silvennoinen – Team Associated
10.Tuomo Otsavaara – Xray
Sunday 4WD day and it was again Joel who stole the show in the qualifiers. Having a somewhat hard to drive car in the practice rounds he adapted the setup and although his buggy feeling a bit slow he was able to TQ the first three rounds and lock the overall TQ. Karri lined up in 2nd again from Konsta Saarinen who did some solid runs.
The opening A-main was pretty crazy as Karri passed Joel on first lap, but on second lap Karri came sideways from the big double and Joel hit him full throttle when he appeared sideways in front of him. Both were whipped off the track and Joel also got into trouble with other drivers and he was almost dead last and half lap from the leader. Joel nevertheless started to push and was able to recover while Karri made mistakes and soon Joel found myself leading the race and bringing him the win. In A2 Joel just did some clean laps and finished in 1st with a big gap to take the overall win.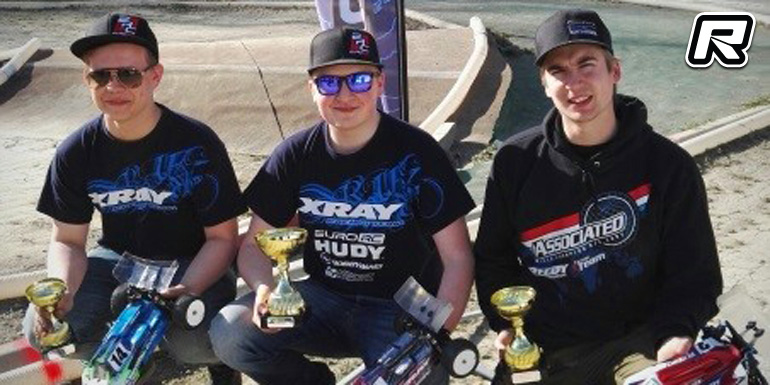 4WD final results:
1. Joel Valander – Xray
2. Karri Salmela – Team Associated
3. Konsta Saarinen – Xray
4. Mikko Luopajärvi – Team Associated
5. Toni Niinivirta – Xray
6. Juha Aromaa – TLR
7. Jani Hovi – TLR
8. Eeli Vieno – Xray
9. Valtteri Eklund – Xray
10.Jamiel Gabrielsson – Team Associated
Source: Xray [teamxray.com]
---