May 25, 2017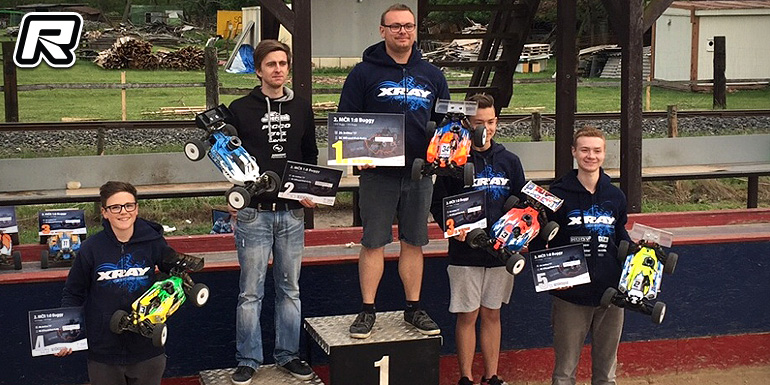 The opening round of the Czech 1/8th Off-road National Championship was held in Kolin. Right from the start Xray's Martin Bayer looked like the man to beat as he set fast laps right from the practice sessions on. Saturday ad the weather was much colder which resulted in near zero traction but this did not stop Martin from being a league of his own, taking the TQs in both the 1/8th Nitro and E-Buggy classes. Xray team mate Kaja Novotny would line up in 2nd in both classes.
The semi-finals would further cement the performance of Martin and Kaja with both taking the 1-2 spots for the main final. Right from the tone the top 4 would start pulling away from the field until at about the four-minute mark technical issues stopped Kaja's race for the win. The young man lost two laps but was able to get back into the race while up front Martin laid down a clean run to take the win ahead of Serpent's Jiri Mar while Milan Mudra (Xray) rounded out the podium result.
1/8th Nitro final results:
1. Martin Bayer – Xray
2. Jiri Mara – Serpent
3. Milan Mudra – Xray
4. Max Gotzl – Xray
5. Kaja Novotny – Xray
6. Petr Klatovsky – SWorkz
7. Jiri Benes – Xray
8. Ondrej Kulhanek – Xray
9. Karel Hajek – Xray
10.Ales Bidovsky – Xray
11.Jan Kapicka – Kyosho
12.Petr Tomasek jun. – Mugen
13.Frantisek Kalenda – Serpent
In the 1/8th E-Buggy finals runner-up after the qualifiers, Kaja Novotny had some tough starts and he had to work his way up again. Martin Bayer though made a clean sweep by winning A1 and A2 to take his second overall win while in A3, that Martin watched from the side line, Jiri Mara and Kaja Novotny had a great fight all the way to the chequered flag. Ultimately Kaja came in 1st, cementing his overall 2nd place from Jiri Mara (Serpent) in 3rd.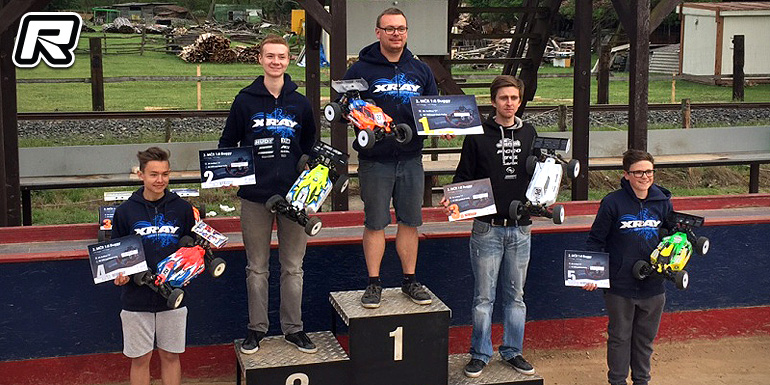 1/8th E-Buggy final results:
1. Martin Bayer – Xray
2. Kaja Novotny – Xray
3. Jiri Mara – Serpent
4. Milan Mudra – Xray
5. Max Gotzl – Xray
6. Vaclav Broz – Xray
7. Ales Bidovsky  – Xray
8. Marek Ornst – Mugen
9. Jan Horacek – Kyosho
10.Martin Rytir – Xray
11.Jaroslav Valder – Xray
12.Jiri Benes – Xray
Source: Xray [teamxray.com]
---