May 4, 2017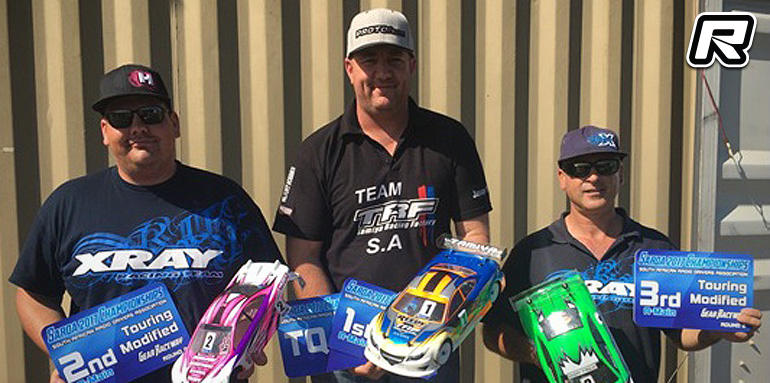 The second round of the 2017 South-African ORE national championship was held at the newly-built Gear Raceway in Ballito. The outdoor asphalt track offered a mixed layout with medium traction with the grass infield took many victims during the weekend. It was evident from the start that local driver and owner, Deon Gove was the man to beat while Jason Hillcoat, Ashley Hurley and Hein Kotze also were pretty fast during the pre-national practise weekend.

Right from the start the battle for Touring Modified TQ was on between Jason Hillcoat and Hein Kotze. Jason took Q1 followed closely by Antonio Caroli and Hein Kotze. In Q2 it was Hein Kotze who had a great TQ run but his transponder failed to register his last laps and Jason took Q2 followed by Anderton Smith. Hein came out flying in Q3 with a great run but with Jason finishing 2nd, the TQ position was all his on a better tie-breaker. The grid was eventually finalised in Q4 with Hein Kotze 2nd, Antonio Caroli 3rd and Anderton Smith in 4th.
In A1 Jason started well but Hein Kotze caught up to him with a faster run at around lap 10, but a run-off in the grass saw him fall down the grid. Jason won A1 followed by youngsters Willem Janse van Rensburg and Ashley Hurley. In A2 Jason showed his consistency and led from the start. Hein Kotze again caught up to him with a much faster run but unfortunately got a rear body tuck when he made a pass on Jason. He still managed to finish 2nd followed by Nian du Toit in 3rd. Jason's great consistency and win in A2 also secured him the overall win. Jason decided not to run in A3 which allowed Hein Kotze and Antonio Caroli to show their pace with Hein winning A3 and Antonio achieving a 2nd place after coming from last place due to an excursion in the grass. The final podium spots for the event were Hein Kotze 2nd and Antonio Caroli 3rd.
Modified Touring final results:
1. Jason Hillcoat – Tamiya
2. Hein Kotze – Xray
3. Antonio Caroli – Xray
4. Jacques Liebenberg – Capricorn
5. Nian du Toit – Xray
6. Ashley Hurley – Xray
7. Willem Janse van Rensburg – VBC Racing
8. Anderton Smith – Xray
9. Deon Gove – Xray
10.Pedro de Gouveia – Xray
The Touring Pro-Stock class was very competitive with a great battle between Jonathan Wilken, Hennie Viljoen, Michael Rabe and Jared Rabe with Jonathan taking the TQ honours. Jonathan Wilken managed to win both A1 and A2 to settle for the win and it was a great battle between Hennie Viljoen, Michael Rabe and Jared Rabe for the final podium positions. It was the youngster Jared Rabe, who came from 4th on the grid, to take a great 2nd place.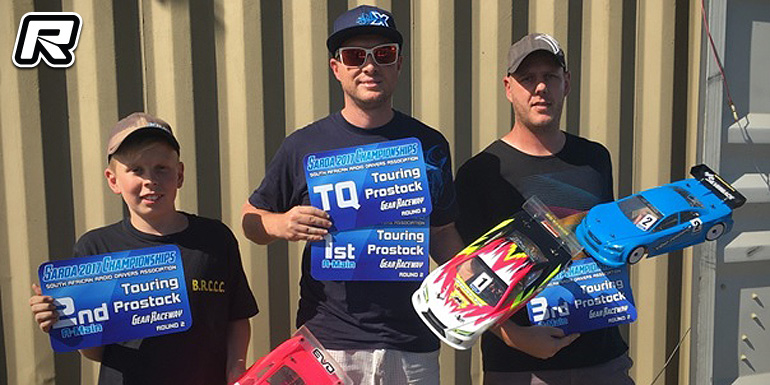 Pro-Stock 13.5T final results:
1. Jonathan Wilken – Xray
2. Jared Rabe T4 – Xray
3. Hennie Viljoen – VBC Racing
4. Michael Rabe – Xray
5. Lieb Liebenberg – Serpent
6. Brett Ross – Xray
7. Fanie Viljoen Sr. – VBC Racing
8. Grant Lavis – Xray
9. Yashin Ramdhin – VBC Racing
10.Bainka Landman – Xray
In Formula 21.5T itt were the usual fast drivers Jonathan Wilken, Pedro de Gouveia and Tyronne Wilken who showed great pace from the start. Ultimately it was Pedro who took TQ, Tyronne starting 2nd and newcomer Nico Kellerman starting from 3rd on the grid after showing some great pace. In the finals Pedro de Gouveia drove fast and consistent to win both A1 and A2 in order to secure the overall victory with Nico Kellerman fighting hard for his 2nd place. The driver of the day was Brett Ross who finished 3rd overall after starting from 10th on the grid.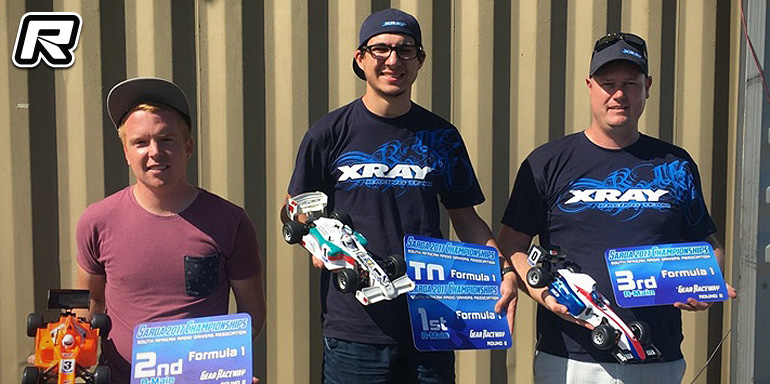 Formula 21.5T final results:
1. Pedro de Gouveia – Xray
2. Nico Kellerman – Xray
3. Brett Ross – Xray
4. Piet du Plessis – Xray
5. Tyronne Wilken – Yokomo
6. Jonathan Wilken – Xray
7. Michael Rabe – Xray
8. Wayde Solomon – Xray
9. Francois Erasmus – Xray
10. Jared Rabe – Xray
In the FWD class it was Paul van der Westhuizen who dominated the qualifying and eventually managing to TQ followed closely by Bulli Marais and youngster Nico Kellerman. The three of them also finished in the same order in Sunday's mains.
Source: Xray [teamxray.com]
---